Sale!
Merits Atlantis Heavy Duty Bariatric Power Wheelchair – P710
-54%
Stock: See StockIn Stock
Stock status can change very rapidly - an item might come back in stock before we update this or might have sold out.
We highly recommend you call or chat with us for a 100% stock status.

Videos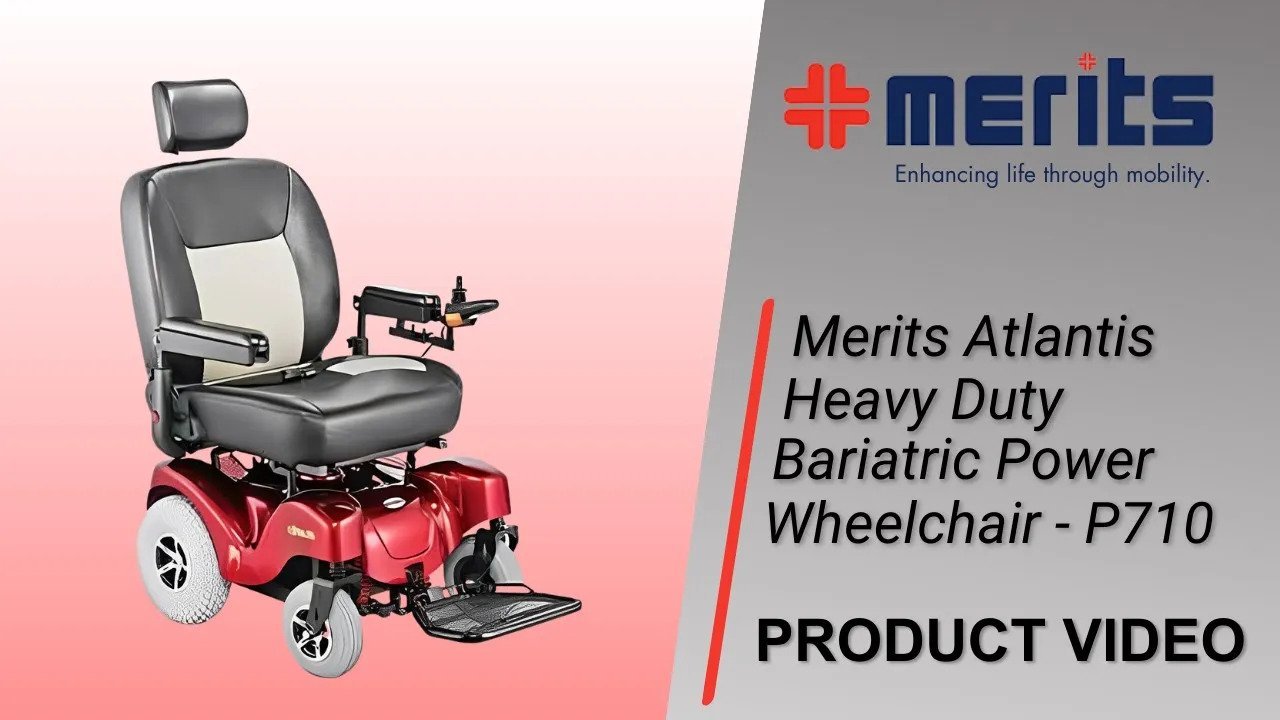 Quick Overview
Merits Atlantis Heavy Duty Bariatric Power Wheelchair – P710 
Key Features
Supports up to 600 lbs

Intelligent regenerative electromagnetic brakes

Extra-wide seat and extra-high back for comfort

Tackles 10° uphill ramps with super high power in-line motors

Maximum speed of 5 mph

32-mile drive range on one charge

Four seat posts for unique stability

Available in red and blue with optional add-ons

Various free accessories available

5-year warranty with free shipping

Airline-approved long-lasting batteries

Modern and stylish design
Are you looking for a strong power wheelchair that provides great comfort and looks good too? Check out the Merits P710 Atlantis Heavy Duty Power Wheelchair. It can hold up to 600 lbs and has a nice design. This chair is really special and stands out from the rest.
Intelligent Braking System
The Merits P710 Atlantis is not only tough but clever as well. It has a special braking system that works to keep you safe. These brakes can rebuild some of the energy they use, and they work with magnets, so they're very reliable. Whether you're going down a steep hill or stopping at a traffic light, you can trust this chair to help you stay in control.
Exceptional Comfort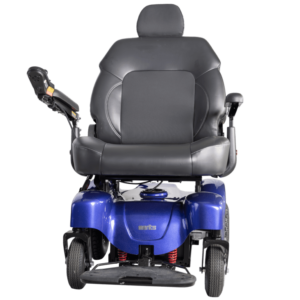 Comfort is really important with the Atlantis. It has a very wide seat and a tall back, so you'll feel nice and comfortable even if you're riding around town all day. The armrests have soft padding, too, making every ride feel good and enjoyable.
Powerful Performance
The Atlantis is special because of how strong it is. It has really powerful motors that help it easily go up steep ramps and handle bumpy surfaces. You can go as fast as 5 miles per hour and travel up to 32 miles before needing to recharge. This means you can go where you want without worrying about stopping.
Unique Design and Stability
The Atlantis not only looks good but is also made to be very stable. It has four posts under the seat that make it strong and steady. This helps you feel safe and relaxed as you go around in it, whether you're just at home or out exploring the world.
Customize Your Ride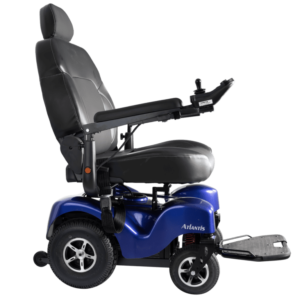 With the Atlantis, you can make your wheelchair just the way you want it. You can pick red or blue for the color, and add special things like higher leg rests or a place to hold an oxygen tank. It's a wheelchair that can be special just for you.
Why Choose the Merits P710 Atlantis?
If you need a wheelchair that's as strong and determined as you are, the Atlantis is the perfect match. Whether you're looking for comfort, power, or a unique design, this chair has it all. Plus, with a long-lasting battery and 32-mile drive range, you can take on the day without worrying about charging up.
Accessories & Add-Ons
Make the Atlantis your own with free accessories and add-ons. From elevated legrests to holders for walkers, this heavy-duty power wheelchair is all about customization.
Warranty & Shipping Information
The Merits P710 Atlantis comes with a 5-year warranty, free shipping, and a 30-day return policy. Need help setting it up? Opt for white glove delivery and enjoy peace of mind knowing that your new wheelchair will be assembled by a professional.
Ready to ride in style, comfort, and safety?
Click here
to order your Merits P710 Atlantis Heavy Duty Power Wheelchair today. With a weight capacity of 600 lbs, a 32-mile drive range, and intelligent brakes, you'll wonder how you ever lived without it.
Specifications
Merits Atlantis SPECIFICATIONS
| | |
| --- | --- |
| Turning Radius | 31.5" |
| Ground Clearance | 3" |
| Top Speed | 5 mph |
| Range per Charge | 32 miles |
| Maximum Incline Rating | 10° | 18% |
| Overall Width | 32" |
| Overall Length | 44" |
| Overall Height | 50" |
| Seat Options | Captain's Seat |
| Seat Widths | 22" - 26" |
| Seat Depths | 20"-22" |
| Back Height | 20" |
| Maximum Seat to Floor Height | 22" - 23" |
| Batteries | GROUP 24 - 12V 75Ah SLA |
| Battery Charger Type | 6A Off board |
| Drive Type | Rear Wheel Drive |
| Drive Wheel Size | 12" Pneumatice Tires |
| Caster Size | 9" Pneumatic Tires |
| Anti Tip | 2 Rear Anti-Tip Wheels |
| Heaviest Piece | 218 lbs |
| Battery Pack Weight | 86 lbs |
| Weight Without Batteries | 218.00 lbs. |
| Weight Capacity | 600 lbs |
| Suspension | No |
| Controller Type | Dynamic Shark 60A/PG VR2 60A |
| Shipping Dimensions (L x W x H) | 43" x 29" x 25" |
| Warranty on Batteries | 6 Month Limited |
| Warranty on Electronics | 1 Year Limited |
| Warranty on Motor | 1 Year Limited |
| Warranty on Structure | 5 Year Limited |
Financing & Monthly Payments
We are currently partnered with PayTomorrow so you can pay for your scooter in monthly installments or choose a lease-to-own plan. You can see the minimum amount per month, above, next to the price of the scooter.

It's a simple online process, usually with an instant eligibility response, but many less tech-savvy customers prefer help over the phone.
Contact us by calling our toll-free number 1-888-233-5563 or by live chat with one of our agents by clicking here.
Documentation, Manuals & Safety
Documentation