Sale!
EZ Shopper 8000 Electric Shopping Cart
-10%
Stock: See StockIn Stock
Stock status can change very rapidly - an item might come back in stock before we update this or might have sold out.
We highly recommend you call or chat with us for a 100% stock status.

Quick Overview
EZ Shopper 8000 Electric Shopping Cart
Key Features:
Powerful 0.6 hp DC motor with dual drive wheels

Unique mid-wheel drive for maximum traction

Economical operation with over 80% motor efficiency

Low noise operation, less than 45 dB

Safety seat switch for secure operation

Emergency stop switch and automatic parking brake

Customizable options including two basket sizes and color choices

Extended battery package for longer runtime

SUL, cUL, and CE certified

Made in USA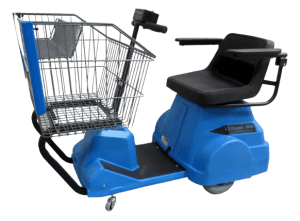 Experience a whole new level of shopping convenience with the EZ Shopper 8000 Electric Shopping Cart. This advanced cart is not just stylishly designed but it's also built with power, efficiency, and unrivaled maneuverability to give you the ultimate shopping experience - without compromising on your safety or comfort.
As a store owner, the shopping carts we offer are a strategic investment that can significantly enhance customers' experience and increase sales. With two spacious basket sizes - 9100 or 6600 in3 - your patrons can comfortably fit an entire week's shopping, preventing them from leaving items behind. The carts also feature a special tray for small items and an optional armrest for added comfort. You can choose between a key or keyless power on for your convenience. Our carts even include a gauge package with a battery charge indicator and run time hours display, keeping customers informed and aiding in cart maintenance. In essence, these carts are designed to maximize customer satisfaction and your store's profitability.
Unrivaled Performance and Efficiency
Picture this: your customers effortlessly cruising through the grocery store with the EZ Shopper 8000. These electric shopping carts with their mighty 0.6 hp DC motor and dual-drive wheels combine to make your shopping experience enjoyable. Plus, with an impressive over 80% efficiency, you can power through your list without breaking the bank on energy consumption. Say goodbye to tedious shopping trips and hello to a delightful journey with the EZ Shopper 8000.
Exceptional Maneuverability and Safety
The EZ Shopper 8000, a popular Walmart electric shopping cart, got a one-of-a-kind mid-wheel drive system that sets it apart from the rest. This design puts the drive wheels right under the rider, providing maximum traction and control, even when weaving through a crowded grocery store. Plus, the shorter wheelbase makes for better stability on the sides and a safer, more comfortable journey. This electric shopping cart for sale provides unmatched advantages with every customer visit to your store.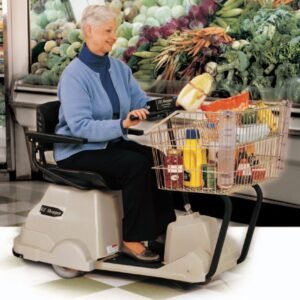 Quiet Operation and Low Maintenance
One of the standout features of the EZ Shopper 8000, similar to some of the electric shopping carts Walmart offers, is its commitment to minimizing noise pollution. The shopping cart electric system operates at less than 45 decibels, making it one of the quietest electric shopping carts in the market. Its low noise level coupled with its superior reliability results in low maintenance costs and less downtime, offering an unbeatable combination of tranquility and dependability.
This top-of-the-line cart, comparable to Costco electric shopping carts, offers the perfect combination of power and agility, with low maintenance and quiet operation, customizable features, and extended battery life. Whether you're running errands or doing your weekly grocery shopping, the EZ Shopper 8000 will make your shopping experience easier and more efficient than ever before! Invest in safety, convenience, and efficiency today with the EZ Shopper 8000 Electric Shopping Cart.
Customizable to Your Needs
The EZ Shopper 8000 is more than just an electric shopping cart pusher; it's a statement of personal style. Available in a vibrant rainbow of standard colors including blue, red, green, gray, and black, you can choose the one that best complements your style. If you're a business owner, you can even get your cart color-matched to your company's branding.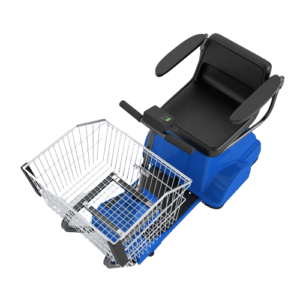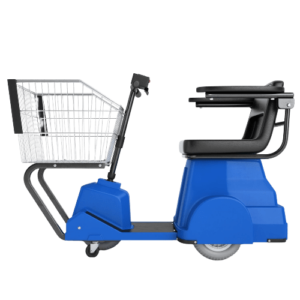 Extended Battery Life
The EZ Shopper 8000 is a true game-changer for your business! Its extended battery package allows for a 33% longer operation time, ensuring your customers won't have to cut their shopping trips short due to power issues. More time for your patrons to browse equates to more opportunities for purchasing, enhancing your store's sales potential. Say goodbye to lost sales and hello to increased customer satisfaction and profitability.
Certified and Approved for Safety
The EZ Shopper 8000 isn't just an engineering triumph; it also upholds the highest safety and quality benchmarks. Boasting approvals and certifications like SUL, cUL, and CE for its battery charger, it assures you, as a store owner, that your investment is in a product adhering to international safety standards. This commitment to safety enhances your store's reputation and provides peace of mind for you and your customers.
Specifications
EZ Shopper 8000 Specifications
| | |
| --- | --- |
| Drive Type | 24 Volt Maintenance-Free Transaxle |
| Batteries | 12 Volt AGM Maintenance-Free (2) |
| Dimensions | 55" L x 26" W x 38" H |
| Weight | 190 lbs |
| Tires | 8" Non-Marking Solid Rubber |
| Electrical | 100-240 VAC, 50/60 Hz (4 ampere) |
| Battery Capacity | 20 hrs. Shopping Run Time |
| Seat (W x D x H) | 18.5" x 18.25" x 12.8" |
| Forward Speed | 2.5 mph Programmable |
| Reverse Speed | 1.5 mph Programmable |
| Turning Radius | 34" |
| Max. Weight Rider | 750 lb |
| Max. Weight Basket | 250 lb |
| Basket Dimensions | 23" L x 25.5" W x 20" H (front) 14.5" (back) |
| Basket Volume | 9100 in3 |
How fast does the EZ Shopper 8000 go?
The EZ-Shopper 8000 has a maximum forward speed of 2.5 mph and a reverse speed of 1.5 mph, both can be programmed as needed. The EZ Shopper 8000 is built for supermarkets. Its speed is set to match normal walking speeds, ensuring safety and easy maneuvering within the store. It's meant to make shopping safer and more convenient for users.
How long do the EZ Shopper 8000 batteries last per charge?
The EZ-Shopper 8000 is designed with efficient battery usage in mind, and it offers a substantial run time. On a full charge, the battery can last for up to 20 hours of shopping time. This ensures a reliable, uninterrupted shopping experience for the users.
How much weight can the EZ Shopper 8000 carry?
The weight capacity of the EZ Shopper mobility scooter is 750 lbs.
What kind of ground clearance does the EZ Shopper 8000 have?
The EVZ Shopper 8000 has a ground clearance of 1.7".
Financing & Monthly Payments
We are currently partnered with PayTomorrow so you can pay for your scooter in monthly installments or choose a lease-to-own plan. You can see the minimum amount per month, above, next to the price of the scooter.

It's a simple online process, usually with an instant eligibility response, but many less tech-savvy customers prefer help over the phone.
Contact us by calling our toll-free number 1-888-233-5563 or by live chat with one of our agents by clicking here.
Shipping, Warranty & Returns
Shipping
How long from the time of order until I get my EZ Shopper 8000 mobility scooter?
This very much depends on two factors: the stock status above and how far you are from Florida, where most EZ Shopper mobility scooters ship out from.
Bear in mind, different colors of the same model can have different stock statuses.
The stock status for this scooter can be seen just under the product title at the top of the page.

If an item is showing IN STOCK above, the estimated ship-out time is 2-3 business days, but this can change based on the options and upgrades you choose.

Add to that transit times, usually between 2 and 6 business days, depending on your distance from Pennsylvania and how rural/urban your address is. (Some very rural areas take a little longer)

If a EZ Shopper 8000 mobility scooter is showing LEAD TIME with a number of weeks indicated, the estimated ship-out time is that lead time plus standard ship-out and transit time indicated in the paragraph above.

You can always contact us for more details at 1-888-233-5563 or live chat with an agent by clicking here.

Please note, we have excellent relationships with our suppliers/manufacturers. If we are showing an item as having a lead time, it's almost certainly the same for other dealers who might not have the most up-to-date information on the websites and may show the item as having a lead time.

If a EZ Shopper 8000 scooter is showing OUT OF STOCK above, please contact us for more details. You can call us at 1-888-233-5563 or live chat with an agent by clicking here.

Please note, we have excellent relationships with our suppliers/manufacturers. If we are showing an item as out of stock, it's almost certainly the same for other dealers who might not have the most up-to-date information on the websites and may show the item as in stock.
Warranty
How long does the warranty on EZ Shopper 8000 mobility scooter last? What's included/excluded from the warranty?
The EZ-Shopper 8000 comes with a five-year limited warranty for its frame, deck, and drive system, and a two-year warranty for other parts. Labor and batteries are covered for one year, and seats and armrests for two years. It doesn't cover service/transportation costs, normal wear items, damage from misuse, unauthorized work or modifications, and outdoor use. Shipping damage and incidental damages are also not covered. Warranty only valid for original buyer with a sales receipt. Any warranty changes need approval from Electro Kinetic Technologies, LLC.
Returns
What if I don't like my EZ Shopper 8000 mobility scooter? Can I return or exchange it?
Documentation, Manuals & Safety
Why buy EZ Shopper 8000 from us?
Pre-Selected Scooters
Pre-selected to match our site's mission – large, heavy duty, recreational and all-terrain. This means all our attention is where you need it to be, and you don't have to go hunting through huge lists of products you aren't interested in.
Price
If you see a product advertised online for cheaper we will sell you the product for the same price or cheaper, provided that pricing is not in violation of the manufacturer's minimum advertised pricing policy.
Free Shipping
We believe when paying for an item like a heavy duty mobility scooter, shipping should be free, so we do our utmost to offer free shipping.  We also offer white glove shipping as a recommended optional service.
Excellent and Personal Customer Service
Our phone lines are staffed by humans, not robots, and it's really easy to speak to a member of staff at all business hours, even on weekends. If the line is busy, we'll call you right back.
Post sale Service
We will work with you over the phone or send out a technician to address your concern, depending on your scooter type and its associated warranty.
Relationships
This is an advantage to our customers, as manufacturers are often involved with the warranty process and answering technical questions.