Auto Folding Mobility Scooters
This page shows our collection of auto-folding mobility scooters. These scooters stand out due to their ability to fold up automatically with just one button, so they're easy to take anywhere.
Auto-folding means these scooters are really easy to fold, with no hassle. Look through our collection and see how these scooters can make getting around easier for you! Whether you're off to the shops or visiting friends, we have a scooter to help you out.
Show Filters
Auto Folding Mobility Scooter Models For Sale
Welcome to our page dedicated to auto folding mobility scooter models. Here, you'll find mobility scooters that automatically fold up, quickly and easily, perfect for taking with you on the go.
What is an
Auto Folding Mobility Scooter
? 
An auto folding mobility scooter is a scooter that can fold itself up into a compact shape, making it easy to take with you or store. Here's how it works:
When you activate the folding process by pressing a button on the scooter or a special fob, the scooter starts by lowering the seat. Then, the front and rear parts of the scooter move closer together. Imagine folding a piece of paper – it's a bit like that. It folds up automatically so it's only taking up a small amount of space. This makes it easier for you to store it in your car or carry it around.
When you're ready to use the scooter again, you just activate the unfolding process. The scooter then does the reverse of the folding process. The front and rear parts of the scooter move away from each other. Then, the seat raises up automatically. In a few moments, your scooter is back in its full shape, ready for you to hop on and ride. This is what sets it apart from standard folding mobility scooters.
This whole process is powered by the scooter's own battery. So, you don't have to use your own strength to fold or unfold the scooter. This makes it really easy to use, especially if you have limited strength or mobility.
There are two main types of auto folding mobility scooters:
1. Remote Fob
This type comes with a small remote control. This remote works much like car keys. You just press a button, and the scooter folds or unfolds all by itself. This is really handy because you can start folding the scooter from a distance. It's a bit like parking your car with a remote.
2. Button On Scooter
This type has a folding button right on the scooter itself. An example of this is the EV Rider Teqno model. So, instead of using a separate remote, you press this button to make the scooter fold or unfold. This is really convenient because you don't have to worry about carrying or losing a separate remote. You can start packing up the scooter as soon as you're done using it, right from where you are.
While these scooters do most of the work themselves, there are a couple of things you'll need to do. For instance, once the scooter has unfolded, you'll need to manually push the seatback up to get it ready for sitting. Also, you'll have to either use the remote or press the button on the scooter to activate the folding or unfolding. But these tasks are very simple, and the auto folding feature makes using these scooters easy.
One limitation of folding mobility scooters is that they aren't ideal for conditions like strong wind, cold, or intense sun. For those kinds of weather, a mobility scooter with roof is highly desirable for extra comfort and protection.
Also, auto folding scooters might feel bumpy on rough roads because many of them don't have suspension, which makes rides smoother. There are a few special ones that work well on all kinds of roads, but not many. If you reside in an area with uneven or challenging road conditions, you might need an all-terrain mobility scooter instead.
How much is an
auto folding mobility scooter
?
An auto folding mobility scooter usually costs between $2000 to $3000. The price can vary based on the brand, model, and features of the scooter.
How heavy are auto folding mobility scooters?
Auto folding mobility scooters typically weigh between 40 to 60 pounds. The exact weight can vary based on the specific model and features.
How much weight can auto folding scooters carry? What is the weight capacity?
Auto folding mobility scooters can typically carry between 200 lbs to 300 lbs. The exact weight capacity can vary based on the specific model.
Please see table below for complete details:
| | | | | |
| --- | --- | --- | --- | --- |
| Model | Price | Weight of Heaviest Piece | Total Weight | Weight Capacity |
| EV Rider Transport 4AF | $2,395 | | 51.8 lbs | 250 lbs |
| EV Rider Transport AF+ | $2,250 | | 49 lbs | 250 lbs |
| EV Rider Teqno | $2,850 | 65 lbs | 73 lbs | 250 lbs |
| Enhance Mobility Transformer | $2,775 | | 53 lbs | 300 lbs |
| Enhance Mobility Transformer 2 | $2,775 | | 55 lbs | 300 lbs |
| Enhance Mobility Mojo | $2,175 | 38 lbs | 58 lbs | 300 lbs |
How is the remote/fob for auto folding mobility scooters powered?
The remote for auto folding mobility scooters is powered by two CR2016 batteries. These batteries are easy to find and can be purchased at many places where batteries are sold.
Can I also fold/unfold the
auto folding mobility scooter
manually?
Yes, you can usually fold or unfold most auto folding mobility scooter models by hand if you need to. Sometimes you might want to do this instead of using the automatic button. All you have to do is unlock it and move the parts into place. Check your scooter's instructions because different scooters might have slightly different steps.
How long does it take to fold/unfold?
It takes between 5 to 7 seconds for the automatic scooter to fully fold or unfold. This quick transformation makes this remote control folding scooter convenient and time-saving, whether you're getting ready for a ride or packing it up when you're done.
Can I bring my auto folding scooter on a plane?
All the scooters in this collection are airline approved, so you can take them with you on your flights. If you're specifically looking for more travel-friendly options, we also have a dedicated collection page for all our travel mobility scooters.
All our auto-folding scooters are designed for your comfort and safety. They're simple to use, easy to carry, and ready to go whenever you are. Check out our collection and find the right auto folding mobility scooter that fits your needs and lifestyle. We're here to make moving around simpler and more enjoyable for you.
We offer both 3-wheel and 4-wheel auto folding mobility scooter models. Both types fold up fast, making them easy to carry and store. These scootersare perfect if you love to travel or just need to move around town easily. Choose a 3 wheel model if you prefer maneuverability and tight turning over extra stability. Choose a 4 wheel model if you prefer extra stability over maneuverability and tight turning.
Advantages of
Auto Folding Mobility Scooter
Models
Easy to transport due to their compact size when folded.

Quick to fold and unfold with a button or remote.

No physical effort required to fold and unfold.

Saves space at home or in the car because they can be folded.

Allows greater freedom and independence for users.
Disadvantages of
Auto Folding Mobility Scooter
Models
Folding process uses up part of the battery life.

Seats might be less comfortable compared to larger, non-folding models.

Weight capacity might be lower than larger scooters.

Ride might not be as smooth due to lack of suspension.

Usually slower compared to larger mobility scooters.

Manual folding and unfolding can be challenging, if required.

Unlike the standard mobility scooters, this cannot be upgraded to a 2 seater mobility scooter.
Notable Mentions: Best
Auto Folding Mobility Scooter
Models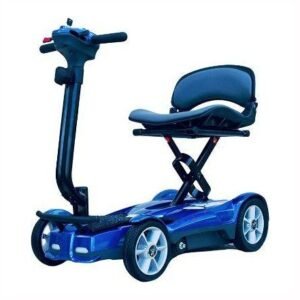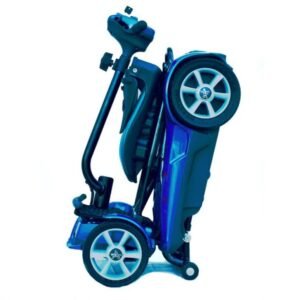 The EV Rider Transport 4AF auto folding mobility scooter is a game-changer in easy travel. With one touch, this light scooter folds up quickly. It's perfect for people who are always on the move. Even when it's folded, it stands up straight, thanks to its middle wheels. This makes it a breeze to store or roll away when you're out and about.
But don't let its small size fool you. The EV Rider Transport 4AF is powerful and built for comfort. It can go up to 4mph and last for 10 miles before needing a recharge. It has lots of legroom and can carry up to 250lbs. Whether you're going to the store or visiting friends, this scooter makes it easy and fun. With the EV Rider Transport 4AF, travel is no longer a hassle, but a joy.
Pros:
One-button auto-folding

Carries 250 lbs, goes 4mph

Ample leg space
Cons:
Struggles on uneven paths

Less smooth on bumpy roads

Not ideal for wet surfaces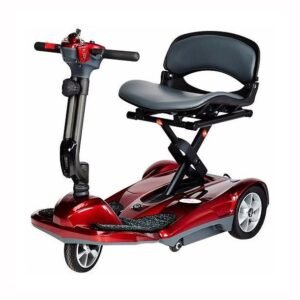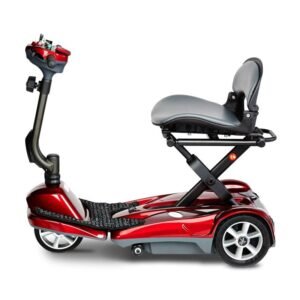 The EV Rider Transport AF automatic mobility scooter is a top-notch scooter, well-known for folding up all by remote. This lightweight scooter, weighing only 49 lbs, folds up quickly and easily just by pushing a button on a remote control. No more struggles with tricky manual folds, making it great for people who might not have a lot of strength.
Not just that, the scooter can hold up to 250 lbs and it's really easy to steer, even in tight spaces. Charge up its battery in just 6 hours and you can ride up to 10 miles. You can also adjust the steering column and speed to make your ride comfortable. The back wheels prevent the scooter from tipping over, making your ride safe. The EV Rider Transport AF, with its clever design and automatic folding, isn't just a scooter – it's the key to moving around freely and without stress.
Pros:
One-button auto-folding

49 lbs – lightweight and easy to carry

Maneuverable 3-wheel design
Cons:
Top speed only 3.8 mph

Struggles on rough terrains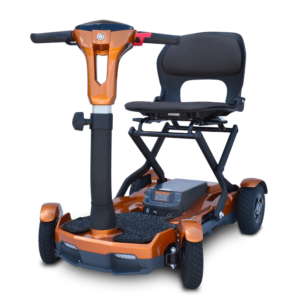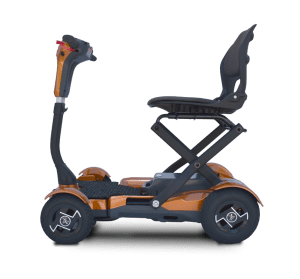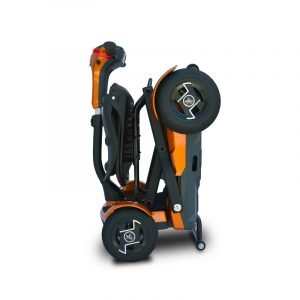 Meet the EV Rider Teqno auto fold scooter, a mobility scooter that makes travel easy with its one-touch automatic folding. With just a click on your remote control, this sturdy, 73lbs scooter folds down, standing upright on its anti-tip casters. The auto-folding feature saves you time, and makes it effortless to store or carry along when you're on the move.
But the EV Rider Teqno is more than just its folding feature. It's a power-packed scooter with a 250lbs capacity, and it can zip along at 6mph for up to 9 miles on a full charge. With four wheels and anti-tip casters, it offers top-notch stability. The EV Rider Teqno makes every trip easy, bringing the joy back into your journeys.
Pros:
One-button auto-folding

6mph top speed

Stable, 4-wheel design
Cons:
2.5" Ground Clearance

250 lb. Weight Capacity

Limited Color Choices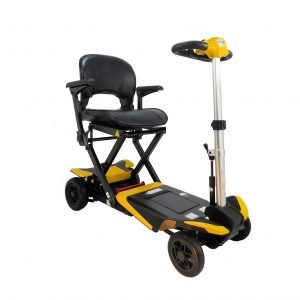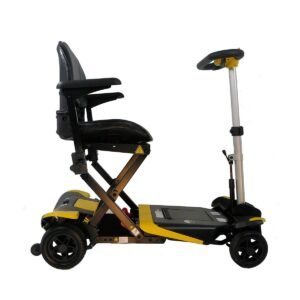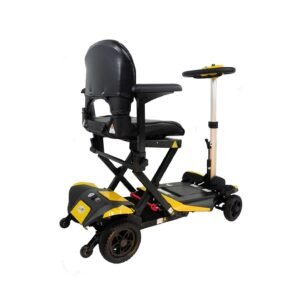 The Enhance Mobility Transformer auto fold mobility scooter is a special type of scooter because it can fold up automatically. You can either fold it by hand or use a remote control. This feature makes it easy to store because it takes up less space when folded. It can fit easily in most cars and you can even fit two of them in an average to small car trunk. This automatic folding feature is really helpful for people who may have a hard time folding it up themselves.
Even though it's easy to store, the Transformer Scooter is also very strong and reliable. It's not heavy, weighing only 53.1 pounds, but it can carry a person who weighs up to 300 pounds. It uses a special kind of battery that can power the scooter to travel up to 7 miles. You can even take it on a plane because it meets the rules for air travel. So, with the Transformer Scooter, you get a scooter that is easy to store, strong, and great for travel.
Pros:
One-button auto-folding

Light yet supports up to 300lbs

Suitable for air travel
Cons:
Only 7 miles per charge

Maximum speed of 3.7 mph

Struggles with rough terrain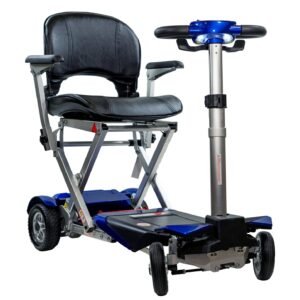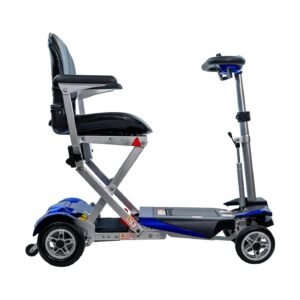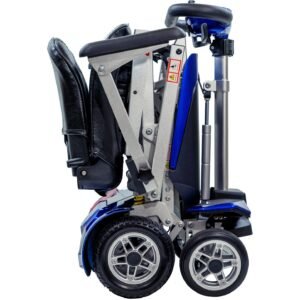 The Enhance Mobility Transformer 2 folding mobility scooter is another scooter that folds and unfolds automatically. With just one tap on the remote fob, you can pack it up or get it ready to ride. This makes it perfect for taking on trips because it can easily fit in the trunk of most cars.
But that's not all! The Transformer 2 is strong and speedy. It can carry a heavy load, go up to 13 miles on one battery charge, and reach speeds up to 4 miles per hour. Plus, it's comfy to ride with a relatively big soft seat and an easy-to-move handle. All in all, the Transformer 2 is a great scooter that folds up automatically and is also fun and comfy to ride.
Pros:
One-button auto-folding

Travels 13 miles at 4 mph

Comfortable, big, soft seat
Cons:
Heavier at 55 pounds

Does not split in two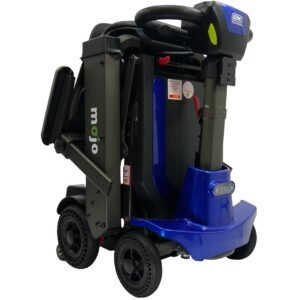 The Enhance Mobility Mojo mobility scooter foldable is a super practical folding scooter model, not just because it folds up automatically. By the push of a lever (manual lever) it breaks into two parts, making it easier to pick up. This means the heaviest piece weighs only 38 lbs!
Even as one unit it's light, at 58 lbs it's not too heavy, and the frame is sturdy enough to carry users who weigh up to 300 lbs.
This scooter is great for going long distances, up to 13 miles, without needing to recharge. It even shows you how fast you're going, how far you've gone, and how much battery is left on a clear screen. This makes the Mojo Heavy Duty Scooter exceptionally easy to use, whether you're just going to the shops or on a longer trip.
Pros:
One-button auto-folding

Impressive 13-mile range

Clear, informative display

Heaviest piece 38 lbs
Cons:
Speed info not provided

Limited color options
Frequently Asked Questions
What is the lightest auto folding scooter?
The lightest auto folding scooter is the EV Rider Transport AF + Auto Folding Scooter.
Including its batteries, the EV Rider Transport AF+ only weighs 49 lbs. This makes it very easy to carry around, put in your car trunk and store, even when you're on the move. The EV Rider Transport AF + is so company, some airlines allow it onboard the airplane. It's a powerful scooter that's also light and easy to handle.
Can you take a fold up mobility scooter on a plane?
All our auto fold up mobility scooter models can be taken on a plane and are FAA approved.
However, many airlines will ask to take the scooter at the airbridge, to store it in the hold during the flight, similar to baby carriages and pushchairs. 
If the scooter folds into a very compact shape such as the transport EV Transport AF+ or, Teqno, or Transformer 2, it might even be allowed on board the aircraft. We are happy to contact your airline on your behalf to inquire whether they would allow the auto folding mobility scooter in the main aircraft cabin.
Are auto folding scooters good?
Yes, auto folding scooters are good and really helpful for people who value convenience and mobility, but they have limitations such as speed and comfort. 
Their ability to automatically fold and unfold is particularly beneficial for those with conditions like arthritis or limited hand strength. This unique feature makes these scooters easy to transport and store due to their compact size when folded.
But these auto folding mobility scooter models do have some downsides. The seats might not be as comfy as the ones on bigger scooters, and they might not be able to carry as much weight. They can also be a bit bumpy to ride due to the lack of suspension, and they aren't as fast as other mobility scooters. Another downside is that folding and unfolding the scooter can use up the battery, slightly using up your battery life. Also, the little remote that controls the folding can sometimes stop working, but most of these scooters can still be folded by hand in case of emergency.
What is the best light weight folding scooter?
The best light weight folding scooter is the Enhance Mobility Mojo auto folding scooter. Not only does it fold by the push of a button, it also splits in two if necessary. 
This scooter stands out because it is able to split into two pieces, and the heaviest part, the front frame, weighs only 38 lbs. This makes it easier to handle and transport compared to other scooters.