EV-Rider
This page shows our collection of EG-Rider mobility scooters.
EV Rider is a company that really cares about making good, reliable battery-powered scooters. Their team has been doing this for more than 30 years, so they know what they're doing. They sell a lot of different types of mobility scooters to help people get around easily. They're also well-known for their folding mobility scooters, which are easy to fold up and take with you. They're all about making sure their customers are happy and have the best scooters for their needs.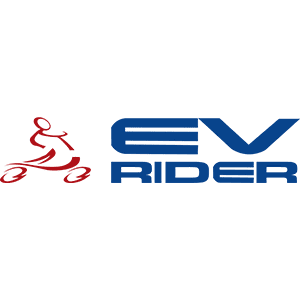 Show Filters
EV Rider scooters are the real MVP for folks who like to go places. They're totally perfect for people on-the-go since they fold up and fit in an airplane – so you can take it with ya wherever your travels may lead. No more stressing over how to get around during those plane rides, these mobility scooters will help make them a breeze.
In addition to their foldable and travel-friendly scooters, EV Rider also offers heavy-duty mobility scooters designed for all-terrain use. Their heavy-duty scooters provide the stability and durability needed to tackle any terrain, so that nothing gets in the way of feeling empowered to explore. With these robust models, maintaining mobility even when conditions are tough is a breeze – giving users confidence and independence like never before.
We sell both 3-wheel and 4-wheel EV Rider mobility scooters – both types are listed below. Choose a 3 wheel model if you prefer maneuverability and tight turning over extra stability.  Choose a 4 wheel model if you prefer extra stability over maneuverability and tight turning.
With EV Rider mobility scooters, you can pick the perfect set of wheels for your needs and lifestyle! From travel-friendly models to heavy-duty rides that handle rough terrain like a champ – plus 3 or 4 wheel options for whatever kind of maneuverability or stability you need–we've got it all.
Notable Mentions: Best EV Rider Mobility Scooters
1. EV-Rider Vita Monster Recreational Mobility Scooter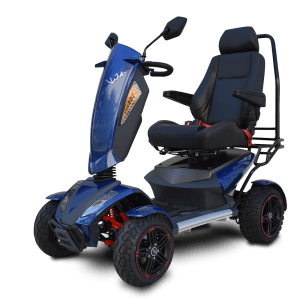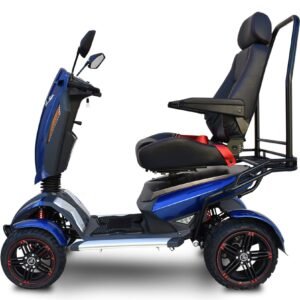 EV Rider's Vita Monster is the ultimate ride for any thrill-seeking adventure lover. It'll take you to exciting places with its powerful 900W 4-pole motor, offering a blazing speed of 11.5 mph and up to 28 miles range per charge — no stopping in sight. Get ready for an extra comfortable journey too – with four suspension systems and 15″ rough terrain wheels that guarantee minimal bounce along every bumpy road ahead.
The Vita Monster is the perfect sidekick for your mobility needs – slim and safe enough to be accessible to almost anyone. With its comfortable captain's chair, seatbelt, roll bar and ergonomic controls you'll never worry about a smooth ride. Plus LED headlights keep you visible at any time of day or night so that everyone will know who's boss when they see this beast rolling through town.
Pros:
Powerful All-Terrain Motor

11.5mph Top Speed, 28 miles Max Range

350 lb Weight Capacity
Cons:
53" Turning Raidus

Designed Primarily for Outdoor Use

Higher Price Point
2. EV-Rider VitaXpress Heavy Duty Mobility Scooter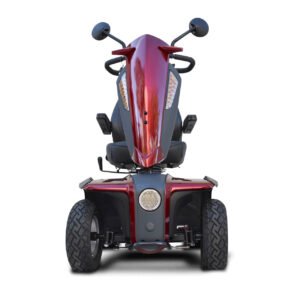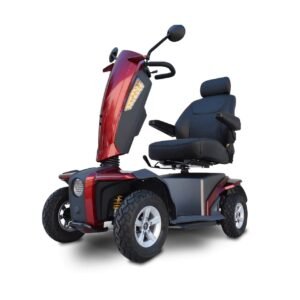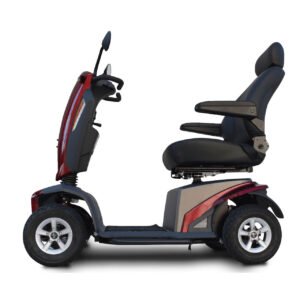 The EV-Rider VitaXpress is an awesome scooter that's designed for serious comfort, stability and performance. With its high load capacity – up to 350 lbs – fast speed of 7.5 mph and travel range of 25 miles on a single charge, it has you covered whether you're taking it indoors or out! It also comes with some really cool features like a powerful 750W 4-pole motor, dual 12V80Ah batteries plus an advanced suspension system so even bumpy terrain won't slow you down!
The VitaXpress features an adjustable orthopedic captain's chair that swivels, along with a breathable fabric and an easy-to-use tiller system. Safety is also covered by its full LED lighting package, smart braking system, plus variable speed control – you'll be cruising around like a pro! For extra ease of use, there's even an intuitive LCD screen so you can quickly check your settings. Experience all this convenience at once – hop on board today for the perfect scooter experience!
Pros:
Powerful All-Terrain Motor

Stable, 4-Wheel Design

350 lb Weight Capacity
Cons:
47" Turning Raidus

Designed Primarily for Outdoor Use

Higher Price Point
3. EV-Rider Teqno Heavy Duty Auto Folding Lightweight Travel Mobility Scooter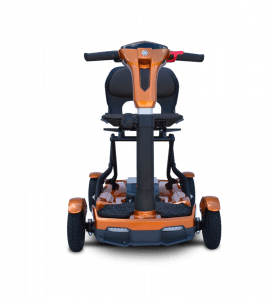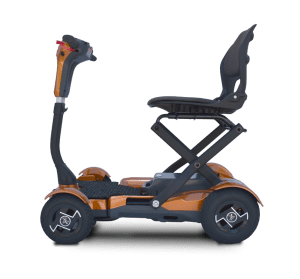 The Teqno from EV Rider is here to provide you with a reliable ride that hits up to 6 mph. Aside from fast speeds, this heavy-duty scooter has it all – safety and stability features plus an awesome auto folding mechanism controlled by a remote! All of these great specs are packaged in one sleek design weighing just 73 lbs.
The EV Rider Teqno has you covered, with its adjustable tiller for the perfect fit, sure-grip handles so nothing slips away from your grasp, folded seat loaded up with 1" soft foam – that's gotta be comfortable! And don't forget about those wide slip resistant footpads; they're gonna make getting around in any kind of terrain nice 'n easy. There are also pneumatic tires and anti-tip casters which promise a smooth ride while built in lighting ensures night time safety all lit up bright like day! So whatever journey life takes you on next get ready because this reliable and stylish scooter will have ya exploring comfortably no matter what obstacle pops along the way.
Pros:
Stable, 4-Wheel Design

Auto-fold, Lightweight

Wide, Slip Resistant Foot Pad
Cons:
2.5" Ground Clearance

250 lb. Weight Capacity

 Limited Color Choices
How to use this page
Above see a list of products (all the products in the EV Rider mobility scooter collection), and below the products you'll find some more helpful information pertaining to heavy-duty mobility scooters, weight capacity brands and top models.
Click on any product you like, to be taken to that product's dedicated page. On the product page see more information such as more images, videos, price, specifications, financing options as well as an add to cart button if you decide to purchase.
Frequently Asked Questions (FAQ)
1. What is the lightest auto fold mobility scooter?
The lightest auto fold mobility scooter is the EV Rider Transport AF +.
This compact and convenient scooter weighs only 49 lbs, including its batteries, making it extremely portable and easy to handle, perfect for those constantly on the go.
2. Can you take a fold up mobility scooter on a plane?
Yes, you can take a fold up mobility scooter on a plane, as long as the battery is FAA approved.
A great option for air travel is the EV Rider Transport AF+ Scooter. This specific model is airline-approved, which means it meets all the necessary safety regulations for air travel. It's compact and easy to fold, making it convenient to carry along during your journey. Always remember to check with your airline prior to travel for any specific guidelines or requirements they may have regarding mobility scooters.
3. What is the best heavy duty foldable mobility scooter?
The best heavy-duty foldable mobility scooter is the Enhance Mobility Mojo heavy duty auto folding mobility scooter.
This scooter folds up automatically with just a push of a button. It's travel-friendly since it's approved for airline and cruise travel, and weighs 58 lbs. It maneuvers easily in tight spaces and can be stored almost anywhere, even in the trunk of a car.