Why Buy Mobility Scooters Online?
A guide to the advantages of online mobility scooter purchases versus showrooms
Heavy Duty Mobility is an online store. Our models are shipped directly from the manufacturer to you, the customers. This model benefits you, the customer, tremendously. How?
Many customers wonder, how can we buy an object as necessary and expensive online? Surely this kind of purchase needs an actual store, seeing, touching, feeling, and trying?
Some people insist on buying in person. We understand them. However, more and more people are choosing to buy online. Especially in the United States, the trend is moving from physical purchases to online purchases, even for extensive and expensive items.
Our guide on why buy scooters online is here to help you make an informed decision! We've gathered expert opinions and done the research to bring you accurate and reliable information about the benefits of buying mobility scooters online.
To ensure the information presented is accurate, we've fact-checked and verified everything with official sources, including industry experts and online retailers. With this guide, we hope to help you navigate the pros and cons of purchasing your mobility scooter online, and make the process easier and more convenient for you. So, whether you're a tech-savvy shopper or a first-time buyer, let us guide you through the world of online mobility scooter shopping.
What are the advantages of buying online vs. in person? What about the disadvantages of buying online?
Let's start with the disadvantages and how we respond to them. Then we'll go through the advantages of buying online.
Online Purchase
Showroom/Physical Store
Price
Cheaper
More expensive
Heavy Duty Models Available
Yes
Usually not
Company/Warranty
Find accredited, trustworthy company
Rely on person in-store
Model & Color Selection
Everything available
Limited selection
Repairs
In-home service possible
Often need to bring in to store
Sales Pressure
Less pressure
More pressure likely
Try out Controls
Compare with
>Old scooter
>Rental
>Borrow
Best for trying out
Try out Fit
Compare with
>Old scooter
>Rental
>Borrow
Best for trying out
The need to try out: How can I know it will fit me?
We are here to offer you as much info as you need. We can measure all kinds of dimensions to ensure you're satisfied with the fit. If we don't have the measurement, we will contact the manufacturer and get it for you, no matter how obscure.
We are also building the largest database of photos and videos for the mobility scooters we sell, so there will be a picture of every angle you need.
Some scooters have optional upgrades, free and paid, which allow you to have your scooter delivered in the best configuration for your body –contact us for details.
Remember that mobility scooters are designed to fit most average-sized people. Whether tall or short heavy or thin, mobility scooter designers keep in mind their models need to fit all kinds of body shapes. Unless you are:
Extremely tall (above 6'61)
Very short (less than 4'81)
Hefty (over 500 lbs.)
V

ery wide (more than 26″ side to side)
there will be a scooter to fit you.
Scooters come with seat sliders to adjust forward and backward depending on your size. Likewise, most tillers (the steering column) move toward or away from the passenger, according to your preference.
It's always a good idea to call us and check if a particular model will fit you, but the main thing is to be aware that chances are, you're not that different! 
With 11.1% of people in the US facing serious mobility difficulty, scooters have fit millions before you, and you're likely not that different in body shape from those millions.
The need to try out: How can I know if I'll be good at riding it?
---
Generally speaking, almost all mobility scooter users pick up the controls pretty quickly. This is a medical device, not a sports motorcycle! They have been designed so older adults with slower erection times, and often limited dexterity can operate them safely.
There will either be a lever for acceleration, sometimes a twist grip, or a pedal. Choose the one you think would work best for you, but in reality, all of them are designed to be super easy to use.
Many heavy-duty mobility scooters also feature a know or button, allowing you to ride in slow mode. This can be very useful when starting with your scooter and getting a feel for its reactions.
If you have an existing scooter, even if very different from the recreational one you plan on buying with us, it can be a helpful tool in comparing the dimensions of your old one to ascertain how the new one will feel. For example, we can tell you, the seat will be a little wider, you'll have 3″ more leg space, and it will go double as fast at top speed.
Also, since virtually all of our scooters are meant for the outdoors, you will have more space and room for error than you do with an indoor scooter.
That said, if you suffer from specific ailments, an outdoor mobility scooter may not be for you. Consider this a checklist of a few of the more important ones:
Do you suffer from vertigo?


If yes, does it affect you only when standing up or even when seated? You will be seated as you ride your mobility scooter; however, if you suffer from balance issues even when sitting, this could be an issue, and a doctor should be consulted. Heavy duty and fastest mobility scooters go faster than their travel counterparts, so these factors are essential to consider for our range of scooters.

Do you have Parkinson's disease or other ailments which cause severe tremors??

This might impact your ability to use the controls, particularly the acceleration levers, causing unwanted and potentially dangerous acceleration. Some models offer a foot pedal acceleration option for those who have better foot control than their hands. Even so, a doctor should be consulted in case of significant tremors.

Do you have Alzheimer's disease or dementia? Do you forget where you are and how to get home?


Especially with the heavy-duty and all-terrain scooter, your device can take you miles away from home, so it's essential you know where you are and how to get home.
How can I know there will be someone to talk to post-sale?
What about the warranty?
When you go to a store, there's someone there, and you can always drive back and have a word with them. But, when you buy something online, how can you know they won't "ghost" you post-sale once they have your money?
Our accreditation is dependent on good customer service. We'd have a long list of unresolved complaints and bad reviews if not.
At Heavy Duty Mobility, we put customer service before anything else.
We are available by phone, live chat, email, and online form.
Warranty Policy on Online-Purchased Mobility Scooters
Please see our main article on warranties.
Many of our all-terrain mobility scooters come with in-home service repair contracts. This means a technician will come right to your home to repair your scooter. If they can't fix it on-site, they will take your mobility scooter back to their workshop and deliver it to your home when it is repaired. Please call us for further details.
Is there any way to try out a scooter pre-sale?
If you're the kind of person that absolutely must physically sit on a scooter before purchasing. There a still a few options:
Mobility Scooter Rental
You may be able to rent a mobility scooter in your local area. Contact us for details, and we'll run a search for you. This will allow you to try a scooter out for a short period and see how this suits you.
Friend or family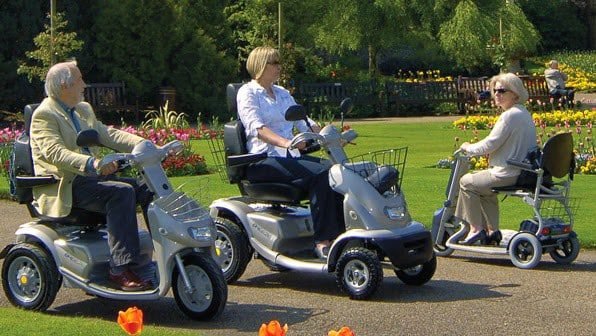 You might have a friend or family that can lend you a scooter to try out for a short period. As mentioned above, the model you try out does not need to be an exact match with the all-terrain mobility scooter you plan on buying from us. Simply getting into a scooter and seeing how you feel will allow us to compare both scooters.
Based on the make and model of the scooter you tried out, we will be able to pull up that scooter's complete information and tell you how the scooter you plan on buying compares to the one you rode. We'll be able to compare dimensions, motors, ground clearance, and a whole slew of other factors and specifications.
The advantages of buying mobility scooters online vs. showrooms
Heavy-Duty Scooter Availability in Showrooms
For a start, the products we sell here at Heavy Duty Mobility aren't available at most showrooms.
Most showrooms stock scooters such as travel scooters and, at best, mid-range scooters. Showrooms don't stock all-terrain/fastest scooters for several reasons:
These models are more significant, so they take up more space. Since they are more expensive, they are harder to sell. Showrooms do not want to be sitting on expensive merchandise which takes time to sell. Most customers for mobility scooters simply want a light, travel style model – stores stock what most customers want.
Additionally, when new, highly sought-after mobility scooter models come out, the process of getting them to showrooms is much lengthier than having them sold by online dealers directly from the manufacturer's warehouse.
Showrooms usually have very little selection.
If, in a rare case, a showroom does decide to stock the odd fastest/heavy-duty model, chances are the range of models will be very small (usually just one to choose from). There also won't be much color selection in stock.
Another factor to consider is that higher-quality mobility scooters often have a host of options/upgrades to choose from, configured at the manufacturer level.
Say you wanted a faster motor and heavy-duty suspension upgrade on an Afiscooter 54. We could have one shipped to you configured this way and shipped directly from the manufacturer in this configuration. Unfortunately, a showroom that barely stocks the model will not have all the variations and upgrades available and in stock.
Showrooms can order in a model they don't have in stock, but then we're back to square one
Can't showrooms request the particular model you're after, so they can offer the same selection as Heavy Duty Mobility? They could, but if ordering a specific model they don't usually stock, they would almost always make you pay for it in advance.
They would also be reluctant to set it up, let you try it, and then accept you are saying you don't like it and return your money. Remember, they don't usually stock this model you picked out, so you don't want to have a rare model stuck in their showroom.
Ordering from a showroom is the same as ordering online, usually for a higher price!
Showrooms are almost always more expensive
This isn't because shroom owners are greedy – they simply have higher overhead costs. Therefore, they need to hold inventory and pay for their physical location and other overhead expenses.
The bottom line is shopping at Heavy Duty Mobility is likely to save you several hundred dollars vs. showrooms prices.
Showrooms can involve sales pressure.
When you're face to face with a salesman, it's easy for them to pressure you into buying something you wanted to think over a little more. They're excited to be selling you a high-ticket item.
Online and over the phone, you aren't under pressure. You can browse, think things over, put the phone down, and sleep over it.
At Heavy Duty Mobility, we try our hardest to give you honest advice and not be pushy. If it works for you, that's great. But if you decide not to get a scooter, you need to wait or think, that's fine too! We're here when you need us.
In-home repairs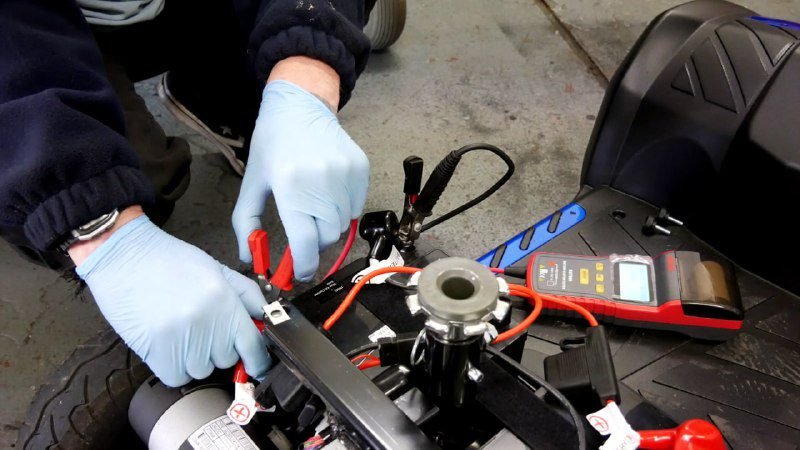 Not all brands, but several, offer in-home repairs under warranty, should the need arise. So if bringing your scooter into a location is difficult for you, buying from our online store can be a great advantage if packaged with a scooter that includes an in-home repair service!
Especially with the large mobility scooters we sell, not everyone has a vehicle, truck, trailer, or lift large enough to transport their heavy-duty scooter. So here, we give you the service of no need to bring in and pick up – your scooter stays where it is, and a technician comes to you.
To see which brands offer which policies, check out our warranties page.
Why Buy Mobility Scooters from us?
Pre-selected to match our site's mission – large, heavy duty, fastest and all-terrain. This means all our attention is where you need it to be, and you don't have to go hunting through huge lists of products you aren't interested in.
If you see a product advertised online for cheaper we will sell you the product for the same price or cheaper, provided that pricing is not in violation of the manufacturer's minimum advertised pricing policy.
We believe when paying for an item like a heavy duty mobility scooter, shipping should be free. We also offer White Glove Shipping as an optional service if necessary. Though White Glove Delivery isn't cheap, we charge our customers what it costs us and don't make any profit on this.
Our phone lines are staffed by humans, not robots, and it's really easy to speak to a member of staff at all business hours, even on weekends. If the line is busy, we'll call you right back.
We will work with you over the phone or send out a technician to address your concern, depending on your scooter type and its associated warranty.
This is an advantage to our customers, as manufacturers are often involved with the warranty process and answering technical questions.