Sale!
Merits EZ-GO Deluxe Travel Power Wheelchair – P321B
-60%
Stock: See StockIn Stock
Stock status can change very rapidly - an item might come back in stock before we update this or might have sold out.
We highly recommend you call or chat with us for a 100% stock status.

Videos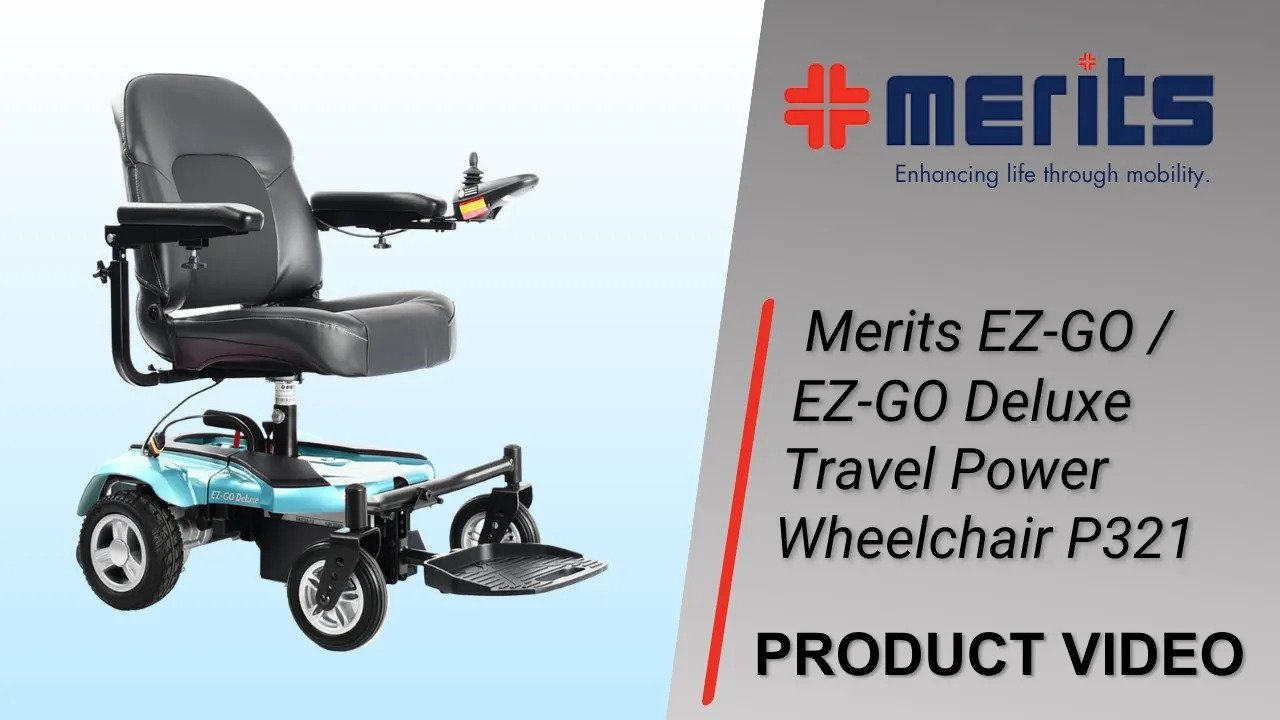 Quick Overview
Merits EZ-GO Deluxe Travel Power Wheelchair – P321B
Key Features 
Easily disassembled into three compact pieces

Fits conveniently in most car trunks

Available in vibrant red and blue colors

Seat dimensions 17"W x 15"D x 18-21"H

Weight capacity up to 300lbs

Designed for optimal comfort and support

Compact and lightweight design

Turning radius of just 23"

Options for oxygen tank holders, cane holders, and more

5-year warranty on the main frame

1-year warranty on electronic components

Seasonal promotions and coupons available
Introducing the Merits EZ-GO P321B Power Wheelchair - your travel-friendly companion. This lightweight power wheelchair is perfect for those who are always on the move. Available in attractive pink color. It offers flexibility, ease of use, and style.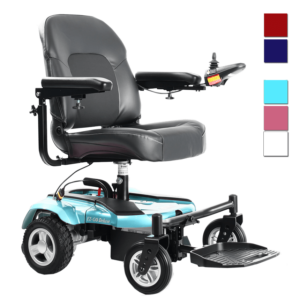 Super Light and Easy Disassembly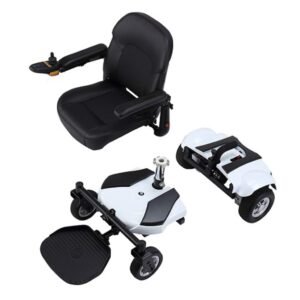 The Merits EZ-GO is best known for being easy to carry around. You can take it apart fast and without trouble, breaking it down into three small parts. These parts can fit nicely into the trunk of most cars, making it a great choice for those who need to transport their chair often.
Ergonomic Seat
Experience comfort like never before with an ergonomic mid-back seat, providing additional back support. The seat dimensions are 17"W x 15"D x 18-21"H, designed to hold up to 250lbs.
Exceptional Maneuverability: With a turning radius of just 23", this compact and lightweight design power wheelchair ensures easy maneuverability in tight spaces, be it indoors or outdoors.
Accessories and Add-ons
You can make your experience with this chair even better by adding some optional accessories. There are things like holders for oxygen tanks or canes, and more. These extras let you tailor the chair to your specific needs and preferences, making it more convenient and comfortable for you to use.
Warranty Information 
This chair comes with a 5-year warranty on the main frame and a 1-year warranty on electronic components, including controllers, harnesses, and chargers. If anything breaks during that time, you can get it fixed or replaced without extra cost. It's a promise from the company to keep you protected.
Looking for a deal? Call us for seasonal promotions and coupons on the Merits EZ-GO Power Wheelchair.
Specifications
Merits EZ-GO / EZ-GO Deluxe SPECIFICATIONS
| | |
| --- | --- |
| Seat Width | 17″ |
| Seat Depth | 15″ |
| Seat Height | 18″ – 21″ |
| Overall Length | 34″ |
| Overall Height | 33″ |
| Overall Width | 22″ |
| Total Weight | 113 lbs |
| Weight Capacity | 300 lbs |
| Max Speed | 4 mph |
| Range per Charge | Up to 12 Miles |
| Turning Radius | 23″ |
| Ground Clearance | 1.8″ |
| Motor | DC 24V, 90W |
| Controller | PG VSI 50A |
| Battery | 12V/22Ah x 2 pcs SLA |
| Charger | 1.5A off-board |
| Gradient | 6° | 10% |
| Casters | 7″ solid tire |
| Drive Wheels | 8″ solid tire |
| Brakes | Intelligent, Regenerative, Electromagnetic |
| Heaviest Piece | 54 lbs |
| Shipping Dimensions (L x W x H) | 36″ x 24″ x 24″ |
| Warranty on Batteries | 6 Month Limited |
| Warranty on Electronics | 1 Year Limited |
| Warranty on Motor | 1 Year Limited |
| Warranty on Structure | 5 Year Limited |
Financing & Monthly Payments
We are currently partnered with PayTomorrow so you can pay for your scooter in monthly installments or choose a lease-to-own plan. You can see the minimum amount per month, above, next to the price of the scooter.

It's a simple online process, usually with an instant eligibility response, but many less tech-savvy customers prefer help over the phone.
Contact us by calling our toll-free number 1-888-233-5563 or by live chat with one of our agents by clicking here.
Documentation, Manuals & Safety
Documentation