Sale!
EZ-Carrier Manual Vehicle Carrier for Mobility Scooters
-18%
Stock: See StockIn Stock
Stock status can change very rapidly - an item might come back in stock before we update this or might have sold out.
We highly recommend you call or chat with us for a 100% stock status.

Videos
Videos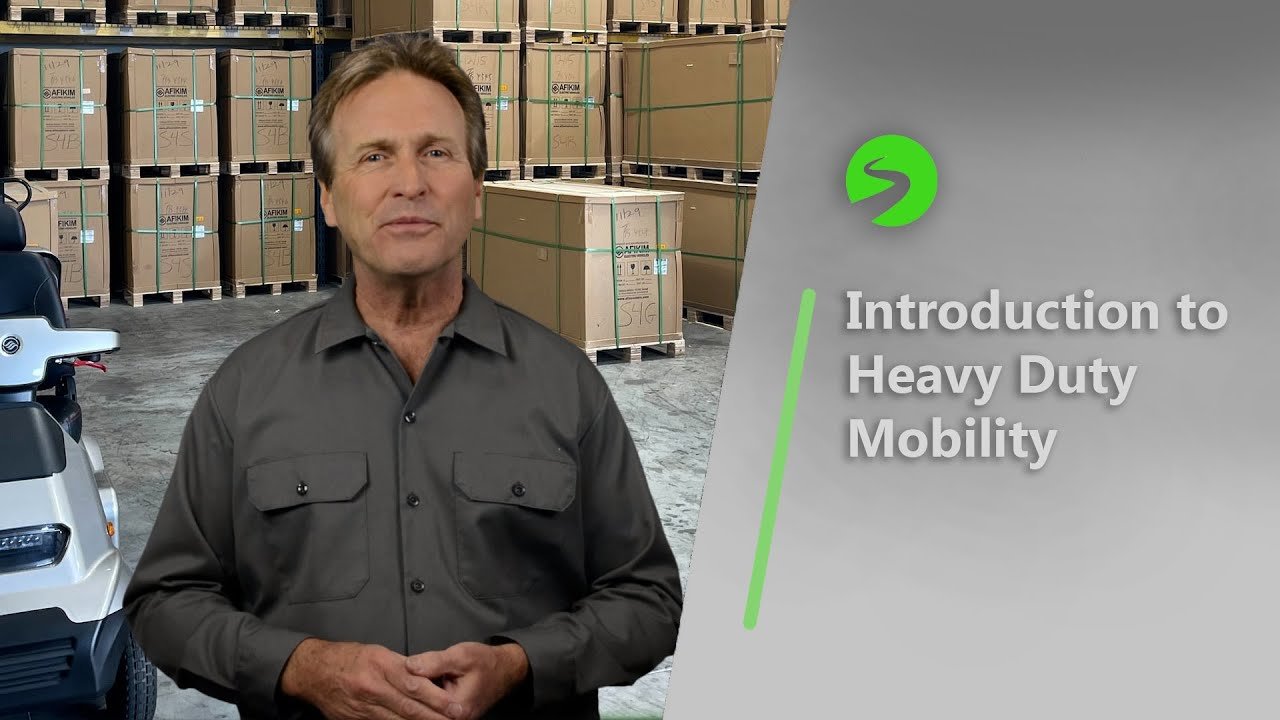 Quick Overview
Quick Overview
EZC-2: Manual Fold Up Carrier – Straight Hitch Connector
These Manual EZ Carriers are designed for quality and durability and are the most economical options.
Guide your power chair or scooter up the ramp of this electric scooter carrier for car and take it with you wherever you want to go.
Ideal for those who have some physical mobility, and perfect for those with caregivers, but don't want to deal with full scooter trailers for cars. 

This is a vertically folding mobility scooter carrier – simply pull the pin and fold up the carrier platform manually like a tailgate (50 lbs. lifting weight).
We can help you select the correct carrier based on your vehicle's hitch height.
Ideal for vehicles with trailer hitch heights from 12" to 14"
1 Year Limited Factory Warranty
EZC-2: Manual Fold Up Carrier – same as above with Adjustable Hitch Connector:
Height adjustable adapter allows you to set the height of your carrier
Adapters set the platform higher or lower by 1", 3", & 5"
1 Year Limited Factory Warranty
SPECIFICATIONS
Platform Size Options:
28″ x 50″
32″ x 60″
32″ x 74″
Custom Platform Sizes Available
Powder Coated All-Steel Platform
Receiver Weight Capacity 350 lbs for Class II *Varies Depending on Vehicle
Receiver Weight Capacity 500 lbs for Class III
Locking Hitch Pin Included for Class III
Can also be used as a general cargo carrier
Please verify TONGUE WEIGHT CAPACITY for your vehicle with the vehicle manufacturer to ensure safe application
How to Purchase & What's Included
How to Purchase & What's Included
Why is this product expensive?
We aim to give you a selection of premium, US-made items that will withstand time.
You can get cheaper lifts, carriers and ramps on sites like Amazon, made abroad.
If you prefer a cheaper item, we are happy to help you find a cheaper item on another site to go with your scooter.
What do I need to do to purchase the EZ-Carrier online/over the phone?
To purchase over the phone, simply call our toll-free number 1-888-233-5563 and we can help you from there.
If you are sure about the model you want, all we would need is your payment method (easiest is credit card or cash/checking account card) and your shipping address.
If you aren't quite sure which model to choose, we can offer suggestions and advice to your heart's content – until you're perfectly satisfied.
What happens after my order for the EZ-Carrier is placed?
After your order for the Lift is placed, you will see a screen that looks like this one: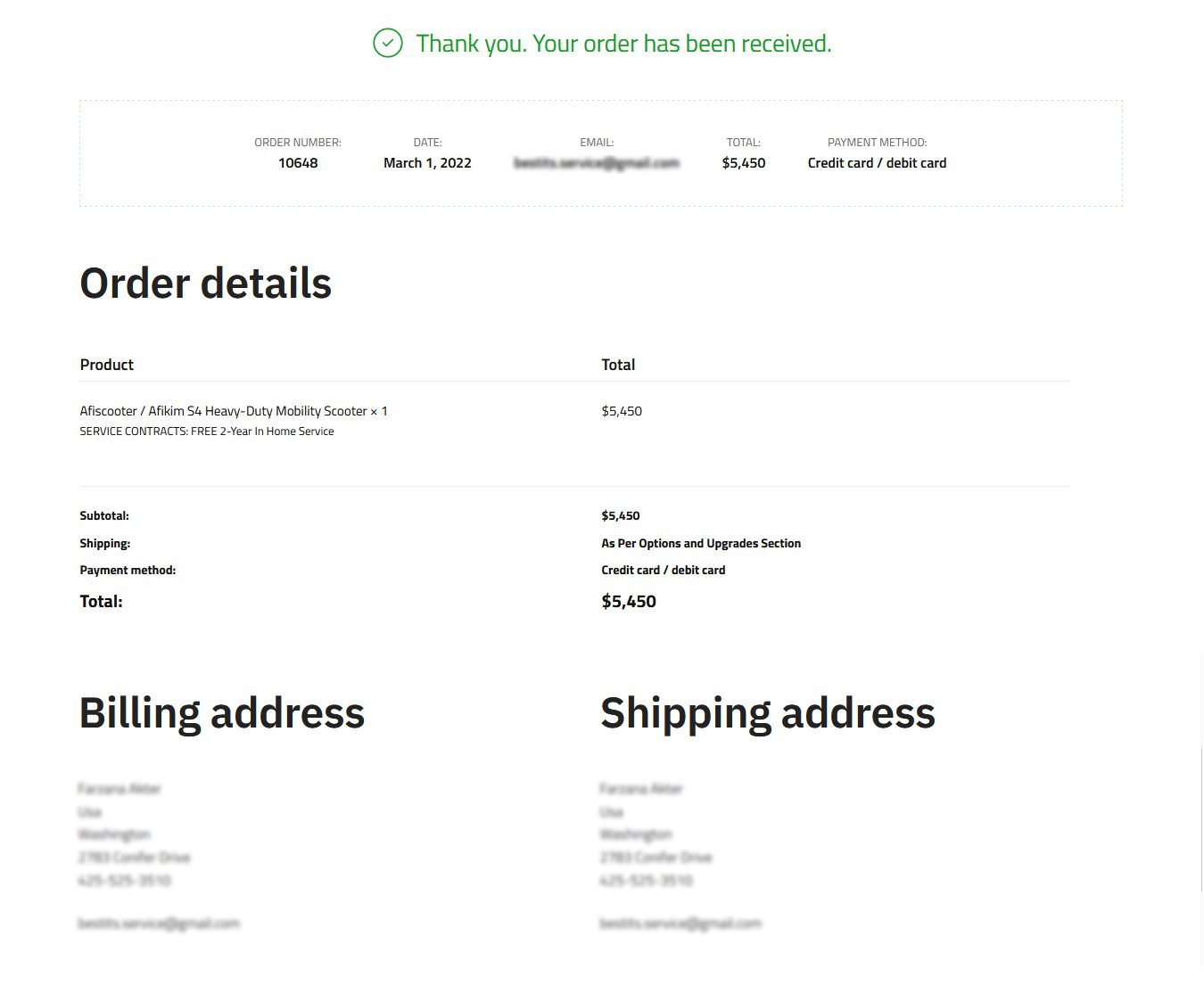 You will also receive an email confirmation, detailing the item you brought and the price you paid. The email will come from: [email protected].
Your email confirmation will contain instructions regarding delivery, please read these carefully.
As soon as your item ships, we will send you an email containing a tracking link. Clicking on this link will allow you to track the shipping progress of your carrier.
Financing & Monthly Payments
Financing & Monthly Payments
We are currently partnered with PayTomorrow so you can pay for your scooter in monthly instalments or choose a lease-to-own plan. You can see the minimum amount per month, above, next to the price of the scooter.

It's a simple online process, usually with an instant eligibility response, but many less tech-savvy customers prefer help over the phone.
Contact us by calling our toll-free number 1-888-233-5563 or by live chat with one of our agents by clicking here.
Shipping, Warranty & Returns
Shipping, Warranty & Returns
Shipping
How long from the time of order until I get my items?
Around 2 weeks, under normal conditions.
Why are there such long lead times on some mobility items?
Covid has dealt a horrible blow to pretty much every industry on the planet. Right from mining materials to processing them to the factories that produce parts, shipping and freight companies – at every stage of the chain there are workforce shortages and severe delays.
Warranty
Who can I contact post-sale with questions on my product?
What if my order hasn't arrived by the time it was supposed to?
Especially since Covid, which made the truck driver shortage issue even worse than it was, your shipment might be delayed. If this happens, please call us
1-888-233-5563
, or the number of the shipping company we provide you with so you can get an update on your shipping status.
What happens if my order for an EZ-Carrier is damaged?
When your item arrives, do not sign any forms until you have opened the boxes and ascertained that everything is as it should be.

If the external boxes are damaged, make sure to note this next to your signature. Make sure to inspect the contents before signing.

If your item is damaged in a way that the entire item needs to be replaced, just refuse the entire delivery.

If your item is damaged in a way that a spare part needs to be sent out and installed, accept the delivery, and list any damaged items next to your signature.

If you find damage after having signed for delivery without any damage notes, this can be really problematic as the shipping company may try to shift the blame onto you. This is why it's important to check for damage, especially if the outside boxes are damaged.
What happens if my EZ-Carrier breaks down?
If your product malfunctions, please contact us. Will will assist you with warranty claims by contacting the manufacturer.
How long does the warranty last for?
This product is covered by a one-year warranty from the manufacturer. Please contact us for further details.
What can I do after the warranty period? Can I get spare parts for the EZ-Carrier? Who repairs these scooters and where?
After the warranty period, you are still welcome to contact us at any time.
Parts are available through us or the manufacturer, though you will be charged for these, it might take significant time, and we can't guarantee EZ-Carrier will have the part you need.
If you need someone to install parts or for other labor services, local technicians are available throughout the contiguous USA , at your cost.
Contact us for help finding a tech, or for more details.
Returns
What if I don't like my product? Can I return or exchange it?
Documentation, Manuals & Safety
Documentation, Manuals & Safety
Documentation
Why buy an EZ Carrier from us?
Why buy an EZ Carrier from us?
Pre-Selected Scooters
Pre-selected to match our site's mission – large, heavy duty, recreational and all-terrain. This means all our attention is where you need it to be, and you don't have to go hunting through huge lists of products you aren't interested in.
Price
If you see a product advertised online for cheaper we will sell you the product for the same price or cheaper, provided that pricing is not in violation of the manufacturer's minimum advertised pricing policy.
Free Shipping
We believe when paying for an item like a heavy duty mobility scooter, shipping should be free, so we do our utmost to offer free shipping.  We also offer white glove shipping as a recommended optional service.
Excellent and Personal Customer Service
Our phone lines are staffed by humans, not robots, and it's really easy to speak to a member of staff at all business hours, even on weekends. If the line is busy, we'll call you right back.
Post sale Service
We will work with you over the phone or send out a technician to address your concern, depending on your scooter type and its associated warranty.
Relationships
This is an advantage to our customers, as manufacturers are often involved with the warranty process and answering technical questions.
Need Help? Contact Us
Need Help? Contact Us
Have a question? Feel free to reach out to our team! We are available by:
Phone: Call 1-888-233-5563 to speak to a real human!
Live Chat: Click HERE to speak to a live agent – not a robot.
Email: [email protected] – we aim to respond within 2 business hours.
By our contact form.