This page shows our collection of Pushpak Trikes mobility scooters. Each designed with unique features and capabilities to meet your mobility needs.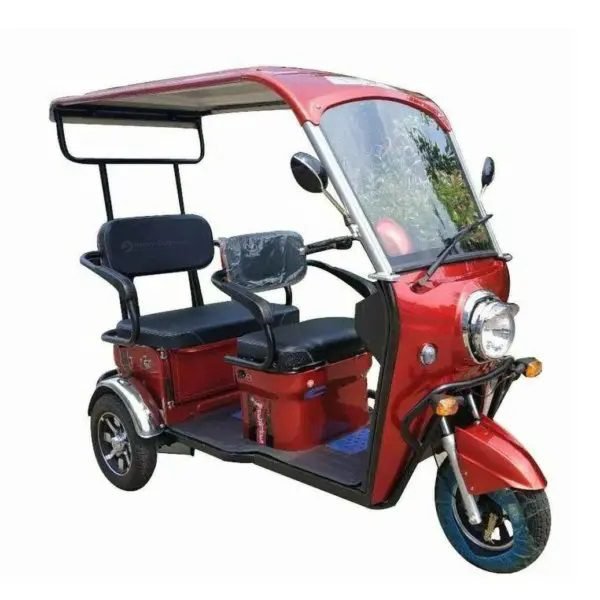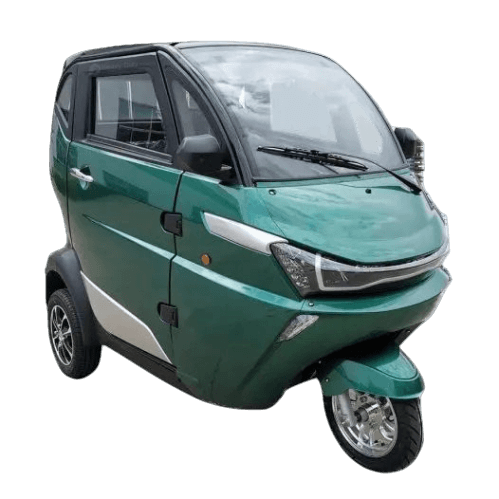 Pushpak 8000 Enclosed Cabin Three-Passenger Fast Mobility Scooter

Speak with a Mobility Expert
Show Details

Speak with a Mobility Expert
Roof & Wind Screen
High Max Speed
High Travel Range
Enclosure Type
Roof & Wind Screen
Speak with a Mobility Expert
Show Details

Enclosure Type
Roof & Wind Screen
Speak with a Mobility Expert
Are there any special maintenance requirements for a Pushpak trike compared to a bike?
Pushpak Trikes offer a unique and stable cycling experience, and while they share some maintenance needs with traditional bikes, there are a few distinctions to keep in mind. Regularly check the tires, brakes, and electrical components, and consider periodic professional maintenance for long-term performance.
How can Pushpak Trikes enhance my cycling experience?
Push pak Trikes make your cycling experience better by giving you extra stability with their three-wheel design. No matter if you're just running errands or having a relaxed ride, Pushpak Trikes offer a safe and comfy journey that regular bikes can't provide.
How can I achieve better performance with a Pushpak trike?
To optimize your Pushpak Trike's performance, start with proper maintenance. Maintain the right tire pressure, lubricate moving parts, and follow the manufacturer's battery care instructions for electric models. This regular care ensures smooth rides and maximizes your trike's range.
How do I choose the right model of Pushpak Trike for me?
To pick the perfect Push pak Trike scooter for you, think about what you'll use it for. Do you need it for daily commuting, carrying stuff, or just casual rides? Pushpak Motors offers different models for various purposes, including those designed for shared experiences with comfortable and quality Pushpak seat. Talk to our experts, and they'll help you find the one that fits what you need.
How can Pushpak Trikes improve my cycling experience?
Pushpak Trikes scooter models enhance your cycling experience by offering stability, comfort, and versatility. Electric options conquer hills with ease and extend your range, making every ride more enjoyable. Say goodbye to balance concerns and hello to a smooth, stress-free journey.
Can I customize my Pushpak Trike to fit my specific needs or preferences?
Pushpak Trike may not have extensive customization options, but they offer a range of trikes in various colors with accessory choices. 
Pushpak Trikes scooter models offer a wonderful way to enjoy cycling like never before. These Pushpak vehicle units are easy to ride and super comfy, making your journeys a delight. Whether you're out for errands or leisurely rides, Pushpak scooters trikes bring a sense of stability and fun. So, step into the world of Pushpak Trikes and start your exciting journey today.
x
Security for buyers
Your financial information

PayPal helps keep your transactions secure by not sharing your full financial information with sellers.

24/7 Monitoring

We monitor transactions 24/7. That should help you rest easy.

Secure technology

Our encryption help keeps your online transactions guarded from start to finish.

Fraud prevention

Contact us if anything seems suspicious so we can help you protect yourself from fraudulent charges against your account. We'll never ask for sensitive information in an email.

Dispute resolution

If there's a problem with a transaction, we'll put a hold on the funds until the issue is resolved. We investigate and stay involved every step of the way.

Purchase protection around the globe

Buy or sell around the globe. We process 25 currencies in over 200 markets to make sending, spending, and selling simple and secure.
How does it work?
You bought credit for your favorite online game but never got it, you bought a book but got a DVD, you purchased an authentic brand but got a knockoff instead, your purchase arrived with major parts missing (that the seller didn't disclose), or you ordered 3 items but only got 2. Just tell us- you're covered in each instance!
Items Not Covered

Most purchases of products and services are covered except real estate, businesses, vehicles, custom-made items, industrial machinery, items equivalent to cash, anything you buy in person and items prohibited by PayPal's Acceptable Use Policy. You must open any dispute within 180 days and your account has to be in good standing or you will not be covered.

$0 liability

We'll email you a receipt confirming the payment whenever you pay with PayPal. If you receive an email for a payment you didn't authorize, contact us immediately. We'll act fast to secure your account and investigate.

Full Refunds

Our Buyer Protection Policy helps you in the unlikely event you have a problem with an eligible purchase. If an item doesn't arrive or match the seller's description, we'll help you recover the full purchase price (up to $20,000), including shipping costs.