Sale!
Shoprider 6Runner 10 Mid-Size Power Chair – 888WNLM
-50%
Stock: See StockIn Stock
Stock status can change very rapidly - an item might come back in stock before we update this or might have sold out.
We highly recommend you call or chat with us for a 100% stock status.

Videos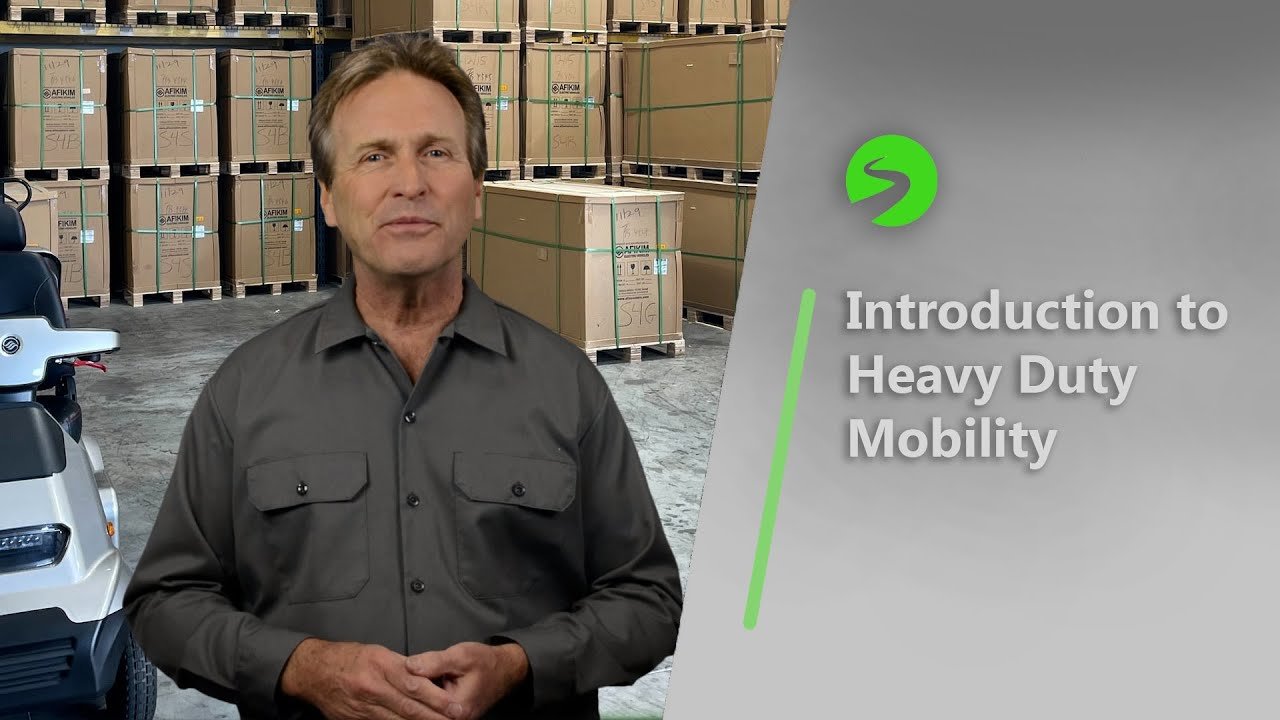 Quick Overview
Shoprider 6Runner 10 Mid-Size Power Chair – 888WNLM
Key Features 
Top speed of 5 mph

18.8-mile range on one charge

Dual 12-volt batteries

Mid-wheel drive for enhanced traction

Supports up to 300 lbs

Weighs only 191 lbs

10" drive wheels for control

Six-wheel design ensures stability

21.5-inch turning radius for maneuverability

Off-board 5-amp charger

12V x U1 (35/36Ah) x 2 battery capacity

Adjustable 19" wide seat

Cushioned high back reclining executive seat

Full suspension system for smooth rides

Customizable armrests for tailored fit

3-year warranty on the frame

Additional warranties on other parts
Enjoy great comfort with the Shoprider 6Runner 10 Power Wheelchair. It's a strong chair with six wheels that can go wherever you need it to. Whether you're outside or in a busy mall, this chair makes getting around easy and smooth. It's built to make your rides enjoyable and hassle-free.
Speed and Range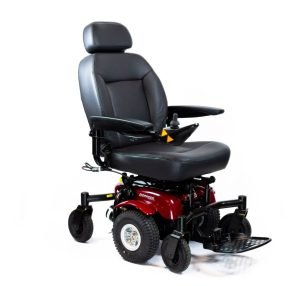 Travel with ease using the 6Runner 10 Power Wheelchair, as it can go as fast as 5 mph and travel up to 18.8 miles on a single charge. Whether you're on a long journey or just moving around town, the two 12-volt batteries give the chair plenty of power. You won't have to worry about running out of charge or being left stranded. It's a reliable choice for those who need a dependable way to get around. Perfect for daily use, the 6Runner 10 offers the freedom to explore without any stress.
Dimensions and Weight
The 6Runner 10 Power Wheelchair is designed with weight and dimensions in mind to provide easy maneuvering. It weighs only 191 pounds but can hold up to 300 pounds, offering a comfortable and stable ride for various users. Its dimensions of 42 inches in length, 23 inches in width, and 46.4 inches in height allow it to navigate through tight spaces with ease. The 10-inch drive wheels add to its ability to move smoothly, providing more traction and control. Whether you're indoors or exploring the outdoors, the 6Runner 10's size and design make it a versatile and convenient choice for many mobility needs.
Battery and Charger Information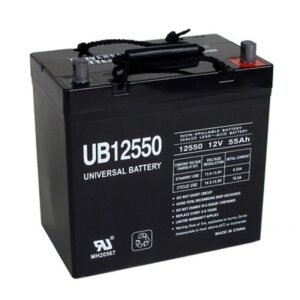 Stay charged and ready with the off-board 5-amp charger that lets you prepare your next set of batteries while you're out and about. The 12V x U1 (35/36Ah) x 2 battery capacity keeps your scooter powered for long hours.
Wheel and Motor Details
The 6Runner 10 has big wheels in the back and wheels in the middle that help you steer. These wheels make sure the chair is stable and easy to control. It also has two strong motors that make it powerful enough to ride on different types of ground, whether it's smooth or a bit bumpy. It's designed to give you a safe and reliable ride no matter where you go.
Seating Options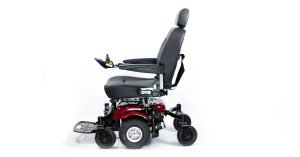 The 6Runner 10 has a comfortable 19-inch wide seat with a soft, high back that can recline, making it feel more luxurious. You can also adjust the armrests, making them wider or higher, to fit just right for you, no matter your size or shape. These seating options help ensure that every ride is cozy and tailored to your needs.
Suspension System
The 6Runner 10 has a special full suspension system that means you don't have to worry about rough or uneven roads. This system works by absorbing the bumps and jolts, making your ride smooth and gentle. Whether you're traveling over gravel paths, uneven sidewalks, or bumpy roads, the 6Runner 10's suspension will make the ride comfortable and easy, so you can enjoy your journey without any discomfort. It's like having special shock absorbers for your chair that take care of the rough spots for you.
Maneuverability
With a tight 21.5-inch turning radius, the 6Runner 10 can nearly turn on itself, allowing easy navigation in tight spaces. It's built to handle roads, sidewalks, footpaths, lawns, and more.
Stability Features
The 6Runner 10's unique six-wheel design gives it great stability, making it safer and more balanced than other scooters. Whether you're turning tight corners or going over different surfaces, the extra wheels keep the chair steady. This helps you feel more comfortable and confident as you move around, making your rides smoother and worry-free.
Safety Measures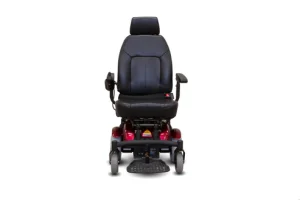 The 6Runner 10 is equipped with the mid-wheel drive system, providing enhanced traction and safety. Additionally, the 4 post seating system ensures a firm and comfortable seating position.
Warranty Information
Your Shoprider 6Runner 10 comes with a 3-year warranty on the frame, 1-year on motor/brakes/transaxle, and 1-year on electronics. The battery warranty covers 6 months.
Ready to take control of your mobility? Purchase the Shoprider 6Runner 10 Power Wheelchair for sale today and embrace freedom like never before. Click here to buy now or contact us for more information.
Specifications
Shoprider 6Runner 10 SPECIFICATIONS
| | |
| --- | --- |
| Model # | 888WNLM |
| Overall Dimensions (L x W) | 42" x 23" |
| Tire Size Front | 7" Solid |
| Tire Size Rear | 7" Solid |
| Drive Wheel | 10" Solid |
| Suspension | Limited |
| Suggested User Weight | 300 lbs |
| Product Weight | 191 lbs |
| Battery Options | U1 - 12V 35Ah Sealed Lead Acid |
| Each Battery Module Weight | 21.3 lbs x 2 |
| Charger | 5A Off-Board |
| Maximum Speed | 5 mph |
| Maximum Climbing Angle/Safe Climbing Angle | 6° | 10% |
| Range (Per Charge) | 10 miles |
| Ground Clearance | 3" |
| Turning Radius | 15.5" |
| Brake | Electromagnetic |
| Seat Type | Captain's seat |
| Seat Width | 18" |
| Suspension | Yes |
Financing & Monthly Payments
We are currently partnered with PayTomorrow so you can pay for your scooter in monthly installments or choose a lease-to-own plan. You can see the minimum amount per month, above, next to the price of the scooter.

It's a simple online process, usually with an instant eligibility response, but many less tech-savvy customers prefer help over the phone.
Contact us by calling our toll-free number 1-888-233-5563 or by live chat with one of our agents by clicking here.
Documentation, Manuals & Safety
Documentation