Sale!
Merits Regal Rear Wheel Drive Power Wheelchair – P310
-64%
Stock: See StockIn Stock
Stock status can change very rapidly - an item might come back in stock before we update this or might have sold out.
We highly recommend you call or chat with us for a 100% stock status.

Videos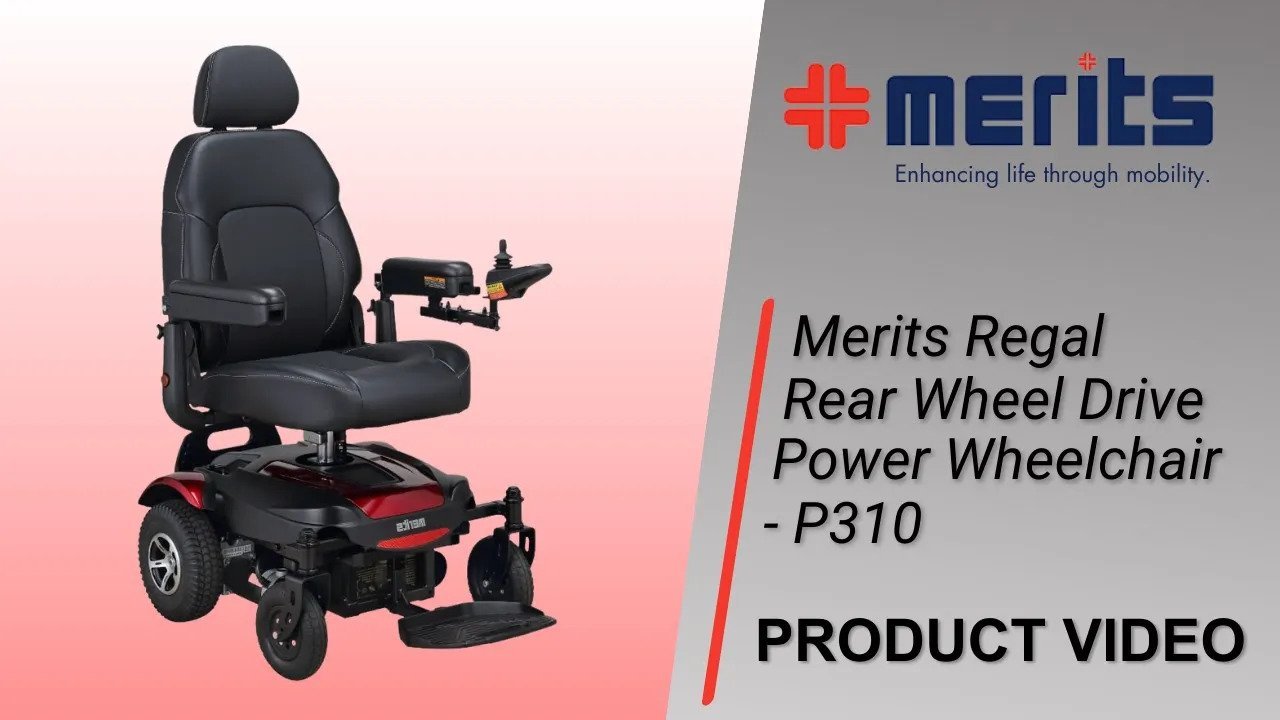 Quick Overview
Merits Regal Rear Wheel Drive Power Wheelchair – P310
Key Features
Swing-away joystick mount

Flip-up armrests and extendable seating

Dual 24 Volt DC Motors

Top speed of 5 mph

18-mile battery range

21" turning radius

Cushioned 20" wide swivel seat

Angle-adjustable backrests

Weight capacity of 300 lbs

10" drive wheels with alloy rims

Low center of gravity

Full-size frame with 10" rear and 8" foam-filled tires

Comprehensive tech support and warranty
Introducing the Merits Health P310 Regal, a top-notch rear wheel drive power wheelchair that's capturing attention in the mobility industry. If you need a reliable electric wheelchair that combines style, comfort, and performance, look no further. This model is a standout in its class.
Convenient Control and Ease of Access
The P310 Regal offers a swing-away joystick mount, allowing users to get in and out of the chair effortlessly. Unlike many electric wheelchairs, this feature comes standard. Plus, with flip-up armrests and an extendable seating area, you'll enjoy supreme comfort every time.
Enhanced Driving Features
Drive with confidence knowing that the dual 24 Volt DC Motors powering this unit will deliver smooth rides. With a top speed of 5 mph and an impressive 18-mile battery range, the P310 is ready for any adventure. The 21" turning radius ensures excellent maneuverability, even in tight spaces.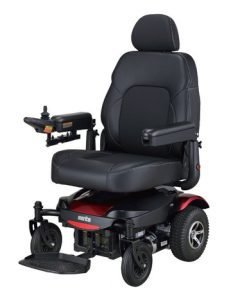 Comfortable Seating and Adjustments
The chair has a soft and wide 20-inch seat that's good for a medium-sized power chair. It's made to be really comfortable. The seat can turn, and there's a part for your feet that can lift up. This makes it easy to get in and out of the chair. The back of the seat can move to different angles, so you can make it just right for you. All these things help make the chair comfy to sit in, no matter how long you use it.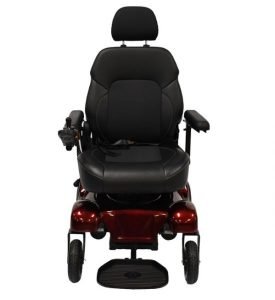 High Quality and Stability
This chair is strong and steady. It can hold up to 300 lbs, and the 10-inch wheels made with special metal make it really stable. The way it's built keeps it balanced and not likely to tip over, so it's a model you can trust. It's one of the most reliable chairs you can find.
Why Choose the Merits P310 Regal Power Wheelchair?
The Merits P310 Regal is not just a power wheelchair; it's a reliable companion. Its excellent maneuverability, supportive seating, and long-lasting performance make it a great all-around chair. Whether you're at home or on the go, the P310 Regal has you covered.
Travel and Mobility Considerations
Are you a traveler? The P310 Regal is perfect for you. Its full-size frame, 10" rear, and 8" foam-filled tires offer smooth operation. Turning at a radius of 21", the P310 Regal is a great power wheelchair for getting around with ease. It's travel-friendly and ready to roll whenever you are.
Support and Resources
We stand by our products. That's why the P310 Regal comes with an excellent warranty and tech support. Click the links to view the user manual, service manual, and brochure. We're here to help with anything you need!
Ready to elevate your mobility experience with the Merits Health P310 Regal Power Wheelchair? Contact us today to place your order or explore other fantastic products we offer.
Specifications
Merits Regal SPECIFICATIONS
| | |
| --- | --- |
| Maximum Speed | 5 mph |
| Range per Charge | 18 miles |
| Turning Radius | 21" |
| Ground Clearance | 3" |
| Grade Climbable | 12° | 21% |
| Overall Height | 41" |
| Overall Length | 39" |
| Overall Width | 24" |
| Seat Type | Captains Chair |
| Seat Width(s) | 16", 18" or 20" |
| Seat Depths | 16" or 18" |
| Seat Back Height | 18" or 20" |
| Seat to Floor Height | 20"-22" |
| Wheels Front | 8" Foam Filled Tires |
| Wheels Rear | 10" Foam Filled Tires |
| Battery Charger | 5A Off Board |
| Battery Size | U1 - 12V/34Ah x 2pcs |
| Weight Capacity | 300 lbs |
| Product Weight | 197.5 lbs |
| Battery Weight | 89 lbs |
| Brake | Intelligent, Regenerative, & Electromagnetic |
| Electronics | Dynamic Shark 60A/PG VR2 60A |
| Motor Size | DC 24V, 180W |
| Warranty on Battery | 1 Year |
| Warranty on Electronics | 18 Months |
| Warranty on Motor | 18 Months |
| Warranty on Structure | 5 Year Limited |
Financing & Monthly Payments
We are currently partnered with PayTomorrow so you can pay for your scooter in monthly installments or choose a lease-to-own plan. You can see the minimum amount per month, above, next to the price of the scooter.

It's a simple online process, usually with an instant eligibility response, but many less tech-savvy customers prefer help over the phone.
Contact us by calling our toll-free number 1-888-233-5563 or by live chat with one of our agents by clicking here.
Documentation, Manuals & Safety
Documentation