Sale!
Shoprider Streamer Sport Travel Electric Wheelchair – 888WA
-50%
Stock: See StockIn Stock
Stock status can change very rapidly - an item might come back in stock before we update this or might have sold out.
We highly recommend you call or chat with us for a 100% stock status.

Videos
Quick Overview
Shoprider Streamer Sport Travel Electric Wheelchair – 888WA
Key Features 
Rugged rear-wheel drive design

Puncture-proof tires

Ergonomic comfort in sleek burgundy color

Self-diagnosing P&G VSI controllers

Electromagnetic brakes for secure stopping

Easily maneuvers through tight spaces

Suitable for indoor and outdoor terrains

Adjustable seat, backrest, and armrests

Sporty look without compromising functionality

Comprehensive user-friendly safety guide

Tool-free adjustments

Adjustable footrest and left-hand joystick customization

One Year In-Home Service Warranty

Trained professionals for at-home repairs

Exclusive pricing and unbeatable deals

Cheapest price guarantee
Meet the Streamer Sport, an electric mobility scooter designed by ShopRider. This power chair is your ticket to freedom, providing a combination of power, convenience, and style. Whether you're navigating indoor spaces or rugged outdoor terrains, the Streamer Sport is built for maximum comfort and stability.
Construction & Design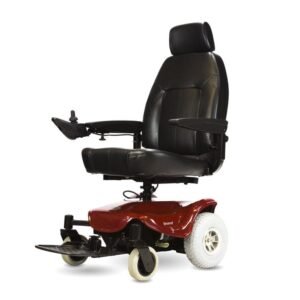 The Streamer Sport is built to be strong and long-lasting. It has rear-wheel drive for more power and tires that won't go flat, so you don't have to worry about your journey. Its design makes sure you're comfortable, and the nice burgundy color adds a stylish look.
Technology & Performance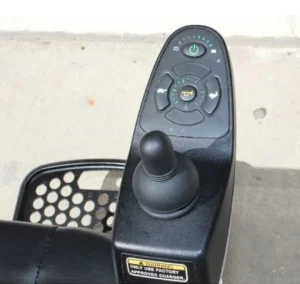 Harnessing the latest technology, the Streamer Sport offers self-diagnosing P&G VSI controllers, giving you peace of mind. The electromagnetic brakes provide a secure stop, making this power chair not just technologically advanced but also safe to ride.
Indoor & Outdoor Usability
Maneuvering through tight spaces is a breeze with the Streamer Sport's rear drive wheels. Whether it's indoor power wheelchair needs or outdoor adventure, its unique design and construction can handle various terrains with ease.
Comfort & Style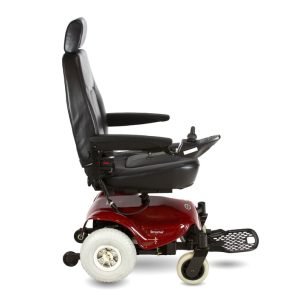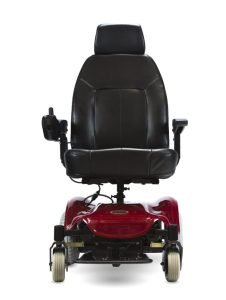 With adjustable features like the seat, backrest angle, and armrests, comfort is a given. The Streamer Sport's ergonomic design is complemented by a sporty look that doesn't sacrifice style for functionality.
Safety & Maintenance Guidelines
Safety is paramount with the Streamer Sport. Follow the user-friendly guide to ensure proper handling, especially while turning and ascending or descending inclines. Avoid wet weather to preserve the electronic components, and remember, no tools are required for adjustments.
Accessories & Customization Options
Enhance your experience with available accessories and customization options. Need an adjustable footrest? We've got you covered! Want to switch the joystick for left-hand use? It's a breeze with the Streamer Sport.
Warranty & Support
Enjoy peace of mind with a full One Year In-Home Service Warranty. If your power chair needs repair, our trained professionals will come right to your home. Your satisfaction is our priority.
Ready to take control of your mobility? Purchase the Streamer Sport today at the cheapest price guaranteed! Exclusive pricing and unbeatable deals await you. Don't miss out!
Specifications
Shoprider Streamer Sport SPECIFICATIONS
| | |
| --- | --- |
| Overall Dimensions (L x W x H) | 36" x 24" x 45" |
| Number of Tires | 2 |
| Tire Size Front | 6" |
| Tire Size Rear | 10" |
| Maximum Weight Capacity | 300 lbs |
| Product Weight | 203 lbs |
| Each Battery Module Weight | 23 lbs |
| Battery Size | U1- SLA 12V 35Ah x 2 |
| Charger | Off Board 24V, 5A |
| Output Power of Motor | .60 x 2 HP |
| Maximum Speed | 5 mph |
| Maximum Climbing Angle/ Safe Climbing Angle ⁴ | 6° (10%) |
| Range per Charge | 10 miles |
| Turning Radius | 17.7" |
| Model # | 888WA |
| Ground Clearance | 3" |
| DRIVE TYPE | Rear Wheel Drive |
| Foldable | Yes |
| Armrest Options | Height Adjustable, Flip-Back |
| Legrest Options | Footplate, Elevating Legrests, Quad-Release Legrests |
| Seat Width | 19" |
| Adjustable Angle Footplates | No |
| Controller Type | Shark Joystick Controller |
| Suspension | No |
Financing & Monthly Payments
We are currently partnered with PayTomorrow so you can pay for your scooter in monthly installments or choose a lease-to-own plan. You can see the minimum amount per month, above, next to the price of the scooter.

It's a simple online process, usually with an instant eligibility response, but many less tech-savvy customers prefer help over the phone.
Contact us by calling our toll-free number 1-888-233-5563 or by live chat with one of our agents by clicking here.
Documentation, Manuals & Safety
Documentation