Sale!
Shoprider 6Runner 14 Heavy Duty Electric Wheelchair – 888WNLLHD
-50%
Stock: See StockIn Stock
Stock status can change very rapidly - an item might come back in stock before we update this or might have sold out.
We highly recommend you call or chat with us for a 100% stock status.

Videos
Quick Overview
Shoprider 6Runner 14 Heavy Duty Electric Wheechair – 888WNLLHD
Key Features 
Heavy-Duty Design with 450 lbs weight capacity

Six Points of Contact for stability

21" High-Back Reclining Executive Seat

Adjustable Footplate and Armrests

14" Wheels with 23.5-inch Turning Radius

Dual 12v Batteries with 16.3-17.5 Mile Range

Off-Board Charger for Convenience

Sturdy Design with Four-Post Seating System

9-Degree Incline Rating

Airplane-Friendly

Comprehensive Warranty on Frame, Electronics, Motor/Gearbox

Trusted Brand with 30 Years in the Industry 
Are you searching for a strong and trustworthy power wheelchair? Check out the 6Runner 14 Power Wheelchair by Shoprider. It has six wheels, giving you a smooth and steady ride, even on bumpy roads or sidewalks.
This wheelchair can hold up to 450 lbs, and it's built to make you comfortable. Shoprider has been making power wheelchairs for nearly 30 years. They're known for making good-quality chairs that aren't too expensive. With the 6Runner 14, you get a great chair that's not going to cost you too much.
Design & Comfort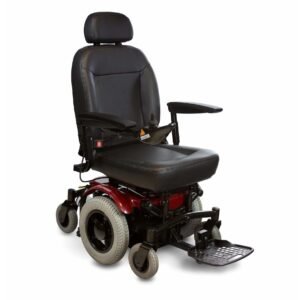 The 6Runner 14 wheelchair is designed for comfort. It has a soft 21-inch seat that reclines, and you can adjust the footplate and armrests to fit you perfectly. These features make it easy to ride in comfort and style, no matter your size or needs.
Technical Specifications
With 14" wheels and a 23.5-inch turning radius, this power wheelchair offers top-notch maneuverability. It's powered by dual 12v batteries, offering a range of 16.3-17.5 miles at a maximum speed of 3.8 mph.
Battery & Charging Information
The off-board charger ensures that you can charge extra batteries while you're out and about. Keep moving without worrying about downtime.
Comfort & Customization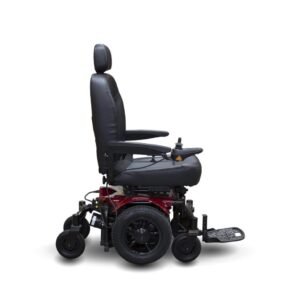 Feel right at home with the 6Runner 14's adjustable length, height, and angle footplate. The chair's armrests are also adaptable in width and height, making it perfect for individual needs.
Performance & Drive Experience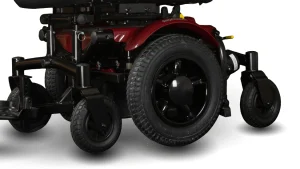 Experience a stable and smooth ride with the 6Runner 14 wheelchair, thanks to its six points of tire contact and mid-wheel drive. These features work together to help you easily navigate various terrains, whether it's a bumpy sidewalk or a grassy path. The design gives you control and comfort, making your journeys more enjoyable and worry-free.
Safety & Stability Features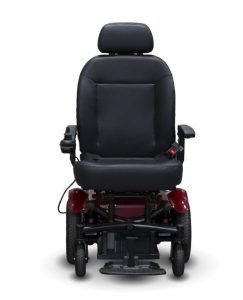 The 6Runner 14 focuses on safety and stability. Its strong design and unique four-post seating system make sure you stay steady and secure during rides. You can move with confidence knowing this chair is built to support you.
Usage and Practicality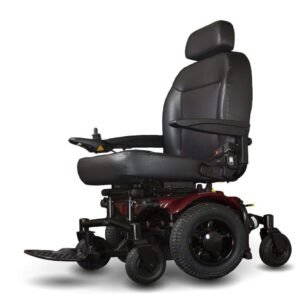 The 6Runner 14 wheelchair is practical for all kinds of settings. It's designed to handle ramps, slopes, and medium inclines with a 9-degree incline rating. Whether you're indoors or exploring outside, this wheelchair can smoothly handle different surfaces and angles, making your ride comfortable and worry-free. It's more than just a mobility aid; it's a reliable companion for your daily adventures.
Travel Compatibility
If you want to travel with the 6Runner 14, you can. It's designed to be taken on airplanes. Just be sure to check with your airline for their specific rules about taking wheelchairs on board.
Warranty and Support
With the 6Runner 14, you don't have to worry about any problems, thanks to Shoprider's warranty that covers the frame, electronics, and motor/gearbox. If you have any questions or need assistance, Shoprider's customer service is there to help you. The warranty ensures that your wheelchair stays in top condition, giving you peace of mind so you can focus on enjoying your rides.
Ready to experience the 6Runner 14 Power Wheelchair for yourself? Click the "Buy Now" button below or contact our friendly customer support for further assistance.
Specifications
Shoprider 6Runner 14 SPECIFICATIONS
| | |
| --- | --- |
| Model # | 888WNLLHD |
| Overall Dimensions (L x W x H) | 42" x 26" x 49" |
| Tire Size Front | 7" |
| Tire Size Rear | 7" |
| No of Tires | 2 |
| Maximum Weight Capacity | 450 lbs |
| Product Weight | 277 lbs |
| Battery Weight | 34 lbs |
| Battery Size | 12V50AH x 2 |
| Charger | Off Board 5 Amp |
| Output Power of Motor | 1.34 x 2 HP |
| Maximum Speed | 5 mph |
| Maximum Climbing Angle/Safe Climbing Angle | 6° (10%) |
| Range (Per Charge) | 21.3 - 23.8 miles |
| Turning Radius | 18" |
| Seat Size (W x D x BH) | 21" x 21" x 21" |
| Ground Clearance | 2.75" |
| Seat Type | Recline Captain Seat |
Financing & Monthly Payments
We are currently partnered with PayTomorrow so you can pay for your scooter in monthly installments or choose a lease-to-own plan. You can see the minimum amount per month, above, next to the price of the scooter.

It's a simple online process, usually with an instant eligibility response, but many less tech-savvy customers prefer help over the phone.
Contact us by calling our toll-free number 1-888-233-5563 or by live chat with one of our agents by clicking here.
Documentation, Manuals & Safety
Documentation