This page showcases our collection of RMB scooters. A brand rooted in innovation and quality, RMB designs scooters that are both unique and dependable. Crafted with attention to detail and suited for various needs, every RMB scooter reflects a commitment to excellence and user-centric design. Explore our selection and experience the difference of RMB.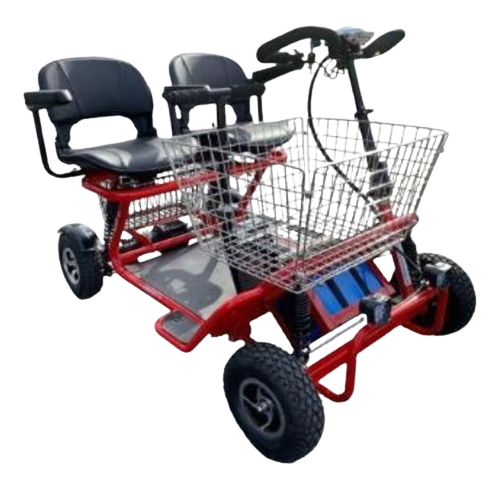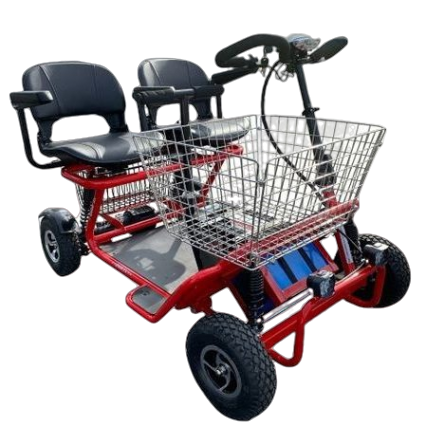 RMB E-Quad XL Dual Seat Mobility Scooter with Jumbo Shopping Basket

Speak with a Mobility Expert
Show Details

Configuration
Side-by-Side
Speak with a Mobility Expert
High Weight Capacity
Front and Rear Suspension
Burshless Power Motor
Speak with a Mobility Expert
Show Details

Speak with a Mobility Expert
High Max Speed
Swift, Lightweight Design
Potent Drive Power
Speak with a Mobility Expert
Show Details

Speak with a Mobility Expert
Extra Wide Seat
Side-by-Side Seating
Passenger Handlebars
Configuration
Side-by-Side
Speak with a Mobility Expert
Show Details

Configuration
Side-by-Side
Speak with a Mobility Expert
Built with Original Ideas
RMB EV stands out from other scooter brands. They have unique designs, created right here in the USA. With actual patents under their belt, RMB scooters aren't just run-of-the-mill models; they bring something special to the table that's different from the rest.
Quality You Can Trust
Choosing an RMB scooter means you're getting a well-made machine. We put a lot of effort into making sure every part works great and lasts long. We want you to feel good about your scooter for years to come.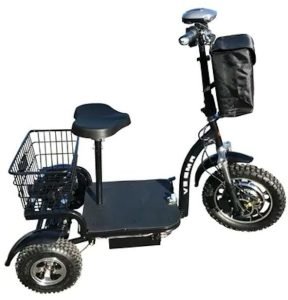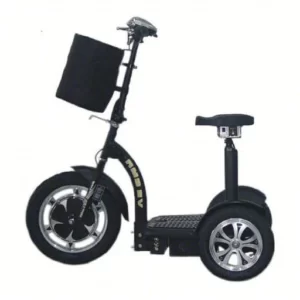 One standout product that represents RMB's dedication to quality and innovation is the
RMB All-Wheel-Drive Compact Powerful Mobility Scooter
. The patented RMB Multi Point AWD is a game-changer in the scooter market. It's the only All Wheel Drive electric trike available, designed to tackle diverse terrains, from grass and gravel to sand and hills. Whether you need it for industrial work, recreational activities, or enhanced mobility, the RMB Multi Point AWD is versatile, powerful, and built to go places other trikes can't. With features like a powerful LED headlight, dual USB for device charging, adjustable seat and handlebars, and a suite of optional accessories, it's a testament to RMB's commitment to delivering excellent quality.
A Scooter for Every Need
Everyone's reason for needing a scooter is different. Maybe you need help getting around due to a health issue, or you work in a big place like a warehouse. Or perhaps you just want a fun way to travel short distances. Whatever your reason, RMB has the right scooter for you.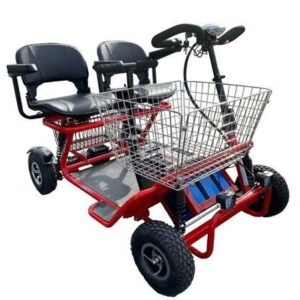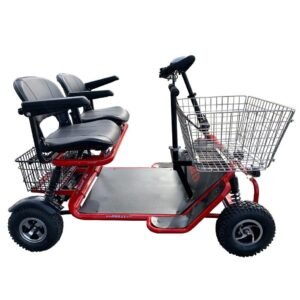 For those looking for a scooter that combines functionality with style, the
RMB E-Quad XL Dual Seat Mobility Scooter
with Jumbo Shopping Basket is a perfect choice. This scooter comfortably accommodates two adults, ensuring both are whisked away smoothly with its powerful 800W brushless motor. The low-floor deck ensures easy access, making it an ideal pick for large shopping runs, gated communities, golf courses, hotels, and more. With its ample front shopping basket, LED fog lights, and a plethora of key features, the RMB e-Quad XL proves that mobility can be both stylish and efficient. Whether you're headed for a shopping spree or a leisurely drive around a community, this scooter promises comfort and functionality in spades.
Be Part of an Exclusive Club
Not everyone owns an RMB scooter. It's like being in a club where members appreciate good stuff. And while owning rare cars like the 1963 Ferrari 250 GTO is for the super-rich, owning an RMB scooter doesn't empty your pockets.
Yes, our scooters look and feel premium, but they won't cost you a fortune. We believe that everyone should be able to enjoy a top-quality scooter without breaking the bank. When you buy an RMB scooter, you're not just getting a ride; you're joining a group of people who value good work and smart design. 
Take a look at our RMB mobility scooters collection. Find the one that fits your needs and know you're choosing a brand that values both quality and its customers. With RMB, you're always in good hands.
x
Security for buyers
Your financial information

PayPal helps keep your transactions secure by not sharing your full financial information with sellers.

24/7 Monitoring

We monitor transactions 24/7. That should help you rest easy.

Secure technology

Our encryption help keeps your online transactions guarded from start to finish.

Fraud prevention

Contact us if anything seems suspicious so we can help you protect yourself from fraudulent charges against your account. We'll never ask for sensitive information in an email.

Dispute resolution

If there's a problem with a transaction, we'll put a hold on the funds until the issue is resolved. We investigate and stay involved every step of the way.

Purchase protection around the globe

Buy or sell around the globe. We process 25 currencies in over 200 markets to make sending, spending, and selling simple and secure.
How does it work?
You bought credit for your favorite online game but never got it, you bought a book but got a DVD, you purchased an authentic brand but got a knockoff instead, your purchase arrived with major parts missing (that the seller didn't disclose), or you ordered 3 items but only got 2. Just tell us- you're covered in each instance!
Items Not Covered

Most purchases of products and services are covered except real estate, businesses, vehicles, custom-made items, industrial machinery, items equivalent to cash, anything you buy in person and items prohibited by PayPal's Acceptable Use Policy. You must open any dispute within 180 days and your account has to be in good standing or you will not be covered.

$0 liability

We'll email you a receipt confirming the payment whenever you pay with PayPal. If you receive an email for a payment you didn't authorize, contact us immediately. We'll act fast to secure your account and investigate.

Full Refunds

Our Buyer Protection Policy helps you in the unlikely event you have a problem with an eligible purchase. If an item doesn't arrive or match the seller's description, we'll help you recover the full purchase price (up to $20,000), including shipping costs.