A two seater mobility scooter is a useful piece of mobility equipment that can get two or more of you where you need to go.
Experience the Joy of Riding with a Partner with 2 seater mobility scooters
While you may see single-rider electric scooters more often out on the street,
two 
seater electric mobility scooters are quite common as well
. Rather than only allowing a single rider,
two
seater scooters allow a driver and passenger to ride along together
. Depending on the type of scooter you are looking at purchasing, there are a variety of factors that can impact how it drives and handles, as well as a number of pros and cons. Let's dive into what exactly this type of scooter is and everything you need to know before making your purchase.
We've created this comprehensive guide to two-seater mobility scooters to provide you with accurate and helpful information as you consider your options. You can trust that all the claims and comparisons presented in this guide have been thoroughly fact-checked and verified with official sources, including the manufacturers' websites. In addition, we've included links to other reliable sources in the mobility scooter industry to help you make an informed decision. Whether you're looking for a scooter to share with a companion or just want the extra space for yourself, we hope this guide will be a valuable resource for you.
Browse through our selection to uncover the full range of options by clicking the green button below.
What is a two-seater mobility scooter?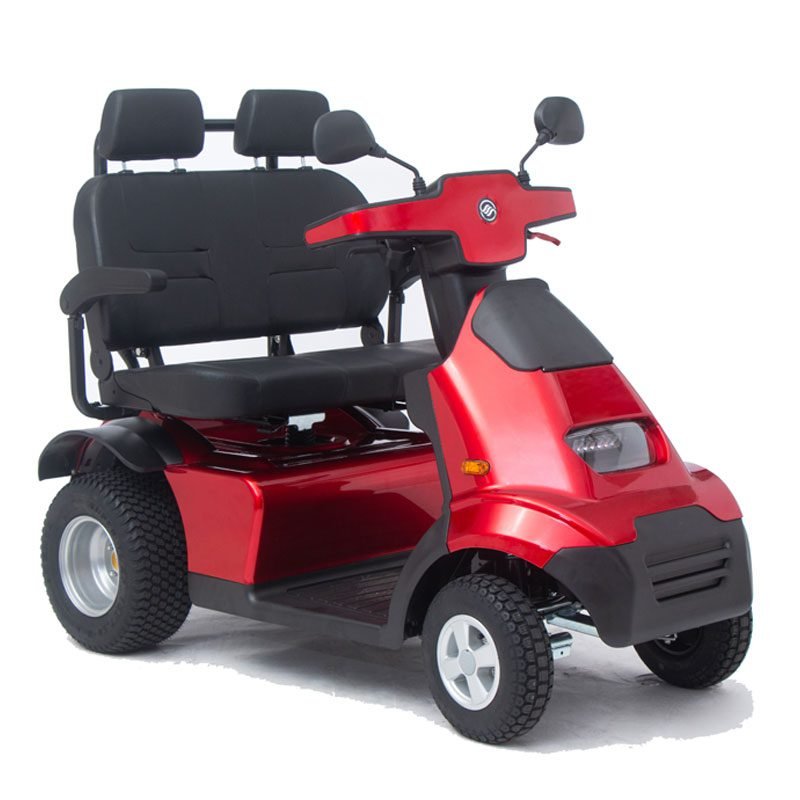 A two-person mobility scooter is a larger version of a single-person scooter that comes with two seats. The positioning of the seats can vary depending on the type of scooter. As opposed to using only four wheels, some two-person mobility scooters will come with three wheels to create additional room in the front passenger seat.
Two-person electric mobility scooters often have slower pick-up speeds and lower levels of maneuverability than one-seat models, but they make up for this with more space and additional motor power on most units. However, due to their larger size, there are no folding two-seater options available. If portability is a priority for you, check out our collection of folding mobility scooters.
Discover the Joy of Sharing with Two-Seater Mobility Scooters
What are the different types of two-seater scooters?
When it comes to the electric mobility scooter market of today, there are two primary models a person will find when researching two-seater scooters: side-by-side and back-to-front seating. As you may have surmised by the name, side-by-side models feature two seats directly next to each other. Depending on the specific model, the seats may be split or they may be one long seat with or without two distinct backings. Another important consideration many people have is, "are two seater mobility scooters legal?" Regulations may vary depending on your country or region, so it's important to check local laws before purchasing.
On the other hand, linear seating models are similar to a tandem bicycle in that one seat is directly behind the other. Both types of two-seater mobility scooters will have leg room for both the driver and passenger. The size and comfort of these seats will also vary depending on the scooter model you are looking at.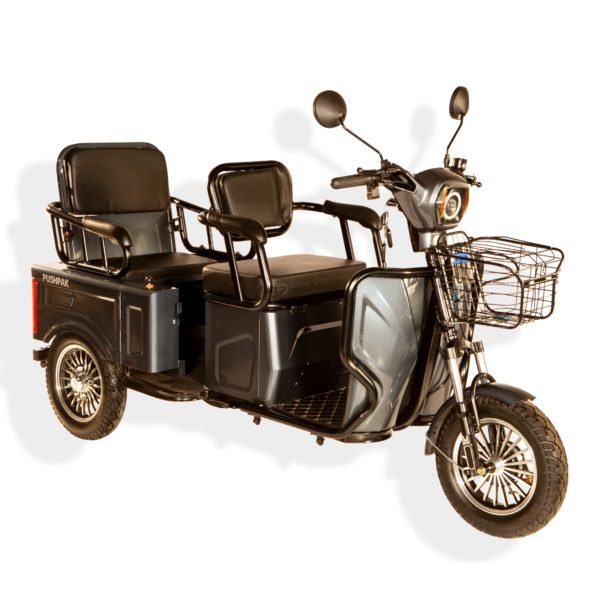 Why not just buy two individual scooters?
A common question many people have when looking at mobility scooters is why a two-seat version is necessary. Sometimes, it may seem to make more sense that each person should have their own electric scooter. While this may seem like a better idea off the bat, it is often far costlier to purchase two individual scooters as opposed to a single 2-seater scooter.
Additionally, you will be forced to handle maintenance and repairs for not one, but two scooters if you choose to purchase individually. It also may be the case that an individual scooter is not completely necessary to one of the two people. In some cases, one person may be able-bodied whereas the other may not. By purchasing a two-seater electric mobility scooter, both people can spend time with one another without the able-bodied person needing to walk alongside and struggle to catch up with the pace of the scooter.
The pros and cons of a two-person electric scooter
You may be wondering to yourself, what exactly is the point of a two-person electric scooter? Obviously, there is more seating space for an additional person, but that may not be reason enough to convince a person to purchase this scooter type. Below is a list of common pros and cons for two-person electric scooters that can serve as great background during the buying process:
Pros of a two-seater
Ability to bring a spouse, pet or friend: The second seat on a two-seater scooter doesn't necessarily need to be occupied by a human. Bringing your pet along for the ride can be a great idea while you go out and hit the town. Alternatively, having a second seat means you don't need to leave anyone at home. Simply invite them on board and save money from needing to buy a separate mobility scooter for them.
Weather Protection Features: One of the key advantages of a two-seater mobility scooter is the possibility of enhancing it into a 2 seater enclosed mobility scooter. This means that you and your passenger get extra protection from things like too much sun, heavy rain, or dust and dirt from the road. This 2 seater enclosed mobility scooter is really handy because you can use your scooter comfortably in all  kinds of weather. So, a two-seater scooter is not just a way to travel, but it can also be a safe and cozy ride, no matter what the weather is like. This makes these scooters a really good choice for lots of different people, no matter what they need or prefer.
Bridges the gap between those who need a scooter and those who don't: In the event that you have a spouse, friend, family member, or some other person who does not need a scooter when you do (or vice versa), a two-seater scooter can help. Rather than trying to match the pace of a mobility scooter on foot, the able-bodied person can simply hop on board and take advantage of the free ride.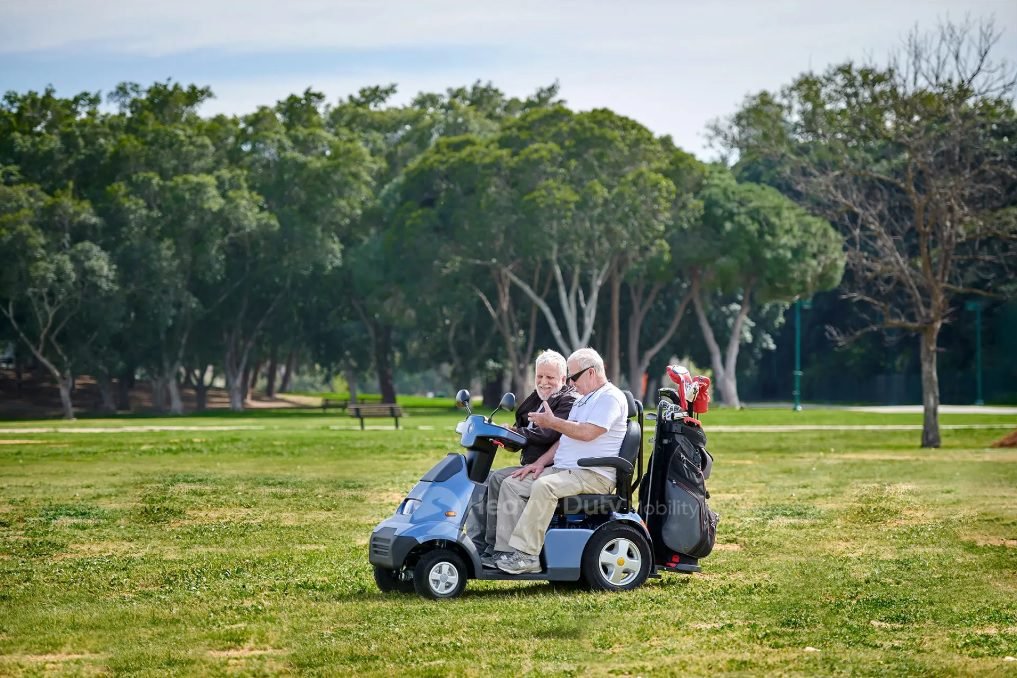 Additional room during a ride

: Regardless of whether or not you actually use the second seat often, having the extra space will be quite enjoyable (assuming you have a side-by-side two-person scooter). Whether you're above average in size or simply like having some extra room on your scooter, a two-person side-by-side model can be a great idea.
Cons of a two-seater
Higher cost than a single-seater: As you may have expected, two person mobility scooter models will often carry a decently higher price than a single-seat scooter. When the alternative is buying two single-seat scooters, though, it becomes worth the money. Additionally, you may get far better technology and features for that premium price.

Increased likelihood of wear and tear:

 Two-seater scooters will likely receive double the use with multiple people riding at once. This places more strain on the seats, tires, and overall equipment. This can affect potential future repairs and maintenance costs.

Less maneuverability and responsiveness

: Whether you are looking at a side-by-side model or a linear seating model, a two-person scooter will be slightly harder to control than a one-person model. A wider turn radius and slower response time due to higher weight should be expected.

A lack of privacy

: Let's face it. You don't always want to be bumping shoulders with the person next to you or having them staring down the back of your neck. With a two-person scooter, however, this is a given. It's important to understand the lack of privacy that comes with this scooter type.

Reduced battery life

: Adding to the increased likelihood of wear and tear is the fact that a two-person scooter will have reduced battery life. The battery is forced to produce enough power to move two people, rather than one, which inherently drains its power faster.
As evident from the above list, there are a number of advantages and disadvantages to owning a two person mobility scooter. Depending on your personal situation, as well as needs, the pros or the cons may outweigh the other. See below for a comprehensive comparison between single and dual-seat scooters:
Who is a two-seater electric mobility scooter right for?
To summarize some of the above information, a two-seater electric mobility scooter may be right for you if you are seeking some of the following factors: an additional seat, increased space, and marginal stability. The largest-selling point of the 2 person mobility scooter is built into the name. With that in mind, if you are considering purchasing two single-seat scooters, it's almost always cheaper to go with a high-end two-seat model. 
Two-seater vs. single-seater electric scooter
A common misconception regarding two-seater electric mobility scoots is that they are more suitable for obese riders, with many people assuming that one heavy person is producing as much load as two. While two-seat scooters are certainly built to be more durable than single-seat scooters, there isn't quite as much truth to the above argument as you may think.
Two-seat scooters often have individual chassis and frames, meaning the weight requirement per seat is the same. Purchasing a two-seat model, if you're overweight for example, wouldn't necessarily provide you with a larger weight limit on the seat. It's always best to check what the manufacturer outlines in regard to the scooter's capability. While it's expected that two-seat scooters may carry more weight due to having two seats, and they often have a more powerful motor as a result, they won't always have higher performance than a single-seat scooter.
Should you simply be looking for a stronger seat frame, higher power, or more weight capacity, feel free to filter by max weight capacity rather than assuming you need to purchase a 2 person mobility scooter. Assuming you are seeking the advantages listed earlier, however, then a two-person electric mobility scooter may be right for you over a single-seat scooter.
Factors to consider when looking at purchasing a two-person mobility scooter
When looking at what type of scooter is right for you, whether that's a single-seat vs. dual-seat or choosing between dual-seat models, there are a number of factors to think about. Ask yourself some of the following questions and use your answers to guide you towards what type of scooter to purchase:
Do you have space for a large-size scooter or only enough for a small scooter?

How much power and speed do you need out of your scooter?

Is there someone or something that will act as a passenger for a significant amount of time?

How important is a tight turn radius and overall stability to you?

What's your driving point for looking at buying a two-seater scooter?

Are you willing to pay a higher premium price for two seats and more power?

Would a bad back hinder you from steering if the controls aren't directly in front of you?

Are you a person who prefers great personal boundaries?
By answering the above questions, you can better guide your search for an electric scooter. Assuming you have now determined a two-person electric mobility scooter is right for you, it's time to focus on narrowing down which specific type you need.
Experience Ultimate Freedom with 2 seater Electric Mobility Scooters
How to choose my own electric 2-seater mobility scooter?
Knowing now that there are two different types of two person electric scooter models, you might be curious how to know which is right for you. Side-by-side scooters typically offer improved padding, higher seat backs, and better all-around comfort than linear (seat-behind-seat) scooters. With that said, side-by-side two-seater scooter controls are in the center of the two riders, which can make driving slightly awkward by having to lean over.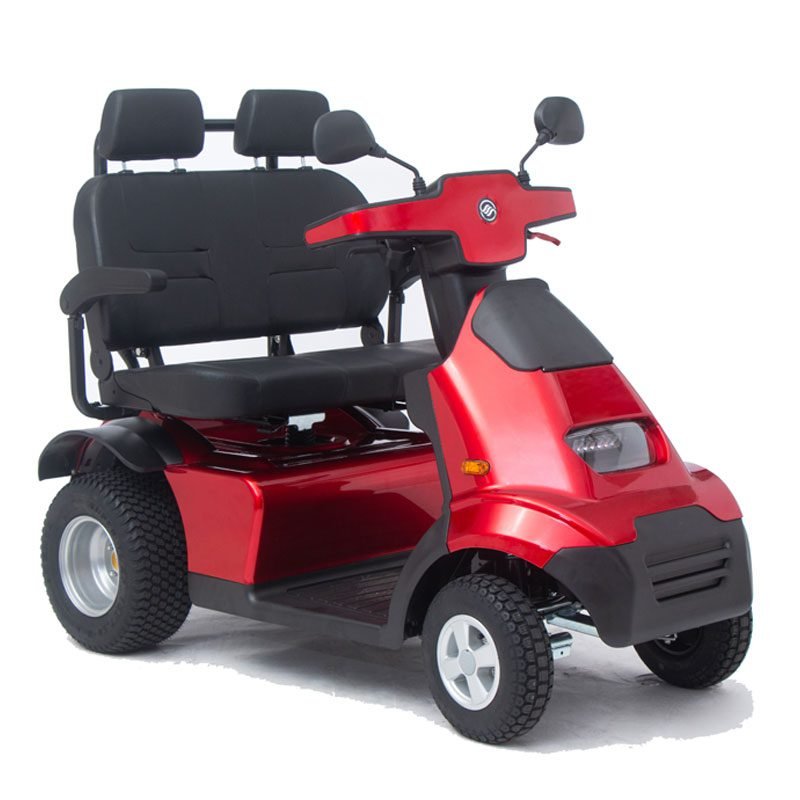 Building off of this fact, seat-behind-seat scooters do have benefits in certain situations that can potentially contribute to making it a better purchase. Use some of the following commonly asked questions about two-person mobility scooters to help determine which type is right for you:
FAQs regarding two-person electric mobility scooters
Can I bring my pet along for the ride?
For those of you with furry friends in your family, a two-seater scooter is an excellent way to bring your pet along when heading around the house or outside. Should this be something you see yourself doing often, a side-by-side two-seater mobility scooter is recommended, as it allows you to monitor your pet for the duration of the trip. Additionally, the added stability of the wider side-by-side scooter means there is a lower chance of accidentally tipping over, which could injure your pet.
Do two-person mobility scooters offer privacy features?
In some cases, those looking to buy electric mobility scooters are concerned about bumping skin-to-skin directly against the person next to them. Whether you or the person joining you is overweight, or there is simply a concern regarding privacy, it's important to note that two-seater scooters often do not have privacy features in place. Due to this, a seat-behind-seat scooter is the better option if privacy and personal space are of concern.
Can a 2-seater mobility scooter fit through doorways?
The average US front door measures 36 inches across, which is plenty of space for a single-seat or seat-behind-seat two-person scooter. However, some side-by-side scooter models can measure over 37 inches across. Additionally, ADA-approved interior doors only need to measure 36 inches across, which may create an issue if you plan to use the two-person scooter indoors.
Consider purchasing a seat-behind-seat scooter if your home has smaller doorways. Keep in mind that one seat behind the other mobility scooters will be longer than side-by-side scooters, so ensure you have enough space to fit this type in your home or garage.
Are 2-seater scooters more stable than single-seat models?
Single-seat models have a natural advantage in terms of stability due to their smaller size, whereas linear seating two-person scooters are longer, making them more prone to potential flips. While this would still be a rare occurrence and seat-behind-seat scoots are very stable, single-seat models take the cake. On top of this, most seat-behind-seat models come as three-wheel variants (as opposed to four wheels), which provides less stability at its core.
However, two-person side-by-side scooters are nearly as stable as single-seat models, due to the wider frame of the former as well as the fact that most have four wheels. If stability and seating capacity are what you seek, a side-by-side bench model may be right for you.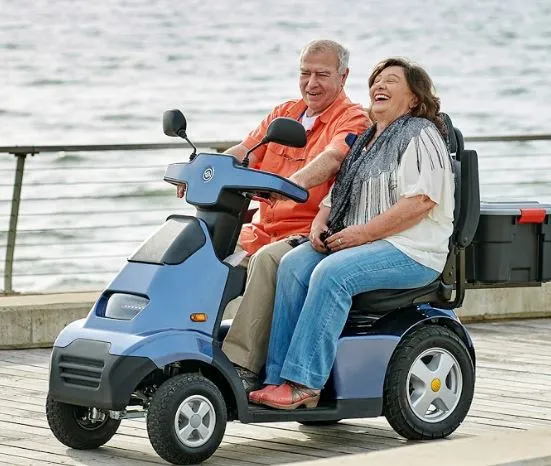 Comparison of common two-person electric mobility scooters
After looking at all the basics of a two person electric scooter, it's time to look at a comparison between popular brands to see what is offered, as well as what isn't. Use the following diagram to see if any of the two-seater configurations below jump out at you:
Watch the video below for a live demonstration of the Afiscooter S4 Dual Seat and its various configurations:
How Heavy Duty Mobility can help with your scooter search
At Heavy Duty Mobility, it's our mission to provide customers with higher-end mobility scooters that excel in high-performance areas such as speed, ground clearance, motor power, durability, and more. 
Our hyper-focused staff pre-selects the scooters offered through our site to ensure they meet the best criteria. We will also not be beaten by any online price, and make it our mission to provide top-notch customer service.
Browse through our collection of two-person electric mobility scooters and discover the ideal and highly recommended option to suit your specific needs. We're also happy to chat with you via messaging or over a phone call to discuss which heavy-duty mobility scooter may be right for you considering all your unique factors.
Browse through our selection to uncover the full range of options by clicking the green button below.
Sources for Mentioned Features and Specifications​
Why buy a 2 seater mobility scooter from us?
Pre-selected to match our site's mission – large, heavy duty, fastest and all-terrain. This means all our attention is where you need it to be, and you don't have to go hunting through huge lists of products you aren't interested in.
If you see a product advertised online for cheaper we will sell you the product for the same price or cheaper, provided that pricing is not in violation of the manufacturer's minimum advertised pricing policy.
We believe when paying for an item like a heavy duty mobility scooter, shipping should be free. We also offer White Glove Shipping as an optional service if necessary. Though White Glove Delivery isn't cheap, we charge our customers what it costs us and don't make any profit on this.
Our phone lines are staffed by humans, not robots, and it's really easy to speak to a member of staff at all business hours, even on weekends. If the line is busy, we'll call you right back.
We will work with you over the phone or send out a technician to address your concern, depending on your scooter type and its associated warranty.
This is an advantage to our customers, as manufacturers are often involved with the warranty process and answering technical questions.