If you're tired of being restricted by mobility issues, incorporating a mobility aid could be a life-changing move towards taking back your independence. And there's one device that's been gaining popularity in recent times – the 2 seater enclosed mobility scooter. Equipped with a canopy roof, these 2 seater enclosed mobility scooter models give you the freedom to enjoy outdoor activities without being held back by weather conditions. Imagine taking a serene park ride with a friend or loved one, under the shelter of a 2 seater enclosed mobility scooter. With a 2 seater enclosed mobility scooter, you can experience the joy of freedom and companionship together. Additionally, these scooters provide extra storage space, allowing you to bring along everything you need for your adventure.
KEY TAKEAWAYS
2 seater scooters aid mobility and protect from weather.
Consider enclosure quality, comfort, ease of use, and brand reliability.
Pros: weather protection, comfort, mobility, companionship, and extra storage.
Cons: size, cost, limited indoor use, maintenance, potential claustrophobia.
Adjusting to 2 seater scooters may take time but benefits outweigh.
Regular maintenance extends scooter's lifespan.
Keep canopy and windshield clean for visibility and protection.
Check Heavy Duty Mobility for a selection of scooters.
Top 2 Seater Enclosed Mobility Scooters
What is a 2 seater enclosed mobility scooter?
A 2 seater enclosed mobility scooter is a type of mobility scooter with a cover or canopy, designed to carry two people.
It helps individuals who have difficulty moving around, making their travels more comfortable and secure against the weather.
Why You Should Consider a Two Seat Enclosed Mobility Scooter
If you are one of those outdoor enthusiasts who's always on the go or perhaps you're living in an area with fickle weather and harsh winters, you might want to consider an enclosed mobility scooter that can seat two. Not only does it give you the ultimate freedom to move around, but it also offers superior protection against wind, dust, light rain, and the intense sun. In addition, the enclosed design provides warmth during colder months and privacy from intruding eyes, giving you all the personal space you crave.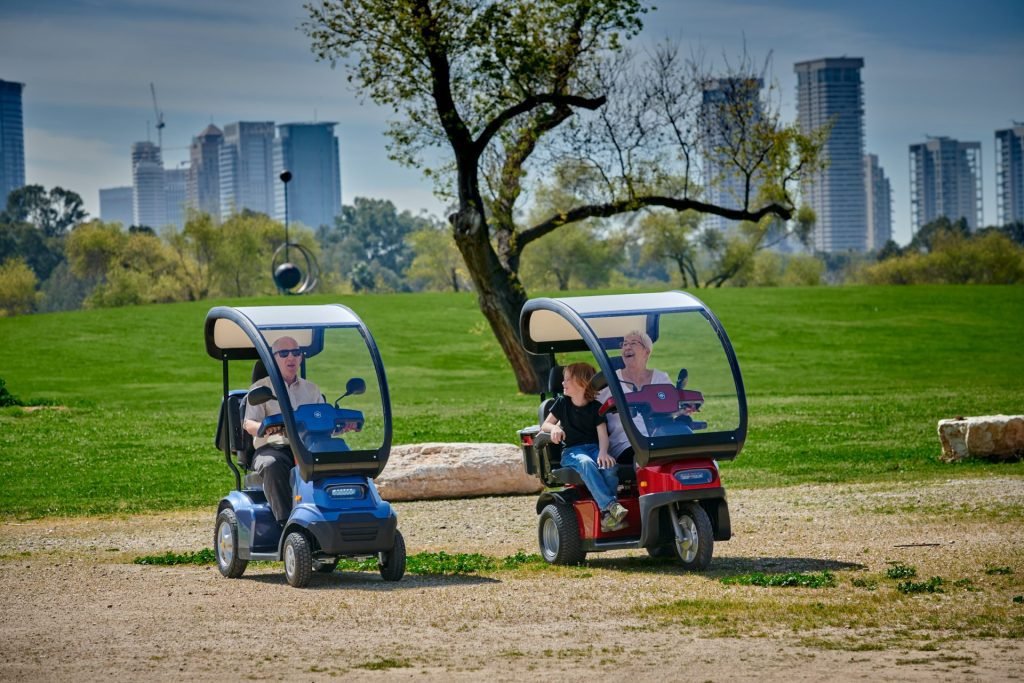 When selecting the best dual-seat enclosed mobility scooter, it's essential to consider your specific needs and priorities. Here are key considerations focused on the unique features of these scooters:
If you're in the market for a 2 seater enclosed mobility scooter, you'll want to know about your enclosure options. Some scooters are fully enclosed, providing complete protection from the elements. These are ideal for areas with harsh weather conditions. Others have roofs or canopies, giving some coverage without sacrificing the breeze.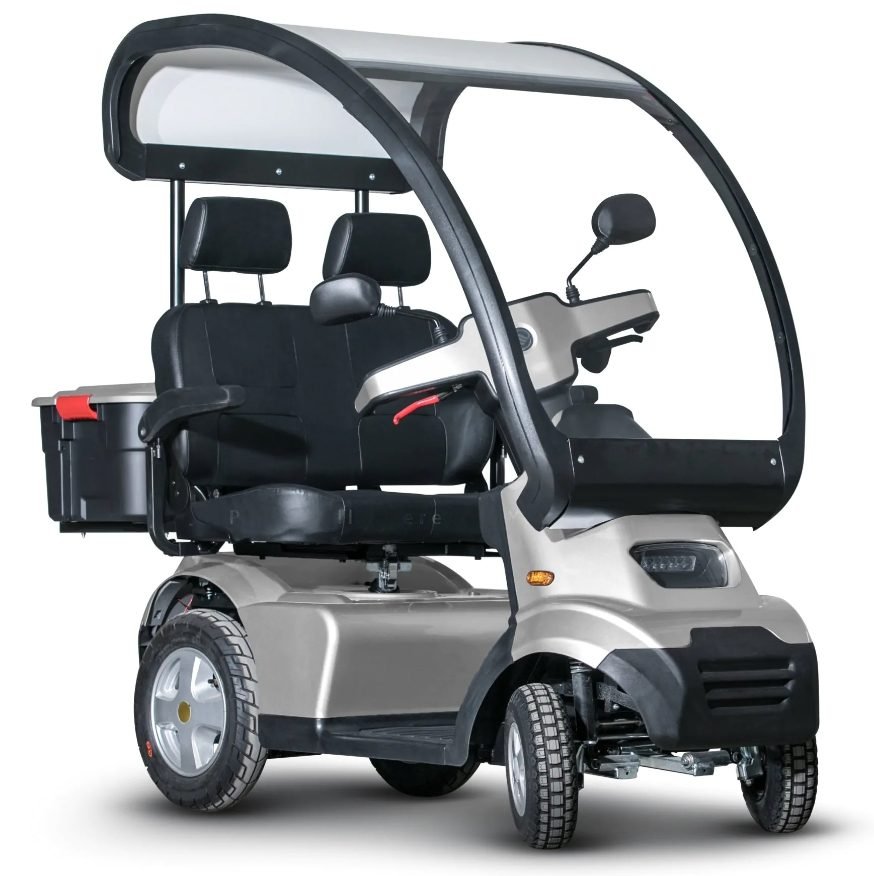 Some models, like the Q Runner, offer a fully enclosed cabin complete with doors, emulating the protection you would get in a car. Models like the Afiscooter S4 come with a hardtop roof canopy but also provide the option for rain sides, giving you the flexibility to adapt to different weather conditions. The Afiscooter S3 offers similar features. Then there's the Pushpak 7000, which, much like the Q Runner, is an enclosed cabin mobility scooter but differs by not having doors. Your selection should be guided by your personal comfort needs and the typical climate conditions in your area. That way, you can enjoy your rides with peace of mind.
Some models offer side-by-side seating which allows for easy conversation, making it a great choice for those who want to share experiences with their passenger. However, if you're concerned about space, you may want to go for front-to-back seating.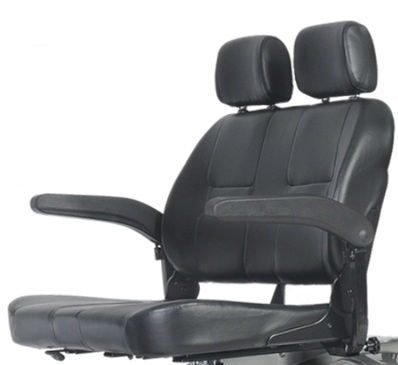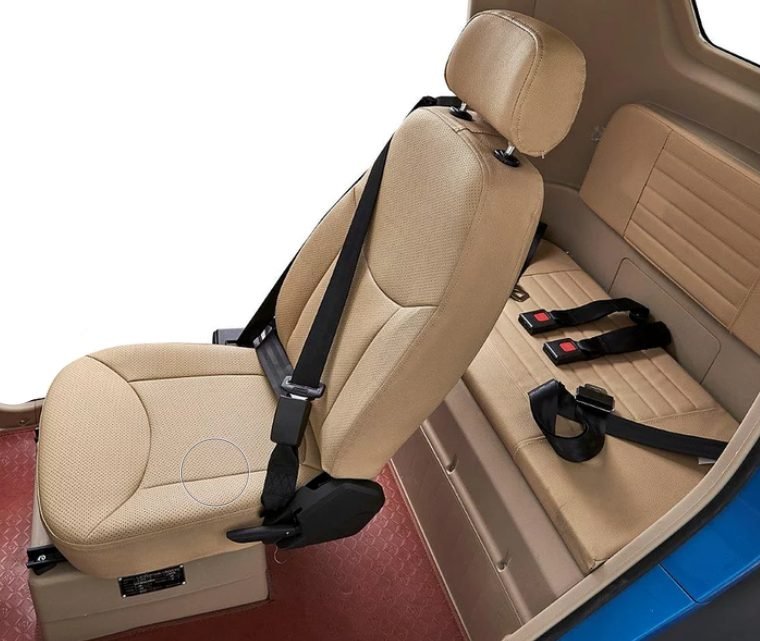 The Afiscooter S3 & S4 provide side-by-side seating for a collaborative journey, while the Q Runner and Pushpak 7000 offer front-to-back seating resembling a standard car layout. Either way, you and your companion can enjoy a comfortable and spacious ride. Plus, the front-to-back seating may be perfect for those who are used to driving a car.
Check if the enclosed scooter is easy to operate, especially in different weather conditions. Controls should be easily accessible and simple to understand. Plus, take into account how easy it is to park and store because it's larger than a single-seater.
Reliability and Brand Trust
Before you buy a scooter, make sure you check out its battery life, sturdiness, wheel design, and weight capacity. These details will give you a good idea of the scooter's quality and durability. But it's not just about the physical aspects. You should also consider the warranty and the brand's reputation. A good warranty can give you peace of mind, and a reputable brand will provide excellent customer service and support. These factors can make a big difference in your overall satisfaction with the scooter.
Choosing Your 2 Seater Enclosed Mobility Scooter
An enclosed mobility scooter might be the ideal solution, depending on your location, lifestyle, and personal preference. However, it's always best to weigh the pros and cons before deciding.
Protection from Weather

One of the main advantages is the protection they provide from the weather. They can shield you from the sun, rain, and wind, making them ideal for use in various weather conditions.
Comfort

These scooters usually come with padded seats and ample space, ensuring a comfortable ride for both passengers.
Increased Mobility
For individuals with mobility issues, these scooters provide a safe and easy way to navigate outdoors.
Companionship
The two seats allow for a companion to come along for the ride, enhancing the experience and offering the possibility for shared adventures.
Storage Space
The scooters often come with extra storage space which is a great bonus when you need to carry personal items or groceries.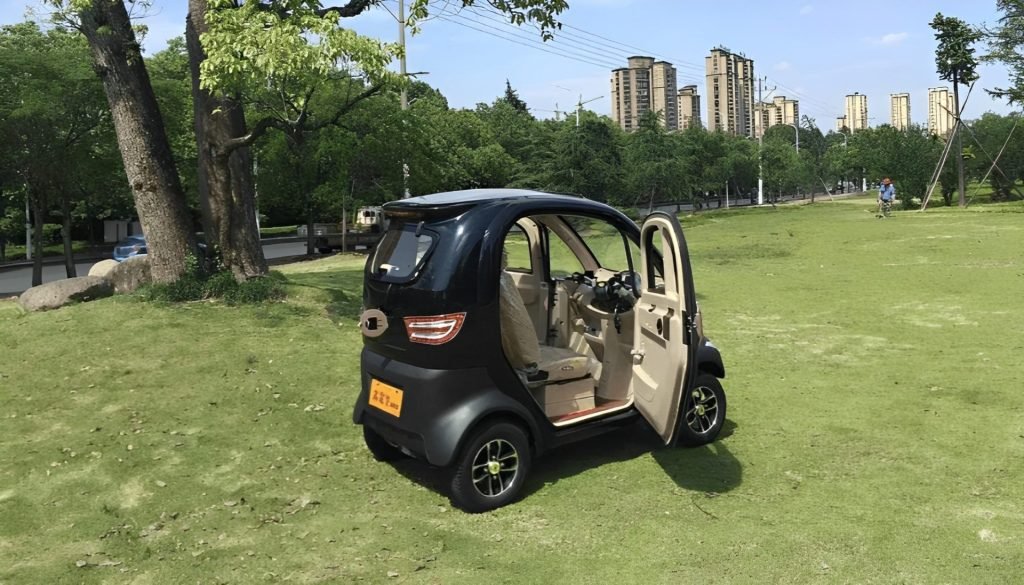 Size
Due to their two-seat design and the added enclosure, these scooters can be larger and bulkier than single-seat models. This might make maneuvering in tight spaces a bit difficult.
Cost
These models can be more expensive than standard single-seat scooters due to their additional features and design.
Limited Use Indoors
These scooters are mainly designed for outdoor use. They are not ideal for indoor environments, like shopping malls, due to their size.
Maintenance
The additional features such as the roof and the extra seat may require more maintenance compared to standard models.
Potential Claustrophobia
For some, being in a fully enclosed space may feel uncomfortable or claustrophobic. This would depend on personal preference and comfort.
Top Picks for 2 Seater Canopy Enclosed Mobility Scooters
The Q-Runner Enclosed Mobility Scooter 3 Seat takes enclosed mobility scooters to a new level by offering space for three people. It has a fully covered cabin that protects you from different weather conditions. You don't have to worry about the hot sun, strong wind, or sudden rain. Its clear windshield lets you see the road ahead without any problem, making your ride safe and fun.
The Q-Runner isn't just about its strong canopy though. It's a three-seat scooter that is well-built and comfy for everyone. It has a big battery, so you don't have to worry about it running out of power in the middle of your trip. The seats are comfy and there's a lot of space inside for you to keep your stuff. So, the Q-Runner isn't just a mobility scooter, it's a great way for you to get around outside, no matter the weather.
Watch this video for an in-depth view of the Q Runner Fully Enclosed Cabin Mobility Scooter:
The Afiscooter S4 2 Seater Enclosed Mobility Scooter is another option for those seeking flexibility in their mobility solution. Its unique feature lies in its adjustable hard canopy and rain sides. This allows you to choose between a fully enclosed space and a partially covered one. Need full protection against harsh weather? Just slide the sides down. Want to enjoy some fresh air? Roll them back up. It's as easy as that! With the Afiscooter S4, you get to control how much you want to interact with your environment.
The Afiscooter S4 isn't just about its innovative canopy – it's designed to take on any terrain. This 2 seater mobility scooter with roof features a robust motor and a large capacity battery, providing you with the power you need for your journeys, long or short. Its 4-wheel design ensures stability, whether you're navigating smooth paths or rocky roads. Furthermore, its spacious seating and impressive load capacity make it a comfortable ride for both passengers, with plenty of space for personal belongings. If you're looking for a flexible, reliable, and robust mobility scooter that can confidently handle all terrains, the Afiscooter S4 should be high on your list.
The Afiscooter S3 Enclosed Mobility Scooter 2 Seater is a standout choice among 2 seater enclosed mobility scooters. Its claim to fame is its hard canopy and rain sides that form a full enclosure, ensuring that you and your companion are shielded from all sorts of weather, be it rain, wind, or sun. The transparent sides offer an unobstructed view, making sure you can always see where you're going. It's like having a cozy, little cabin that's built to keep you comfy and dry.
When we look beyond the canopy, we find the Afiscooter S3 is no ordinary mobility scooter. It's actually the 3-wheel version of the popular Afiscooter S4, but don't let that fool you. This scooter is just as strong and reliable. The 3-wheel design makes it easier to turn and handle, especially in tight spots. The scooter also has a big battery that lets you travel long distances without needing to stop for a charge. Plus, the seats are designed for comfort, ensuring that every ride is smooth and pleasant. If you're looking for a mobility scooter that offers protection, comfort, and long-lasting performance, the Afiscooter S3 could be just what you need.
The Pushpak 7000 3 Seater 3 Wheel Enclosed Scooter is last but definitely not the least. This a game-changer for individuals seeking an all-season, all-weather mobility solution. What sets this scooter apart is its hard top canopy design, ensuring you can navigate comfortably and safely no matter the weather condition. Whether it's rain, snow, or intense sunlight, the Pushpak 7000 provides maximum protection. This enclosed design, coupled with its anti-slip floorboard, also adds an extra layer of safety, making your ride smooth and worry-free.
Delving deeper into the Pushpak 7000, we find features that complement its standout enclosed cabin feature. The scooter boasts a strong build, ensuring it can comfortably carry three passengers while providing a smooth and stable ride. Its high-capacity battery assures longer rides without the worry of a sudden power outage. Comfortable seating, ample legroom, and a user-friendly control panel make it a delight to use for all passengers. The Pushpak 7000 is not just a mobility scooter, it's a way to enjoy the outdoor life, whatever the weather, in style and comfort.
Adapting to a Two Seat Enclosed Mobility Scooter Car
Transitioning to an enclosed mobility scooter 2 seater may require some adjustment, especially if you're accustomed to a one-seater or a manual wheelchair. But, rest assured, the benefits of these dual seaters are plentiful. From offering increased storage space to the ability to bring a companion along for the ride, 2 seater enclosed mobility scooters can significantly enhance your mobility experience.
Maintaining Your Dual Seat Fully Enclosed Mobility Scooter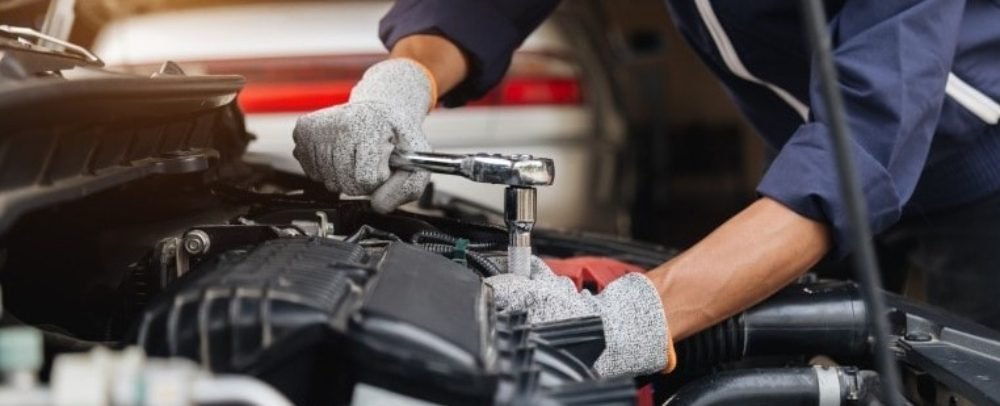 Just like any other vehicle, your two seat mobility scooter car will require regular maintenance to ensure optimal performance. Regularly checking the tires, battery, and overall cleanliness of your scooter will extend its lifespan and reliability. Always refer to your scooter's manual for detailed maintenance instructions and recommendations.
Protecting Your 2 Seater Canopy Enclosed Mobility Scooter
Your 2 seater canopy enclosed mobility scooter deserves some TLC to keep it in top shape. One key way to do this is by taking care of its weather protection features. Keep the windshield and canopy clear and free of dirt and debris through regular cleaning and maintenance. This helps keep your scooter looking great and ensures your visibility is never compromised while cruising around.
With a 2-seater enclosed mobility scooter, you can say goodbye to the weather worries of wind, dust, and rain, and hello to comfort and function in one seamless ride. The key is to find the right model for your unique needs and preferences. 
Step into a world of comfort and protection with a brand new 2 seater enclosed mobility scooter. Whether you crave the Q-Runner's rugged durability, the Afiscooter S4's versatility, or the passenger-friendly Pushpak 5000, we've got just the right ride to make your journey smoother, adventures bolder, and life freer. 
Now that you're ready to buy, you might be wondering where to find a 2 seater enclosed mobility scooter. Look no further, as we've got you covered here at Heavy Duty Mobility. As a US-based company, we are renowned for our superior customer service and an impressive selection of 2 seater enclosed mobility scooters. Rest assured, with us, you are in good hands.
Dive deeper: Visit our comprehensive guide on double mobility scooter models
Sources for Mentioned Features and Specifications