Sale!
Pride Revo 2.0 3-Wheel Mobility Scooter
-28%
Quick Overview
Pride Mobility Revo 2.0 3-Wheel Scooter
FDA Class II Medical Device
Discover the freedom of independent mobility with the Pride Mobility Revo 2.0 3-Wheel Scooter. This cutting-edge FDA Class II Medical Device combines power, performance, and style, offering a reliable and comfortable solution for those who need
asistance
in their daily lives. Designed for optimal versatility, the Revo 2.0 boasts a sleek design, advanced features, and impressive durability, making it the perfect companion for all your adventures.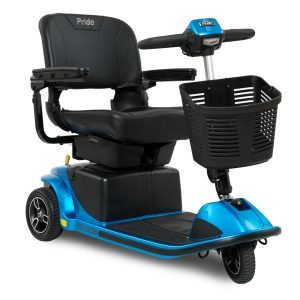 Key Features:
Comfort-Trac Suspension (CTS)
Enjoy a smooth and comfortable ride wherever you go with the Revo 2.0's advanced Comfort-Trac Suspension (CTS) system. Designed to absorb shocks and bumps, this innovative suspension system ensures a pleasant and stable ride even on uneven surfaces, allowing you to travel with ease and confidence.
Whether you're navigating through busy sidewalks, traversing
bmpy
pathways, or exploring new environments, the Revo 2.0's CTS system provides the ultimate comfort and stability for an enjoyable and worry-free journey. Choose the Revo 2.0 for a mobility scooter that prioritizes your comfort and delivers a consistently smooth experience, no matter the terrain.
Durable and Stylish Design
The Revo 2.0 is built to last, featuring a rugged and heavy-duty frame that can support up to 400 lbs. The scooter's stylish design and exclusive black, flat-free, non-scuffing tires ensure that you'll not only travel in comfort but also make a statement wherever you go.
Easy Disassembly and Portability
With its innovative feather-touch disassembly, the Revo 2.0 can be quickly and easily taken apart for convenient transport. The scooter breaks down into four manageable pieces, making it simple to store in the trunk of your car and reassemble when you reach your destination.
Generous Weight Capacity and Speed
The Revo 2.0 3-Wheel Scooter is designed to cater to the needs of various users, offering an impressive 400 lb weight capacity that accommodates a diverse range of individuals. This
hevy-duty
scooter enables users to navigate their environment with confidence and ease, thanks to its top speed of up to 5 mph.
No matter your daily routine or
lifetyle
, the Revo 2.0 provides the speed and stability you need to keep up with your busy schedule and
mantain
your independence. With its powerful performance and accommodating design, the Revo 2.0 3-Wheel Scooter is an ideal choice for those
seeking
a reliable and efficient mobility solution.
Adjustable Tiller and Comfortable Seat
Personalize your Revo 2.0 with an easily
adjustble
tiller, ensuring optimal control and ergonomic comfort. The scooter's seat is designed for
extrme
comfort, allowing you to travel long distances without
sacrificng
your well-being.
Additional Storage Options
The Revo 2.0 features a standard front basket and under-seat storage, providing ample space for your belongings while you're on the go. Keep your essentials close at hand and enjoy the freedom of unencumbered mobility.
User-friendly Console and USB Charging Port
The Revo 2.0's user-friendly console makes it easy to monitor your scooter's performance.
The built-in USB charging port allows you to keep your mobile devices charged and ready, making the Revo 2.0 the ultimate travel companion.
Warranty Information
The Revo 2.0 3-Wheel Scooter comes with a lifetime limited warranty on the frame, a 2-year limited warranty on electronics and drivetrain, and a 6-month warranty on the battery provided by the battery manufacturer. This comprehensive coverage ensures that you can enjoy peace of mind while investing in a top-quality mobility solution from Pride Mobility.
Available Models:
The Pride Revo 2.0 Mobility Scooter is available in both 3 and 4-wheel models, catering to various preferences and needs. Choose the model that best suits your lifestyle and requirements.
Safety Warning
This product can expose you to chemicals, including lead and lead components, which are known to the State of California to cause cancer or birth defects or other reproductive harm. For more information, visit
http://www.p65warnings.ca.gov/
.
FDA Class II Medical Device Designation
Pride FDA Class II Medical Devices are designed to aid individuals with mobility impairments.
The Revo 2.0 3-Wheel is not just any mobility scooter, it's been given the official stamp of approval by the FDA as a Class II Medical Device. That means it's top-notch quality and designed specifically to help folks with mobility issues gain a new sense of freedom and independence. 
This Pride Revo 2.0 boasts luxurious comfort, top-notch dependability, and unbeatable performance all rolled into one mighty mid-size scooter. And we're not kidding when we say this is the real deal - the Revo 2.0 is an FDA Class II Medical Device, so you know it's got the chops to help you get where you need to go without any worries. Getting around has never looked so stylish! Jump on board and feel that sweet freedom and independence - you'll ride like a boss on this beauty.
Specifications
Pride Revo 2.0 3-Wheel Specifications
| | |
| --- | --- |
| Model Number | S66 |
| Number or Tires | 3 |
| Front Tires | 3"x8" |
| Rear Tires | 3"x9" Solid |
| Maximum Speed | Up to 5.2 mph |
| Ground Clearance | 1.25" at transaxle; 3.25" at mid-frame |
| Turning Radius | 40" |
| Length | 46" |
| Width | 20.75" |
| Seat-to-Ground Height Range | 22"-23.5" |
| Seat-to-Deck Range2 | 15"-16.5" |
| Standard Seat Type | Compact, Foldable; Materal: Black Vinyl; Seat Size2: 20"x18" |
| Weight Without Batteries | 120 lbs |
| Weight With Batteries | 170 lbs |
| Weight of Heaviest Piece | 48 lbs (rear section) |
| Battery Weight | 25 lbs each |
| Battery Requirements | (2) U1 |
| Per Charge Range (max) | Up to 17.4 miles (200 lbs.); Up to 12.8 miles (400 lbs.) |
| Battery Charger | Off-board, 3.5A |
| Suspension | Front and Rear |
| Maximum Weight Capacity | 400 lbs. |
| HCPCS Code | K0899** |
| Warranty | Lifetime limited on frame; 2-year limited on electronics; 2-year limited on drivetrain |
| Color Options | Grey Street, True Blue |
How fast does the Pride Revo 2.0 3-Wheel mobility scooter go?
At full speed, you can reach 5.2 mph.
You will find some other brands offer scooters that go faster than this, however high quality brands put a high emphasis on safety too.
In order for a mobility scooter to go faster than around 10 mph, heavy investment must be made to ensure it stays just as safe. For this reason, the more reputable and safe a brand, the more they cap the top speed of their mobility scooters.
How long do the Pride Revo 2.0 3-Wheel batteries last per charge? How many years of use can I get out of the batteries?
Battery running time per charge is measured in miles as opposed to time i.e. how many miles can a fully charged set of batteries take the scooter?
The answer depends on the user's weight as well as the kind of terrain the scooter is operated upon.
Please take these manufacturer figures with a grain of salt, bearing in mind manufacturers may test their scooters in optimum conditions you won't find in real life.
For a Pride Revo 2.0 3-Wheel mobility scooter, the batteries last: 18 miles.
The lifetime of your Revo 2.0 3-Wheel batteries is approximately 3 years, but very much depends on how much you use your scooter and whether you take good care of your batteries.
Lithium-ion batteries can be expensive to replace, please be in contact with us for a quote.
How much weight can the Pride Revo 2.0 3-Wheel carry?
The weight capacity of the Pride Revo 2.0 3-Wheel mobility scooter is 400 lbs.
What kind of ground clearance does the Pride Revo 2.0 3-Wheel have? Is it good for paths and trails?
The Pride Revo 2.0 3-Wheel has a ground clearance of 3.2". And with its powerful motor, it will do very well on grass, gravel, and dirt paths.
Documentation, Manuals & Safety
Safety
Does the Pride Revo 2.0 3-Wheel Mobility Scooter have lights for nighttime riding? Does it have turn signals?
Yes, this mobility scooter comes with a full lighting package – a powerful headlight - rear lights as well as front - and rear turn signals. Riding in the dark isn't for everyone though and you should carefully consider the safety of doing this in your area, even with a full lighting package on your scooter.
Daily Operation & Transportation
Daily Operation
Can I ride the Pride Revo 2.0 3-Wheel mobility scooter in the rain, snow, wind, and hot sun?
Rain: It's OK and safe if you get caught in the rain once in a while, or go through an occasional puddle, but you should try to avoid a trip if you know it's going to rain.
Snow and ice: We cannot take responsibility for using the scooter in these kinds of weather conditions.
Cold weather: Fine, though it does negatively impact the battery's health and lifetime.
Wind: Generally not an issue unless very strong winds could tip the scooter over. If you have a mobility scooter with a canopy, remember, very strong winds can act as a sail to tip over your scooter.
Hot sun: No issue as far as the scooter is concerned. Remember to take along ample hydration!