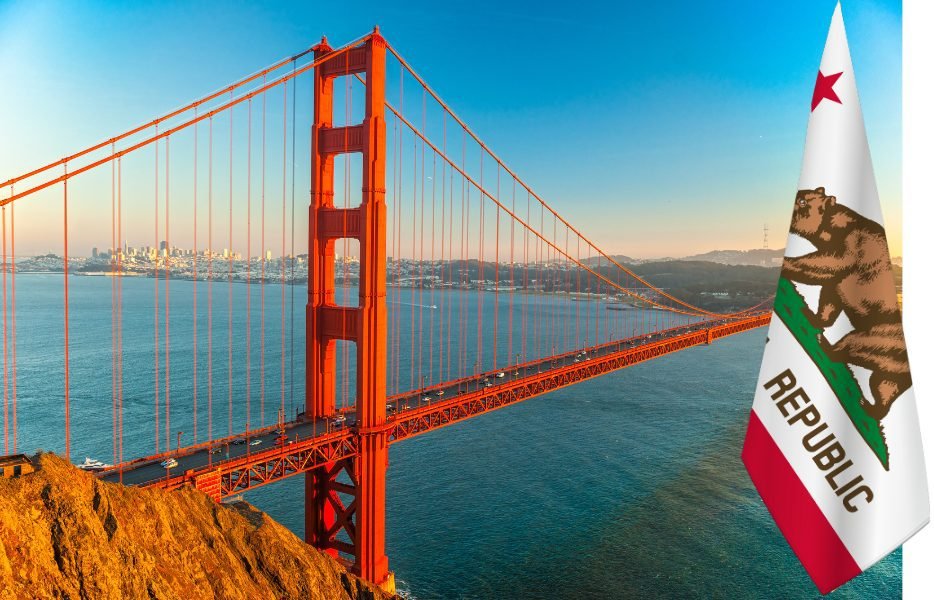 Disclaimer: This blog post is intended to be a general informational guide and should not be interpreted as legal advice. Always consult with a professional or legal counsel to understand the specifics of your situation.
California, known for its sunny skies and warm weather, provides the perfect environment to enjoy the freedom of mobility. Have you ever thought about what it feels like to zip through the diverse landscapes of California with ease and comfort? If you're someone who has mobility challenges, an enclosed mobility scooter can be your key to experiencing such exhilaration.
These scooters are not just your regular mobility aids. Think of them as powered wheelchairs with superpowers – they come with a roof and sides to protect you from sun, wind, or rain. With these specially designed mobility scooters, you can soak in the beautiful sunshine on the beaches or take a scenic route through the snow-capped mountains without worrying about the weather. They are built to give you the comfort, safety, and adaptability you need to make your outdoor adventures truly memorable.
The beauty of California, with its sun-kissed beaches, lush vineyards, and majestic mountains, is waiting to be explored. And with an enclosed mobility scooter, you can enjoy these breathtaking vistas with a newfound sense of freedom and independence.
KEY TAKEAWAYS
Enclosed mobility scooters ensure comfort and safety.
Q Runner Enclosed Mobility Scooter – Ideal choice for Californians
In California, scooters are categorized as EPAMDs.
No age limit or license needed.
Top speed: 5-15 mph.
DUI laws apply.
Night use needs brake system, headlight, rear reflector/light.
Insurance recommended, not required.
Scooters allowed in most public places.
Available from dealers or online at Heavy Duty Mobility.
What are enclosed mobility scooters?
Imagine your regular mobility scooter. Now, add a solid protective covering to it, much like a mini-car, and voila – you've got an enclosed mobility scooter. These enclosed mobility scooters with roofs and canopies are similar to standard mobility scooters but with a special feature – an enclosure. They are enclosed on all sides, including a roof. This unique feature keeps you shielded from the elements like the sun, wind, and even rain. So, whether it's a bright sunny day or a sudden downpour, you're good to go.
How are they different from your standard mobility scooters?
While a standard mobility scooter does a great job providing aid with mobility, it leaves you exposed to weather conditions. Enclosed mobility scooters offer the same assistance but with added protection, much like a small, cozy vehicle. It's like stepping up your game in the world of mobility aids, going from an open-roof to a convertible, if you will.
Benefits of Having an Enclosed Mobility Scooter
Enclosed mobility scooters aren't just about getting from point A to point B. They go beyond just helping you get around, they're designed to upgrade your entire mobility experience.
When it comes to comfort, these scooters come out on top. With fully cushioned seats and spacious interiors, they provide a ride so smooth, you might forget you're on a mobility aid. What's more, most enclosed mobility scooters can accommodate 2-3 passengers, making them perfect for outings with friends or loved ones. You can enjoy your trip without worrying about comfort or space.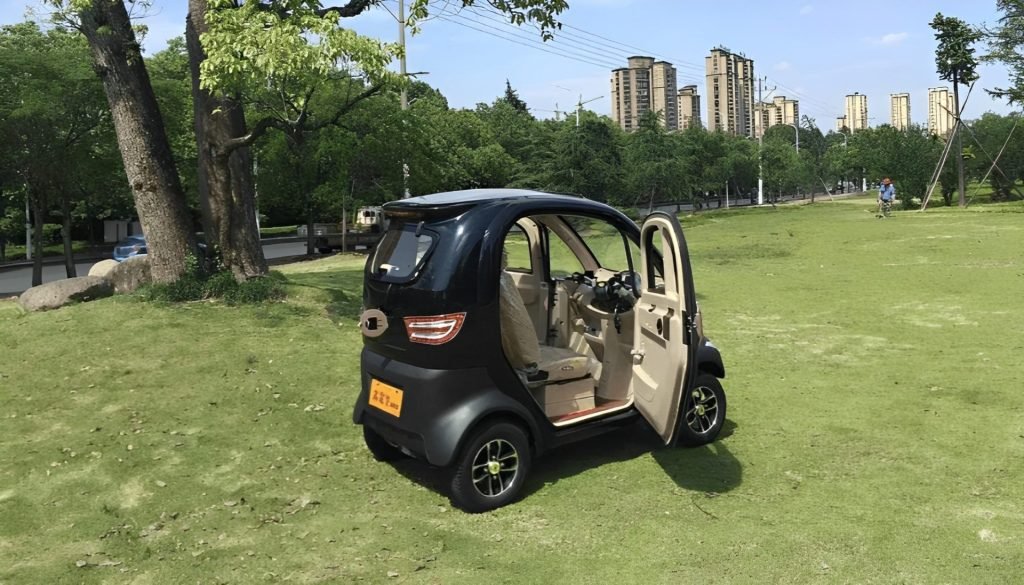 Security is another area where enclosed mobility scooters shine. With their strong, sturdy structure and low center of gravity, they offer a stable ride, greatly minimizing the risk of tipping over. This build allows users to move through corners and uneven terrain with ease, adding an extra layer of safety to their journey.
Speaking of terrain, the adaptability of these scooters is truly remarkable. Enclosed mobility scooters are built to handle a variety of ground conditions and weather scenarios. Whether it's a sunny day at the beach or a breezy trip in the mountains, these scooters will get you there with minimal fuss.
Enclosed mobility scooters offer an all-rounded, enhanced travel experience. They're not just mobility aids; they're your ticket to exploration, adventure, and freedom.
Exploring California's Varied Landscapes with Enclosed Mobility Scooters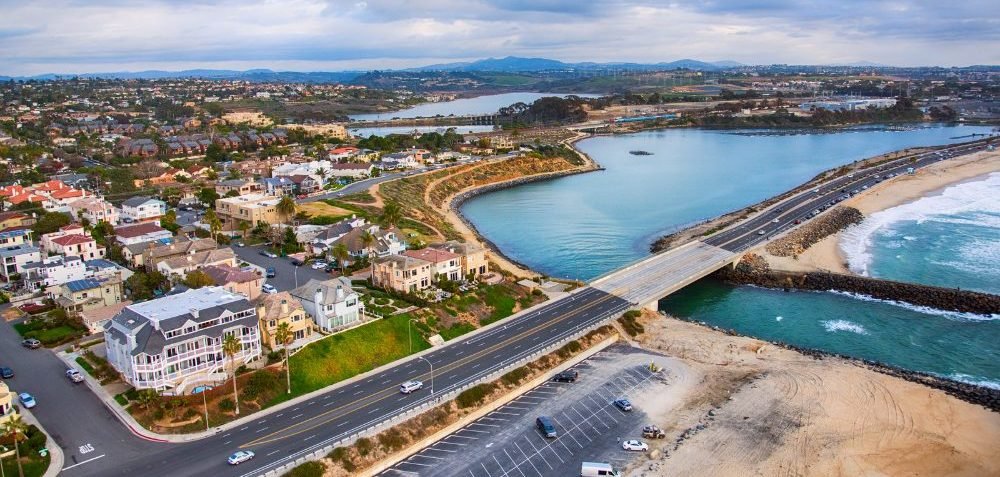 If there's one thing that sets California apart, it's the state's amazing diversity in climate and landscape. From sun-soaked beaches to snow-capped mountains, California's got it all. And guess what? Enclosed mobility scooters are the perfect companions to explore these diverse settings.
As mentioned, these scooters aren't your ordinary mobility aids. They're designed to move through different weather conditions and terrain types with ease. This means that no matter where you are in California, an enclosed mobility scooter can take you there.
Imagine cruising along the breathtaking Pacific coastline, the salty sea breeze in your hair, all from the comfort of your enclosed scooter. Or picture yourself exploring the majestic Sierra Nevada mountains, the scooter's sturdy build effortlessly handling the rugged terrain.
With an enclosed mobility scooter, you can explore California's diverse climates uninterrupted and in style as they're your all-weather, all-terrain exploratory vehicle.
Top Enclosed Mobility Scooter for Californians
Selecting the ideal mobility scooter may appear challenging, but it becomes much simpler when you consider the Q Runner Fully Enclosed Cabin Mobility Scooter. Designed with the needs and lifestyle of Californians in mind, this isn't your ordinary mobility scooter.
The Q Runner stands out primarily due to its superior performance. Equipped with a strong 60V 1200W brushless motor, it allows you to cruise at speeds up to 18 mph, perfect for keeping pace with California's dynamic environment. Its durable 60V 45Ah lead-acid battery gives you a range of 25 to 35 miles on a single charge, ideal for those long coastal drives or exploring California's scenic neighborhoods.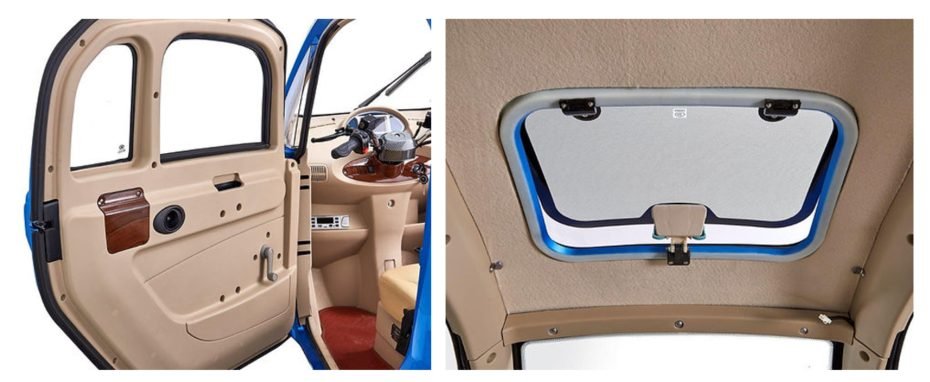 The Q Runner isn't just about power – it's about comfort and safety, critical factors for California's diverse weather conditions. Its cabin-style design protects you from California's intense summer sun, coastal winds, and occasional rains. Roll-down windows, a sunroof, and a rear window allow you to control ventilation and natural light depending on the climate.
Not just that, but the Q Runner is equipped with a smooth integral damping suspension and reliable disc brakes, ensuring your rides are both comfortable and safe, whether you're navigating San Francisco's steep hills or Los Angeles's bustling streets.
The Q Runner enhances your overall experience with its high-tech features. The LCD instrument panel keeps you informed about your speed, mileage, and battery life – critical information for planning your day out in California's busy urban landscapes or sprawling suburbs.

And let's not forget about the back-up camera and defroster, enhancing safety and confidence when navigating California's tight parking spaces or the infamous foggy conditions of the San Francisco Bay Area.
California is synonymous with entertainment, and the Q Runner doesn't disappoint. With a multimedia player featuring radio, USB, Bluetooth, and AUX capabilities, you can enjoy your favorite music while cruising down California's beautiful streets. Plus, a heater ensures comfort during those chilly California winter days.
Quality and innovation are embodied in the Q Runner's sturdy design and advanced features. A full lighting system, with dual LED headlights, tail lights, and turn signals, ensures visibility during those early morning rides or late-night returns, echoing the state's vibrant nightlife.
The Q Runner Fully Enclosed Cabin Mobility Scooter from Green Transporter isn't just a mobility aid – it's a luxurious, convenient, and enjoyable way to explore the Golden State's charm.
Q Runner Use in California
Disclaimer: This section is meant to provide general information and does not constitute legal advice. We urge you to consult with a local attorney or legal expert to understand any implications of laws or regulations that may pertain to your specific situation. Laws can change quickly and can differ significantly by region. We aim to keep our information current and accurate, but some aspects might be less relevant or possibly overlooked.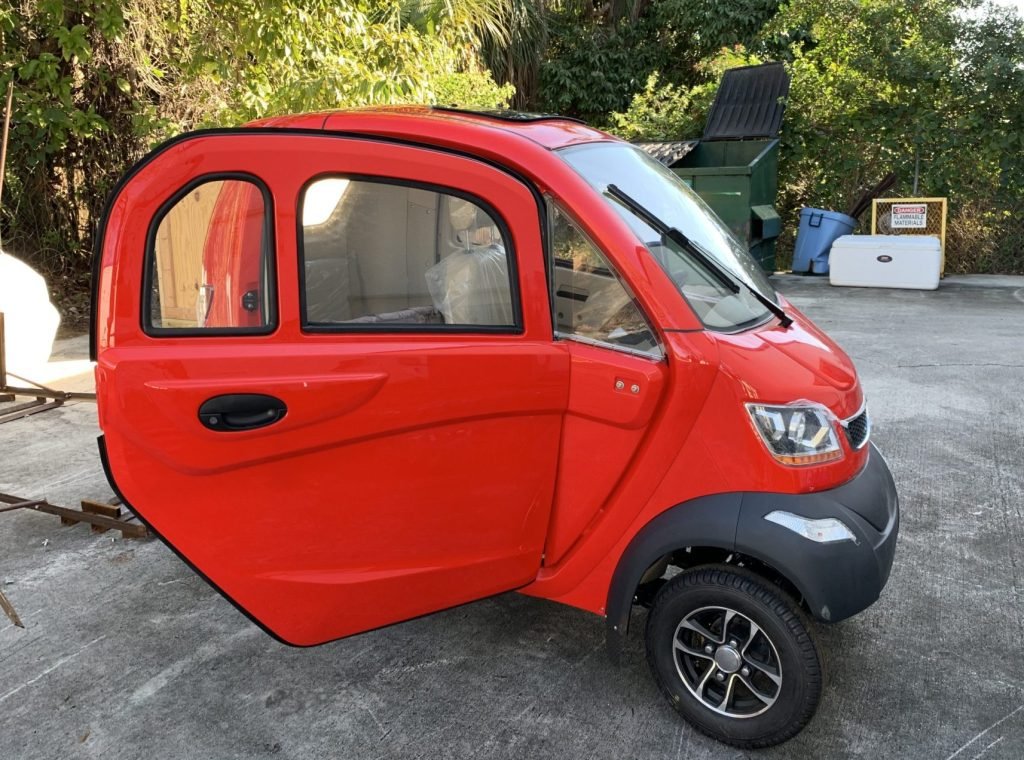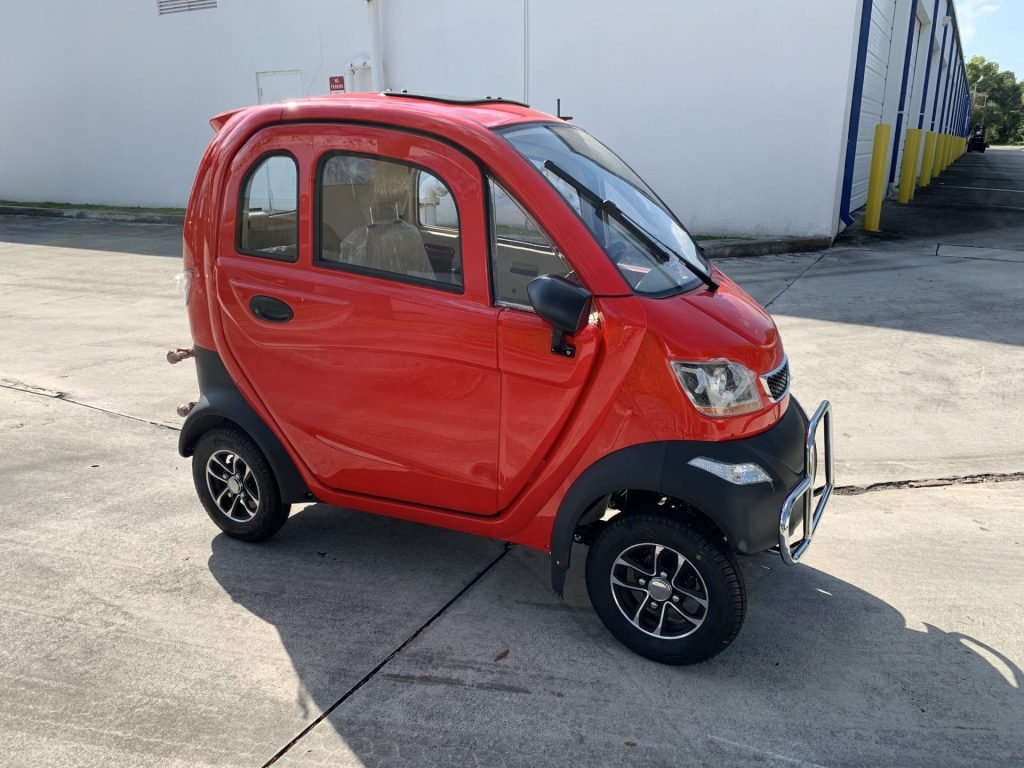 Electric Personal Assistive Mobility Devices (EPAMDs)
In California, mobility scooters, including enclosed ones like the Q Runner, fall under the category of EPAMDs. They're governed under CVC sections 313 and 467.5. As of the time of writing, there are no license requirements for these devices.
 In California, the helmet laws mainly apply to motorized scooters and motorcycles. However, for fully enclosed mobility scooters, like the Q Runner, that are similar to a car, helmet use may not be required. To ensure your safety and legal compliance, it is always best to confirm this with your local Department of Motor Vehicles (DMV) or a legal expert, as they have the most current and accurate information.
In California, there's no specific age limit set for riding mobility scooters, including the Q Runner. However, some types of motorized scooters have an age limit of 16 years old. It's always a good idea to check with your local Department of Motor Vehicles (DMV) or a legal expert to get the most accurate and updated information, as laws can change or vary.
In California, you generally do not need a driver's license to operate a mobility scooter, including the Q Runner. However, if a device is classified as a motorized scooter, a valid driver's license or learner's permit may be required.
The state of California typically does not specify a speed limit for mobility scooters, like the Q Runner. However, these devices are designed for the safety and ease of the rider and typically have a top speed between 5 to 15 mph. Local regulations may exist, so it's always a good idea to check with your local law enforcement agency or city council for the most precise information.
Scooters should be ridden on the road, preferably in a bicycle lane, where available. If the road has a speed limit above 25 mph and doesn't have a bicycle lane, then the scooter may be ridden on the sidewalk. In many places in California, you are permitted to ride mobility scooters on the sidewalk, as they are primarily considered a mobility aid. However, you must always yield to pedestrians and ensure you are not obstructing foot traffic.
 In California, DUI laws apply to mobility scooters just as they do to other motor vehicles. This means that operating a mobility scooter, including a Q Runner, while under the influence of alcohol, drugs, or certain medications is illegal. Being caught could lead to fines, loss of driving privileges, and even imprisonment. Remember that even though mobility scooters are designed to assist with personal mobility, they are still considered vehicles under the law, and users must abide by the same DUI regulations.
According to California regulations, enclosed mobility scooters, such as the Q Runner, need to be equipped with certain safety features for use at night. These include a functioning brake system, a white headlight at the front, and a red reflector or light at the back. The Q Runner is designed with all these features in place, ensuring it meets California's nighttime operation requirements.
The Q Runner comes with an optional steering wheel, a feature not common to many mobility scooters. The inclusion of a steering wheel might lead to different vehicle classification under local laws or regulations.
 The motor's power can affect its classification. The Q Runner's motor is 60v 1200w Brushless, more powerful than many mobility scooters. 
The Q Runner comes with a rear bench seat, and no straddling is required. If the seating configuration requires straddling, it could change the classification.
While it may not be a legal requirement in California to have insurance for your enclosed mobility scooter, it is still highly recommended. Insurance can protect you from potential liabilities, especially in the event of an accident. Having proper coverage ensures peace of mind and safeguards you from unexpected costs.
Remember that California law is used as an example here. If you're looking for specific information about laws in a different location or more recent laws, you should consult the appropriate legal resources or professionals in your area.
Popular Locations for Enclosed Mobility Scooters
Given that enclosed mobility scooters are generally considered mobility aids, they are generally allowed in most public places with provisions for pedestrians. Some of the popular locations where they might be beneficial include: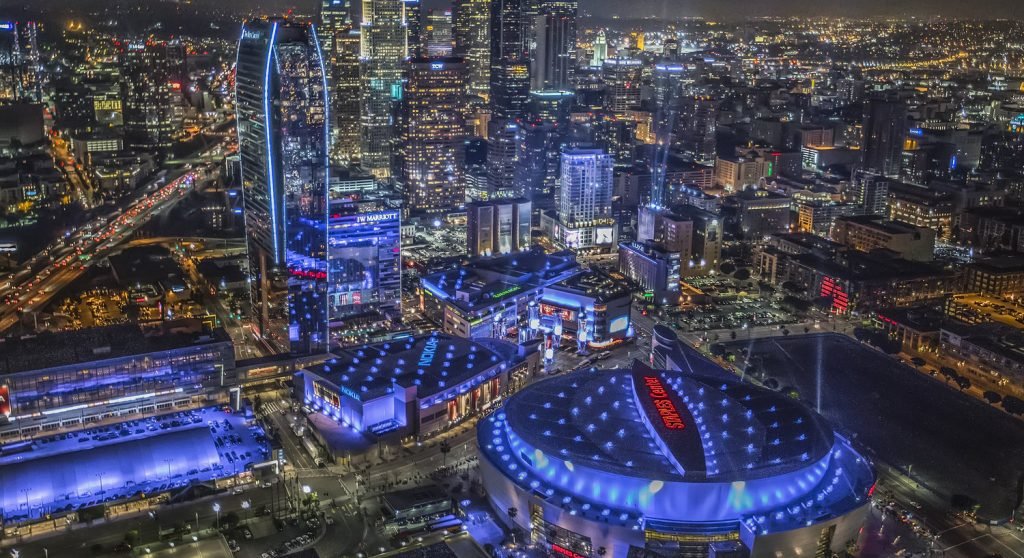 Downtown districts in cities like Los Angeles, San Diego, San Francisco, and Sacramento often have pedestrian-friendly sidewalks, making them suitable for enclosed mobility scooters. The flat terrain of these areas typically makes for easier navigation.
Parks and Recreational Areas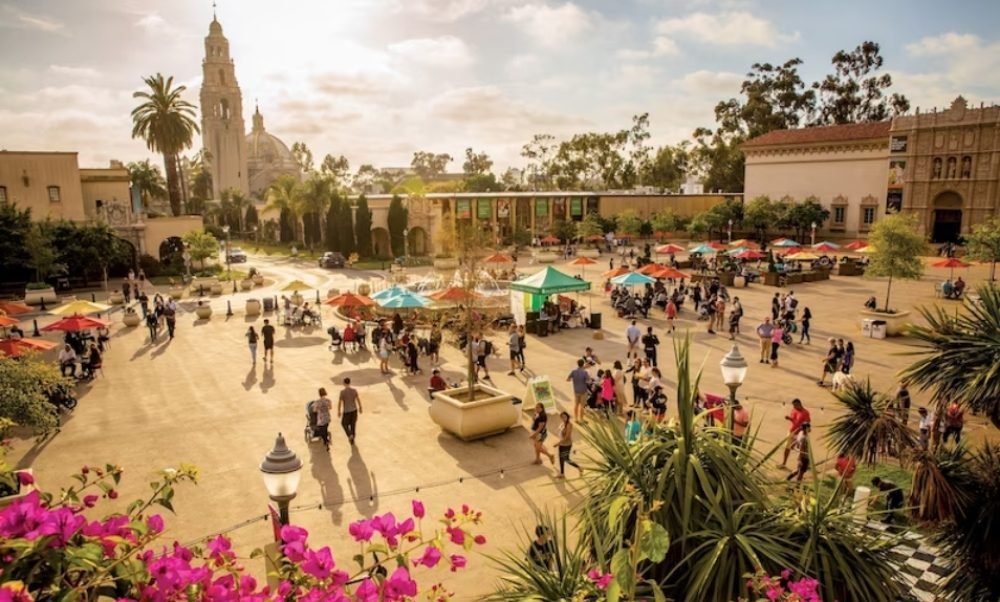 California is home to numerous beautiful parks like Griffith Park in Los Angeles, Golden Gate Park in San Francisco, or Balboa Park in San Diego. These locations often have accessible paths perfect for mobility scooters.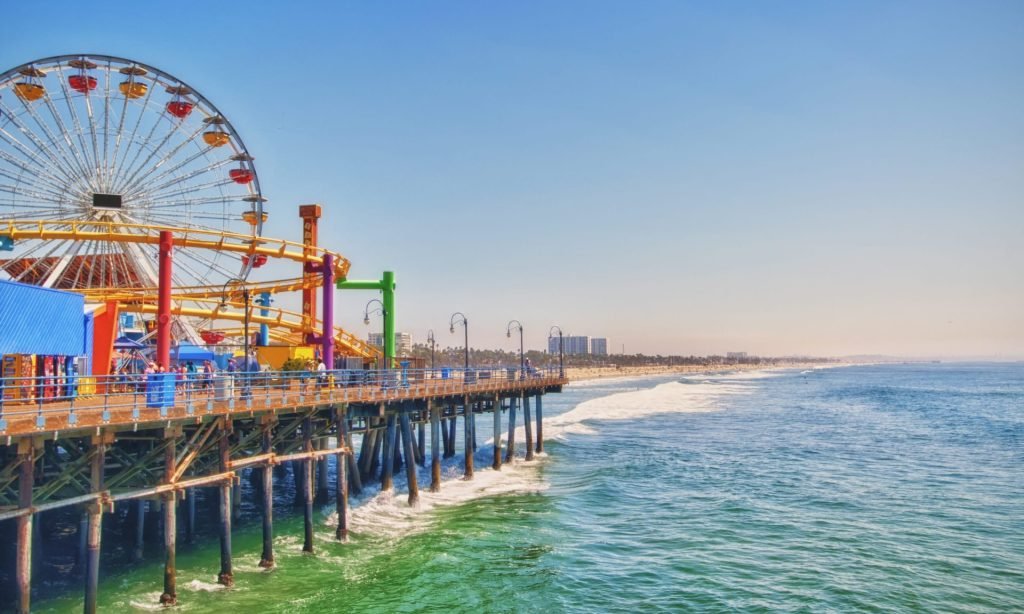 he state is famous for its beautiful beaches. Many of them, like the Santa Monica Pier and Venice Beach in Los Angeles or Mission Beach in San Diego, have accessible boardwalks suitable for enclosed mobility scooters.
Shopping Centers and Malls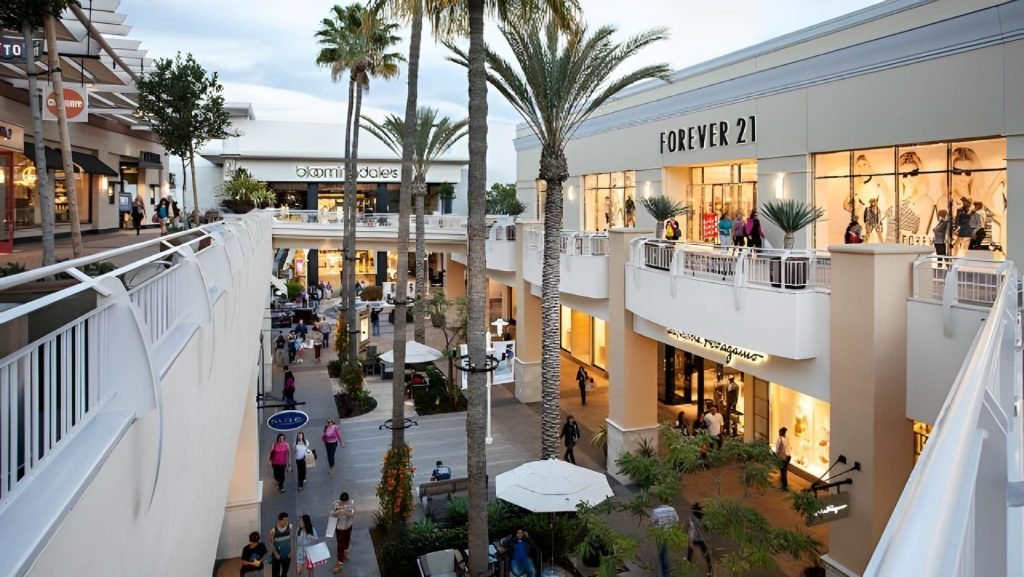 Enclosed mobility scooters can be used in shopping centers and malls across California. These include places like The Grove in Los Angeles, the Stanford Shopping Center in Palo Alto, and Fashion Valley in San Diego, among others.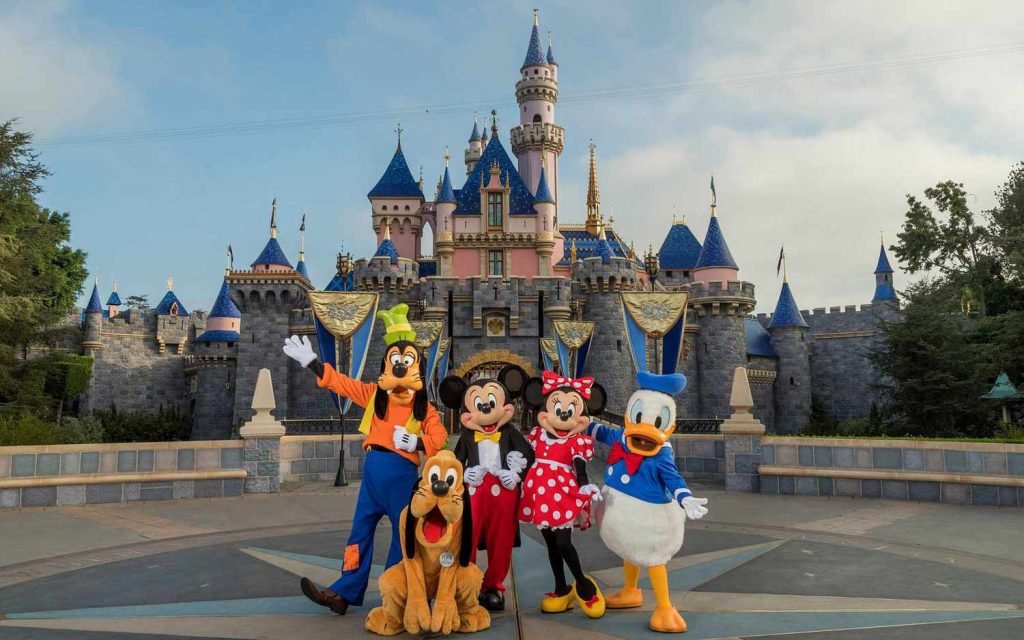 Many of California's top tourist attractions, like the San Diego Zoo, Disneyland in Anaheim, and the Getty Center in Los Angeles, are accessible to mobility scooters.
The accessibility can vary based on the specific location and scooter type. Always check with the location or local authorities to ensure that mobility scooters are permitted and accessible. Please ensure to follow any guidelines or restrictions set out by these places to ensure a safe and pleasant experience for everyone.
Buying Enclosed Mobility Scooters in California: Local Dealers and Online Options
If you're in California and want to buy an enclosed mobility scooter, you have two main options: you can go to a local dealer, or you can shop online. Each method has its advantages and drawbacks.
Local dealers offer the benefit of in-person service. This means you can ask questions, get help, and test drive the scooters before buying. But the range of choices might be limited compared to online platforms.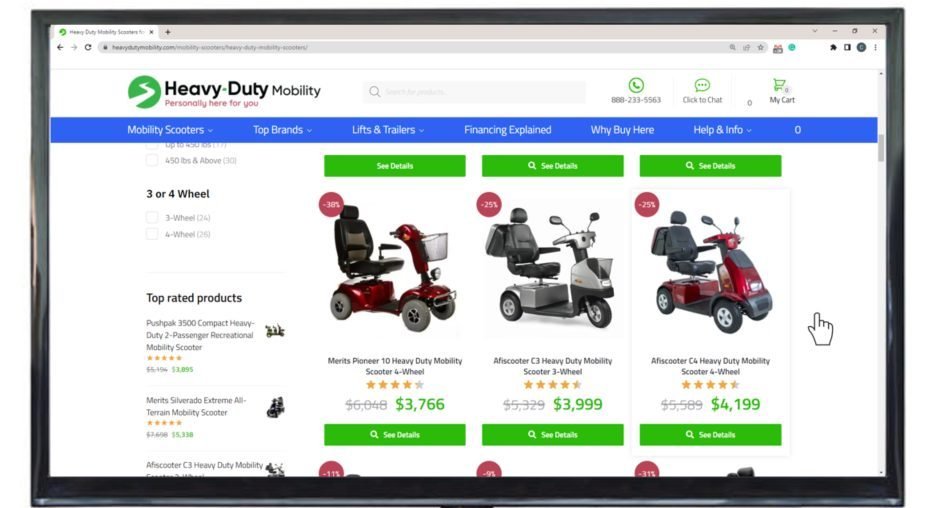 Online shopping is another great choice, and our website, Heavy Duty Mobility, stands out. We are an online store that sells top-quality mobility scooters. We offer many different options, more than you might find in a regular store.
At Heavy Duty Mobility, we care about our customers. We know that buying a mobility scooter is a big deal. That's why we're ready to help you every step of the way. Before you buy, our customer service team can answer any questions you might have. After you buy, we're still here to help with any concerns. Our goal is to make sure you have all the information you need to make a good choice, and you can do all of this from the comforts of your home.
Buying an enclosed mobility scooter in California is a balance of personal service, product variety, and price. Local dealers offer the advantage of a test drive, while Heavy Duty Mobility gives you personalized service, a wide product range, and the convenience of shopping from home. The choice depends on your personal preference and priorities.
Enclosed mobility scooters provide individuals with mobility challenges in California the opportunity to explore the state's stunning landscapes with convenience and comfort. With their unique design that offers protection from the elements, these scooters are like mini-cars that enhance the mobility experience. The Q Runner Fully Enclosed Cabin Mobility Scooter is a top choice for Californians, boasting power, safety features, and high-tech capabilities. 
IBe aware of local laws and regulations when using these scooters, but popular locations such as downtown areas, parks, and beach boardwalks are accessible for enjoyable adventures. Whether purchased from local dealers or online platforms like Heavy Duty Mobility, enclosed mobility scooters open doors to new possibilities, allowing individuals to experience the beauty of California with freedom and independence.
Frequently Asked Questions
Do I need a license for an electric scooter in California?
Yes, you may need a license for an electric scooter in California.
In California, you generally do not need a driver's license to operate a mobility scooter, including the Q Runner. However, if a device is classified as a motorized scooter, a valid driver's license or learner's permit may be required.
Do you have to wear a helmet on a motorized scooter in California?
Yes, in California, you do have to wear a helmet while riding a motorized scooter. 
According to California law, riders of motorized scooters must wear a properly fitted bicycle helmet that meets regulated safety standards. This law is mainly applicable to open motorized scooters. For fully enclosed mobility scooters, like the Q Runner, which are more like a car, helmet use may not be required. However, to be safe and ensure legal compliance, it's always a good idea to confirm this with your local Department of Motor Vehicles (DMV) or a legal expert. They can provide the most current and accurate information.
Do you ship mobility scooters to California?
Yes, we do ship mobility scooters to California. 
We aim to simplify your shopping experience and deliver the mobility scooter you've selected directly to your doorstep. Whether you're in the heart of Los Angeles or in a remote corner of the state, we're committed to getting your new mobility scooter for you. We believe in making mobility easy and accessible for everyone, no matter where you live.
Do you ship outside the USA?
No, we currently do not ship outside the USA. 
At this time, our focus is on serving customers within the United States, and as such, our sales and shipping of mobility scooters are exclusively limited to this area.
We have made this decision to ensure that we can deliver the highest standard of service and support to our customers, from the moment they decide to buy a mobility scooter, right through to delivery and beyond. Our goal is to provide swift, efficient, and comprehensive service, and limiting our scope to the USA allows us to achieve this.
Sources for Mentioned Features and Specifications