EWheels Recreational Mobility Scooters
This page shows our collection of EWheels mobility scooters. The EWheels brand is sometimes marketed as e-wheels or E Wheels. These are all the same brand.…
EWheels is based out of Phoenix AZ and specializes in selling well-priced great looking mobility scooters that are sure to turn heads. The main advantage of EWheels scooters remains their under-average pricing. Compared with other brands, you are getting higher performance for a lower price.
Higher performance is seen in areas such as:
Top speed
Motor power
High ground clearance
Very large wheels
Remote control functions
High range per battery charge
Please note that EWheels do not offer an in-home service contract with their scooters. Warranty is parts only, meaning if you can prove a part is faulty within the applicable warranty period, a replacement part will be sent to you in the mail for you or a local tech to install at your cost on the labor.
We can help try to locate a local tech for you should you wish to do so.
All-in-all, EWheels scooters may be more suited to those that are handy and can do a little work themselves should the need arise, or those who have friends or family who can do so on their behalf.
We do not sell EWheel's line of medical scooters as we focus on large/heavy duty and fast scooters. This means all the scooters in this category are not medical scooters. They are only mobility scooters in the sense that they are intended for elderly and disabled users.
Are you on the right page? Is an EWheels mobility scooter the right choice for me?
You are on the right page if these factors in a mobility scooter are important to you:
Good price
Goes 12 miles per hour or faster at top speed
Great design & looks
Needed for unpaved areas
Large storage options
Powerful motor
High driving range (measured in miles) per charge
You might be on the wrong page if the above factors in a mobility scooter are NOT the most important to you. You might also be on the wrong page if you:
Suffer from vertigo or balance issues – these scooters go fast!
Can't trust yourself to slow down in situations that demand it
Have very poor eyesight
Suffer from severe tremors
If all the qualities 1 to 7 listed above don't interest you too much, or you suffer from any of the issues listed A to D above, then let's work out what your main interest is and what can work for you.
Is your main requirement that your mobility scooter:
Has a great in-home warranty, by a great brand?
If yes, check out our heavy-duty mobility scooter collection
Can carry a heavy/bariatric user?
If yes, check out our heavy-duty mobility scooter collection
Is built sturdily, with a strong frame?
If yes, check out our heavy-duty mobility scooter collection
Can take more than one passenger?
If yes, check out our dual-seat mobility scooter collection
Is covered with a hard roof, canopy, windshield, or enclosed from the sides?
If yes, check out our canopy & enclosed mobility scooter collection
Performs well off-road, on grass, gravel and dirt paths?
If yes, check out our off-road mobility scooter collection
EWheels EW-72 Classic Fast Mobility Scooter 4-Wheel

Speak with a Mobility Expert
Show Details

Speak with a Mobility Expert
High Max Speed
Long Range Capability
Deep Cycle SLA Batteries
Tire Size: Front
15 x 3.5
Speak with a Mobility Expert
Show Details

Tire Size: Front
15 x 3.5
Speak with a Mobility Expert
Get Moving with EWheels Recreational Mobility Scooters
Ewheels scooters often come with built-in accessory features such as a molded cupholder, rear wire basket and underseat storage. Adding  add-ons and accessories to EWheels scooters can be tricky as they do not come with universal rear accessory hitches -  keep that in mind.
Also note that EWheels seat sizes are not upgradeable - the size you see in each product's seat size under specifications is the only size available. 
We sell both 3-wheel and 4-wheel EWheels mobility scooters - both types are listed below. Choose a 3 wheel model if you prefer maneuverability and tight turning over extra stability.  Choose a 4 wheel model if you prefer extra stability over maneuverability and tight turning.
EWheels scooters are generally pretty large and very fast. This makes them unsuitable for indoor riding. You do get an option to turn down the top speed, but this is usually still too fast for indoor riding. If you prefer a compact and slower-paced option for indoor use, you might want to check our collection of auto folding mobility scooters.
Explore Your World with EWheels Recreational Mobility Scooters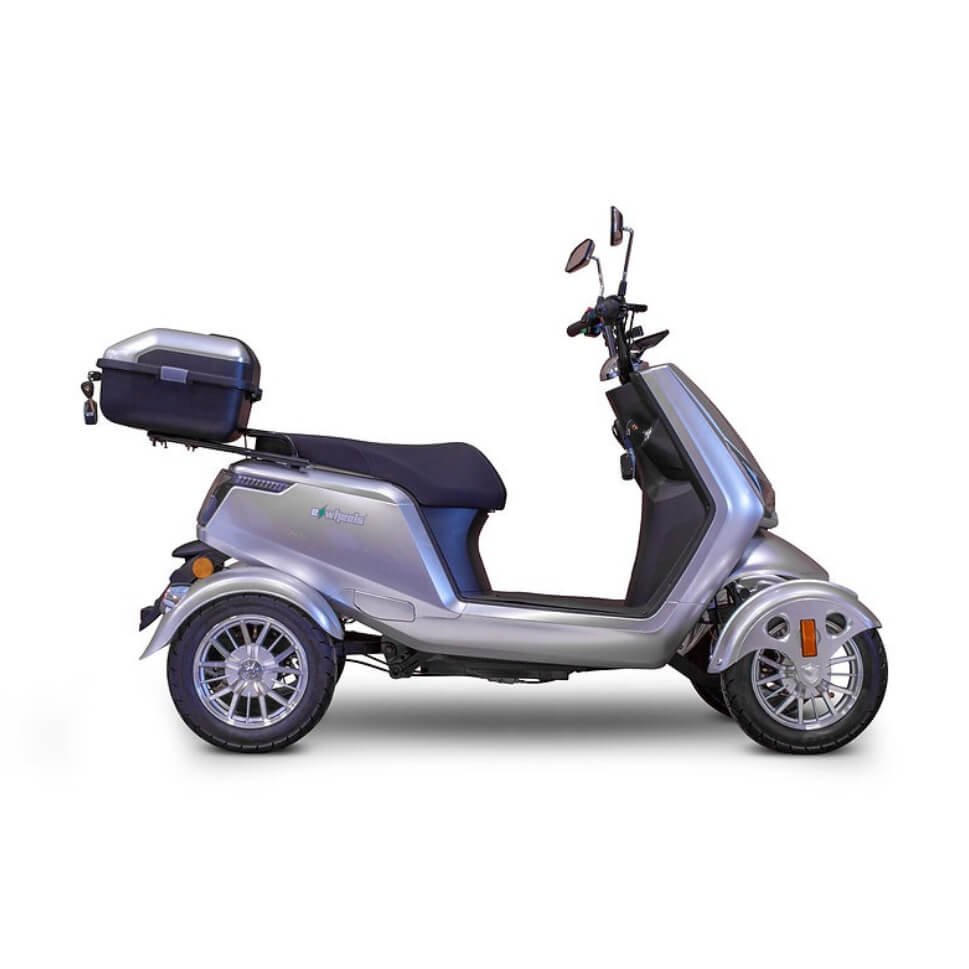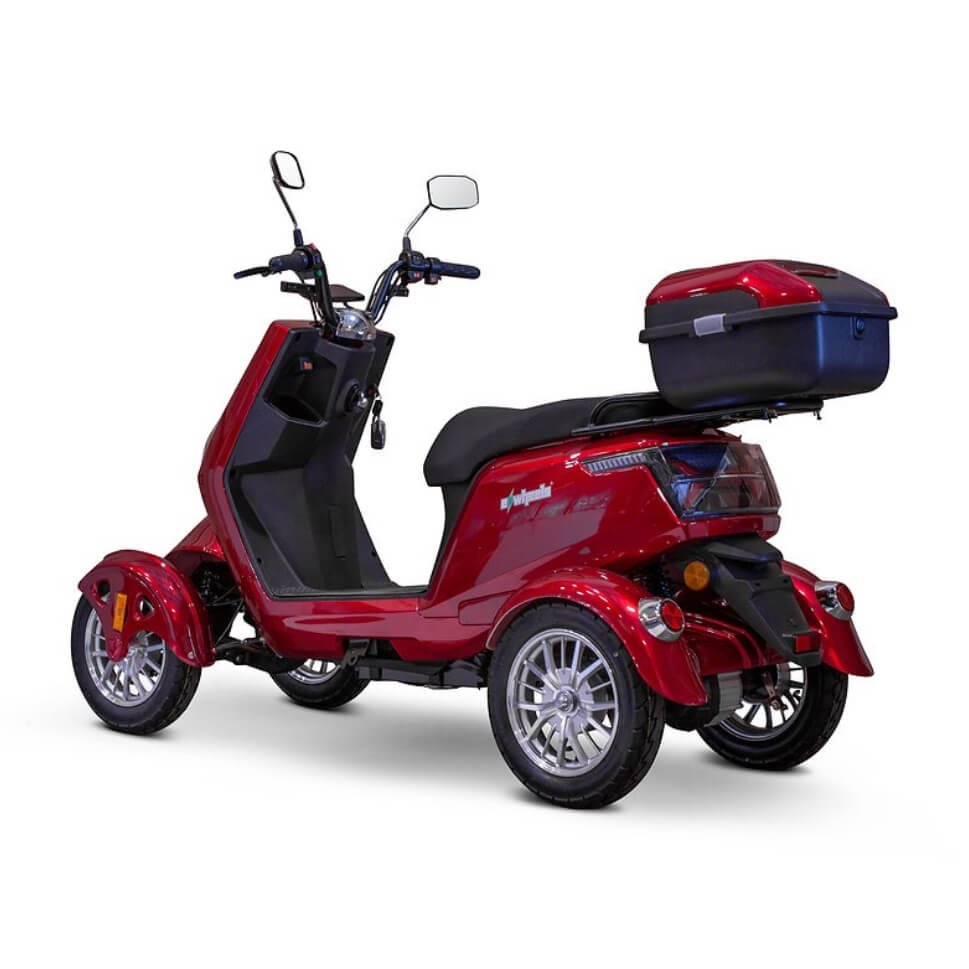 The EW-75 is among the most stable, efficient, and affordable mobility scooters on the market today. The 4-wheel configuration provides stability and dual suspension for a smooth ride. This E wheels 4 wheel scooter has been equipped with an impressive 43 mile range at a speed of 15mph. The device can also take on a full 400lbs., so larger individuals can use the mobility device.
This speedy E

 wheels 4 wheel scooter

is not just about impressive range and variable speed options, but also houses some modern conveniences not often seen in today's mobility devices. Onboard the EW-75 you will find a security system controlled through a vehicle style key fob. The EW-75 also maintains essential safety features such as a full lighting package, but it also allows riders to connect their mobile devices via Bluetooth, so you can have your favorite tunes along for the ride as well.
Pros:
       

Extra Cushion Seating

       

Electric Brake Assist

       

Lockable Storage Compartments
Cons:
       

Limited Color Choices

       

No Adjustable Seat

       

242lbs. Total Weight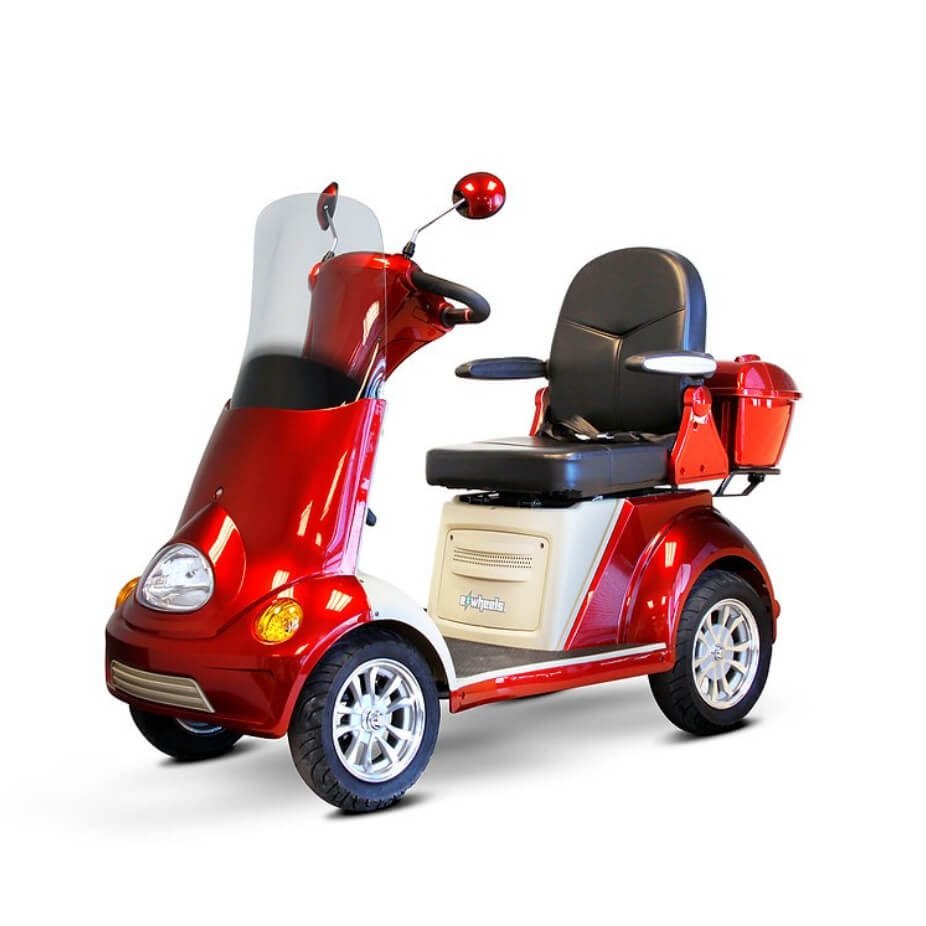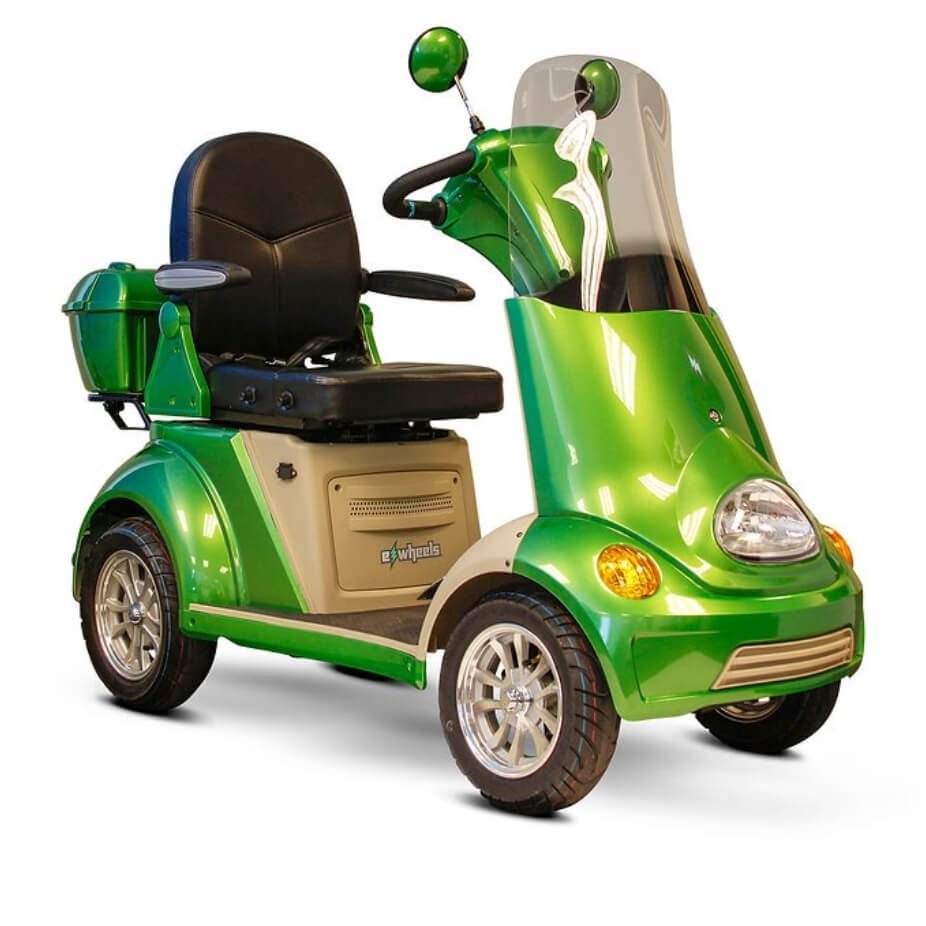 Range is important in mobility devices and the EW-52

4 wheel scooter

is certainly among the most long ranged mobility scooters on the market with an impressive 43 mile range. While traveling, the device can reach speeds of up to 15mph with variable speed controls, so you can drive the EW-52 at a speed that is most comfortable for you.
The EW-52 can be used in certain indoor situations, but it is most adapted to outdoor use. The device maintains a 5" ground clearance and multi-terrain tires, so it can contend with uneven surfaces with ease. 15" rear and 13" front tires further empower the multi-terrain ability of this mobility device. In addition to impressive performance capabilities, the EW-52

4 wheel scooter

also manages to include a full lighting package and alarm system.
Pros:
       

Affordable

       

500lb. Weight Capacity

       

25 Degree Climbing Angle
Cons:
       

90" Turning Radius

       

312lbs. Total Weight

       

No USB Port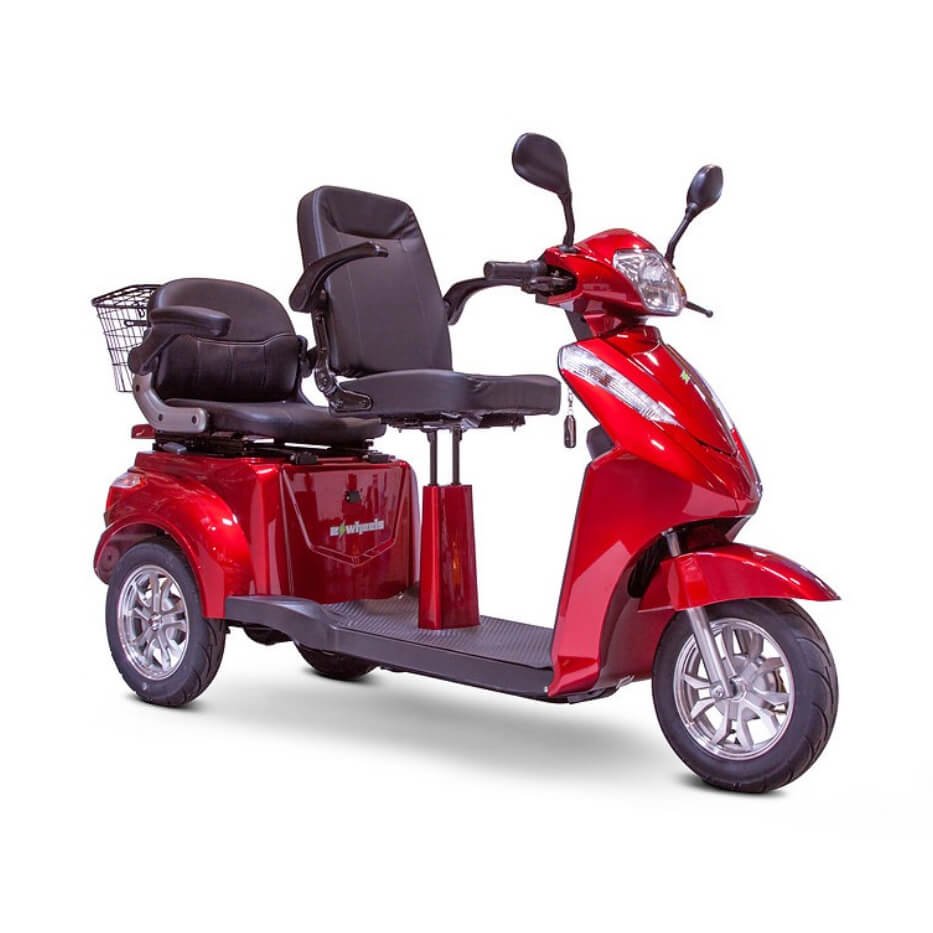 Having access to an additional seat may not be essential, but it does make the journey a lot more enjoyable and the EW-66 accommodates this notion. However, where most dual mobility devices maintain side by side seats, this model has chosen a front and back seating arrangement. The main advantage to this seating composition is it keeps the device from being too wide for smaller spaces. The EW-66 maintains a width of just 27".
Not only is the EW-66 adaptable for dual travel, it can hold an impressive 600lbs while traveling at speeds of up to 15mph with a range of up to 35 miles. Front and rear suspension offer a smooth ride and a 700W brushless motor provides ample power for the journey. An easy to read LCD Dash display helps you keep an eye on speed, power, and overall health of the device. A ground clearance of 4.5" help you manage uneven spaces and the EW-66 has even managed to include rear and underseat storage compartments for your convenience.
Pros:
       

Adjustable Seating

       

Electric Braking System

       

Alarm Enabled
Cons:
       

No USB Port

       

No Adjustable Tiller

       

Only Available in Red
Experience the Freedom with EWheels Recreational Mobility Scooters
These scooters are not just easy to ride but are also your perfect buddy for quick store trips or lovely rides in the park. EWheels makes sure you can go on little adventures without a hitch, making every outing simple and fun. With a comfy seat and smooth riding, every trip is a breeze. Plus, they're built to keep you safe and steady on your journeys. So, hop on and let EWheels take you wherever you want to go, without any fuss.
How to use this page
Above see a list of products (all the products in the EWheels mobility scooter collection), and below the products you'll find some more helpful information pertaining to heavy-duty mobility scooters, weight capacity brands and top models.
Click on any product you like, to be taken to that product's dedicated page. On the product page see more information such as more images, videos, price, specifications, financing options as well as an add to cart button if you decide to purchase.
Frequently Asked Questions (FAQ)
1. Who manufactures Ewheel scooters?
EWheels scooters are manufactured by EWheels
. They are known for their high-performance electric mobility solutions, including scooters and bikes. EWheels uses patented technology in their electric systems and utilizes a cost-effective approach to manufacturing, which allows them to offer premium scooters and bikes at competitive prices. Their products are designed to stand out with a sleek look and vibrant colors, while also maintaining a cheap price.
2. Where is EWheels manufactured?
EWheels products, including their well-known scooters, are manufactured in China.
The company uses its patented technology to design and produce high-performance electric mobility solutions. They're recognized for combining quality and affordability in their manufacturing processes, delivering sleek, reliable, and competitively priced scooters and bikes.
x
Security for buyers
Your financial information

PayPal helps keep your transactions secure by not sharing your full financial information with sellers.

24/7 Monitoring

We monitor transactions 24/7. That should help you rest easy.

Secure technology

Our encryption help keeps your online transactions guarded from start to finish.

Fraud prevention

Contact us if anything seems suspicious so we can help you protect yourself from fraudulent charges against your account. We'll never ask for sensitive information in an email.

Dispute resolution

If there's a problem with a transaction, we'll put a hold on the funds until the issue is resolved. We investigate and stay involved every step of the way.

Purchase protection around the globe

Buy or sell around the globe. We process 25 currencies in over 200 markets to make sending, spending, and selling simple and secure.
How does it work?
You bought credit for your favorite online game but never got it, you bought a book but got a DVD, you purchased an authentic brand but got a knockoff instead, your purchase arrived with major parts missing (that the seller didn't disclose), or you ordered 3 items but only got 2. Just tell us- you're covered in each instance!
Items Not Covered

Most purchases of products and services are covered except real estate, businesses, vehicles, custom-made items, industrial machinery, items equivalent to cash, anything you buy in person and items prohibited by PayPal's Acceptable Use Policy. You must open any dispute within 180 days and your account has to be in good standing or you will not be covered.

$0 liability

We'll email you a receipt confirming the payment whenever you pay with PayPal. If you receive an email for a payment you didn't authorize, contact us immediately. We'll act fast to secure your account and investigate.

Full Refunds

Our Buyer Protection Policy helps you in the unlikely event you have a problem with an eligible purchase. If an item doesn't arrive or match the seller's description, we'll help you recover the full purchase price (up to $20,000), including shipping costs.