Sale!
Golden Eagle 4-Wheel Mobility Scooter
-13%
Quick Overview
Golden Technologies Eagle GR595 4-Wheel Mobility Scooter
The Golden Eagle™ Mobility Scooter is the ultimate outdoor adventure machine, crafted specifically for those who love exploring the great outdoors. This sleek and durable 4-wheel scooter offers top performance, easy handling, and unbeatable comfort, making it a breeze to navigate various landscapes and discover the world around you.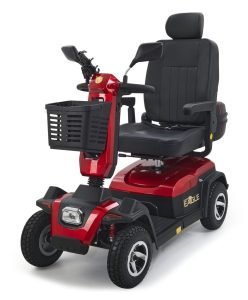 Main Features:
Supports up to 500 lbs

Built-in LCD Display

Complete LED Light Set

Integrated Speaker with Bluetooth & USB Connection

Lockable, Water-Resistant Storage Space

Rearview Mirrors

Cell Phone Stand & USB Charger

Handy Cup Holders

Adjustable Tiller

Comfortable High-back, Limited Recline Seat

Spacious Front Basket

13″ Air-filled Tires

2-NF22 Batteries
The Golden Eagle Mobility Scooter has an impressive 500 lb weight capacity, making it suitable for many users. The built-in LCD display offers easy access to crucial information, while the full LED light set ensures you can see and be seen during your day and night adventures. Enjoy your favorite tunes on the go with the integrated speaker that features Bluetooth® and USB connectivity.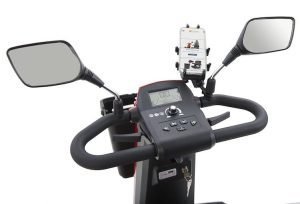 Safety and convenience are top priorities with the lockable water-resistant storage area, rearview mirrors, cell phone stand, and USB charger. The scooter also comes with handy cup holders, an adjustable tiller, a comfortable high-back limited recline seat, a spacious front basket, and 13" air-filled tires for a smooth and enjoyable ride.
Performance & Abilities
The Golden Eagle Mobility Scooter is designed to provide outstanding performance, ensuring an exciting and satisfying ride every time. With a top speed of 8 mph, this powerful scooter lets you navigate various landscapes at a comfortable pace. Its impressive range of up to 32 miles on optional 75 AH batteries means you can travel longer distances without worrying about running out of power.
Featuring a strong 140 Amp controller, the Golden Eagle Mobility Scooter offers unmatched climbing ability, making it perfect for tackling steep hills, uneven ground, and off-road excursions with confidence. The scooter's advanced design ensures you can effortlessly conquer nature trails, rough landscapes, and more.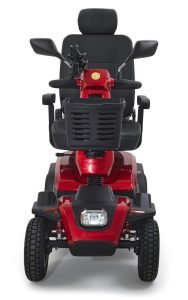 Navgating tight spaces and uneven surfaces is easy with the Golden Eagle Mobility Scooter's 69" turning radius and 5" ground clearance. These specifcations make it ideal for maneuvering through crowded areas or navigating obstacles with ease. Whether you're explorng nature or navigating city streets, the Golden Eagle Mobility Scooter offers the performance and abilties you need for an unforgettable experience.
Moreover, the scooter's sturdy construction and high-quality components ensure reliable performance and durablity, even in challenging conditions. Its robust design guarantees that the Golden Eagle Mobility Scooter will stand the test of time, providing you with years of excting outdoor experiences. So, gear up and get ready to conqeur the world with the unmatched performance and abilities of the Golden Eagle Mobility Scooter.
Comfort & Ease
Experience the perfect blend of comfort and ease with the Golden Eagle Mobility Scooter's thoughtfuly designed features. The luxurious high-back seat is ergonomically designed to provide exceptional support and comfort during your ride. With various adjustments available, you can easily customize the seat position to suit your specific needs, ensuring a personalized fit that makes every journey enjoyable.
The adjustable tiller is another key feature that enhances your comfort and ease. Easily adjustable to match your preference, the tiller ensures that you have effortless access to the controls and maintain the most comfortable posture during your journey. This customization helps reduce fatigue and strain, allowing you to ride longer distances with ease.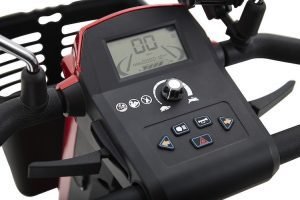 The Golden Eagle Mobility Scooter also comes with advanced front and rear suspension systems that deliver a smooth and stable ride. These cutting-edge suspension systems work together to absorb shocks and vibrations from various terrains, ensuring that you glide effortlessly over obstacles and uneven surfaces with confidence. No matter where your adventures take you, the scooter's exceptional suspension systems guarantee a comfortable and enjoyable riding experience.
In addition to these comfort-focused features, the Golden Eagle Mobility Scooter also offers a range of convenent amenities to enhance your overall experience. These include a lockable water-resistant storage compartmnt to keep your belongings safe and dry, raerview mirrors for improved visibility and safety, a cell phone holder and USB charger to keep your devices powered, and convenient drink holders for easy access to your beverages.
By combining excptional comfort and user-friendly convinience, the Golden Eagle Mobility Scooter ensures that every ride is a pleasurable experience, allowing you to fully enjoy your outdoor adventures in style and luxury.
Dimensions & Specifications
The Golden Eagle Mobility Scooter is a robust and dependble choice for outdoor enthusiasts who require a reliable mode of transportation. With a total weight of 300 lbs., the scooter is built to be sturdy and durable, ensuring a safe and stable ride in varoius outdoor conditions.
Measuring 56.5" in length and 27" in width, the Golden Eagle Mobility Scooter offers ample space for riders to comfortably navigate different terrains. The generous dimensions ensure a spacoius and accommodating riding experience, allowing you to explore the great outdoors in comfort.
The scooter's seat dimensions are 20" wide, providing a roomy seating area that ensures a cozy and supportve ride. This wide, comfortble seat caters to users of various sizes, ensuring that every rider can enjoy the luxury and support that the Golden Eagle Mobility Scooter has to offer.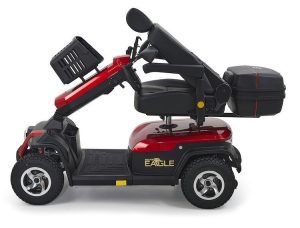 Equipped with large 13" front and rear wheels, the scooter delivers enhancd stability and traction across various surfaces. These sizable wheels allow the scooter to easily tackle obstacles and navigate uneven terain, ensuring a smooth and secure ride at all times. The larger wheels also contribute to improved handling and maneuverability, making the Golden Eagle Mobility Scooter a top choice for outdoor enthusiasts who want a reliable and comfortable mode of transportation for their adventures.
Warranty Information
Rest assured knowing your investment is protected with Golden Technologies' comprehensive warranty coverage. The scooter's frame is backed by a lifetime limited warranty, while the drive train and electronics are covered for 2 years. The batteries come with a 1-year limited warranty, providing peace of mind for your purchase.
Accessories & Add-ons (optional)
Customize your Golden Eagle Mobility Scooter with a range of accessories and add-ons designed to enhance your riding experience. From additional storage options to weather protection, there's something for every adventurer.
Specifications
Golden Eagle GR595 Specifications
| | |
| --- | --- |
| Max Weight Capacity | 500 lbs. |
| Overall Product Weight | 300 lbs. |
| Heaviest Piece | 239 lbs |
| Top Speed | 8 mph |
| Maximum Range | 18 miles |
| Turning Radius | 69" |
| Ground Clearance | 5" |
| Dimensions | 56.5" (L) x 27" (W) |
| Max Seat to Ground Height | 27-28"" |
| Max Seat to Deck Height | 19.75-20.75" |
| Seat Dimensions | 20"(W) |
| Front Wheels | 13" |
| Rear Wheels | 13" |
How fast does the Golden Eagle GR595 go?
At full speed, you can reach 8 mph.
You will find some other brands offer scooters that go faster than this, however high quality brands put a high emphasis on safety too.
In order for a mobility scooter to go faster than around 10 mph, heavy investment must be made to ensure it stays just as safe. For this reason, the more reputable and safe a brand, the more they cap the top speed of their mobility scooters.
How long do the Golden Eagle GR595 batteries last per charge? How many years of use can I get out of the batteries?
Battery running time per charge is measured in miles as opposed to time i.e. how many miles can a fully charged set of batteries take the scooter?
The answer depends on the user's weight as well as the kind of terrain the scooter is operated upon.
Please take these manufacturer figures with a grain of salt, bearing in mind manufacturers may test their scooters in optimum conditions you won't find in real life.
For a Golden Eagle GR595 mobility scooter, the batteries last: 18 miles.
The lifetime of your Eagle batteries is approximately 3 years, but very much depends on how much you use your scooter and whether you take good care of your batteries.
Lithium-ion batteries can be expensive to replace, please be in contact with us for a quote.
How much weight can the Golden Eagle GR595 carry?
The weight capacity of the Golden Eagle GR595 mobility scooter is 500 lbs.
What kind of ground clearance does the Golden Eagle GR595 have? Is it good for paths and trails?
The Golden Eagle GR595 has a high ground clearance of 5". And with its powerful motor, it will do very well on grass, gravel, and dirt paths.
Documentation, Manuals & Safety
Safety
Does the Golden Eagle GR595 mobility scooter have lights for nighttime riding? Does it have turn signals?
Yes, this mobility scooter comes with a full lighting package – a powerful headlight - rear lights as well as front - and rear turn signals. Riding in the dark isn't for everyone though and you should carefully consider the safety of doing this in your area, even with a full lighting package on your scooter.
Daily Operation & Transportation
Daily Operation
Can I ride the Golden Eagle GR595 mobility scooter in the rain, snow, wind, and hot sun?
Rain: It's OK and safe if you get caught in the rain once in a while, or go through an occasional puddle, but you should try to avoid a trip if you know it's going to rain.
Snow and ice: We cannot take responsibility for using the scooter in these kinds of weather conditions.
Cold weather: Fine, though it does negatively impact the battery's health and lifetime.
Wind: Generally not an issue unless very strong winds could tip the scooter over. If you have a mobility scooter with a canopy, remember, very strong winds can act as a sail to tip over your scooter.
Hot sun: No issue as far as the scooter is concerned. Remember to take along ample hydration!