Sale!
Pride Baja Wrangler 2 Heavy Duty Mobility Scooter
-28%
Quick Overview
Introducing the Pride Baja Wrangler 2 Mobility Scooter: Your Ultimate Outdoor Companion
Embark on your next adventure with the Pride Baja Wrangler 2 mobility scooter, the perfect companion for outdoor enthusiasts with limited mobility. Designed for all-terrain use, this heavy-duty mobility scooter combines power, durability, and comfort to create the ultimate off-road experience.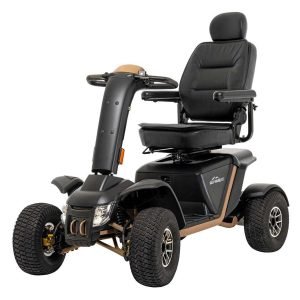 Unparalleled Performance and Off-Road Capabilities
Experience the power of the Baja Wrangler 2 mobility scooter, designed for high performance and equipped with a 7.7 Peak HP twin-engine system. This all-terrain mobility scooter has a top speed of 11.4 mph and a high-weight capacity of 450 lbs, making it the perfect choice for those who need a reliable and powerful outdoor mobility scooter.
Built for Comfort and Convenience: Experience Luxury on Any Terrain
The Baja Wrangler 2 is more than just an off-road mobility scooter; it is designed with your comfort and convenience as top priorities. Every detail of this heavy-duty mobility scooter caters to providing the ultimate riding experience, even on the most challenging terrain.
Ergonomic High-Back Seat
The Baja Wrangler 2 features a luxurious high-back, limited recline memory foam seat that contours to your body, providing optimal support and comfort during your outdoor adventures. The seat's premium black vinyl upholstery not only adds a touch of sophistication but also ensures easy cleaning and long-lasting durability.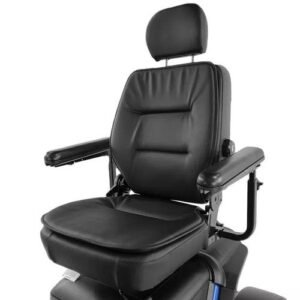 Adjustable Armrests
Elevate your driving experience with the Baja Wrangler 2's adaptable armrests. Effortlessly personalize them to fit your unique dimensions and preferred angle, promising the ultimate comfort for your arms and shoulders. Turn each adventure into a soothing, custom-made voyage.
Industry-Leading Suspension System
The Baja Wrangler 2 is a mobility scooter with suspension that sets the standard for a smooth and comfortable ride. The innovative CTS Suspension system features industry-leading technology that effortlessly absorbs bumps and vibrations on uneven surfaces. This advanced suspension ensures that you can glide over any terrain with ease, providing a comfortable and enjoyable ride no matter where your adventures take you.
Steering Dampening System
The Baja Wrangler 2 also incorporates a steering dampening system that absorbs uncontrolled movements over rugged terrain, reducing the energy needed to control the handlebars. This system is designed to lessen fatigue on your hands, arms, and shoulders, allowing you to enjoy longer excursions without discomfort.
Adjustable Delta Tiller with Ergonomic, Wraparound Handles
Experience exceptional control and customization with the Baja Wrangler 2's adjustable delta tiller. The ergonomic, wraparound handles provide a comfortable grip, making maneuvering the scooter a breeze. The adjustable design of the tiller ensures that users of all heights can find a comfortable position, further enhancing the overall riding experience.
Stay Connected on the Go
The Baja Wrangler 2 features a user-friendly LED console that displays essential information such as time, temperature, miles driven, and trips taken. With an integrated USB charger on the tiller, this long-range mobility scooter ensures your portable devices stay charged during your adventures.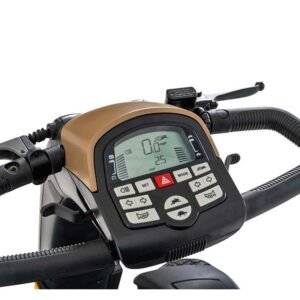 Safety First: Navigate with Confidence and Security
The Baja Wrangler 2 outdoor mobility scooter is designed not only for comfort and performance but also with your safety in mind. It boasts a range of features that help you navigate various terrains and conditions with confidence, ensuring that you can enjoy your outdoor explorations without compromising your well-being.
Comprehensive LED Lighting Package
To enhance visibility during your travels, the Baja Wrangler 2 is equipped with a comprehensive LED lighting package. This package includes powerful headlights to illuminate your path, hazard lights for increased awareness in potentially dangerous situations, and directional signals to effectively communicate your intentions to other travelers. These bright and energy-efficient lights enable you to safely navigate through various lighting conditions, whether it's a dimly lit trail or a bustling city street.
Rear Backup Sensor with LED Lights
Another standout safety feature of the Baja Wrangler 2 is its rear backup sensor, which is equipped with LED lights that activate when you're too close to an object while in reverse. This innovative system alerts you to potential obstacles in your path, ensuring that you can back up confidently and safely without the risk of collisions. The sensor's LED lights provide clear visual cues, making it easy to judge distances and avoid accidents.
Additional Safety Features
The Baja Wrangler 2's emphasis on safety extends to its high-performance braking system. The hydraulic hand brake, paired with a standard regenerative and electro-mechanical braking system, offers reliable stopping power even on challenging terrain. This ensures that you can maintain complete control of your scooter at all times, further enhancing your safety and peace of mind during your outdoor adventures.
Built to Last
This rugged mobility scooter is built to last, featuring a dual-coated frame and sturdy rear bumper to face any challenge the great outdoors throws at you. Ride smoothly on diverse terrain, thanks to its 14.5" airless tires, and conquer obstacles with an impressive 8.25" ground clearance. The Baja Wrangler 2 is truly the ultimate partner for your exploration escapades.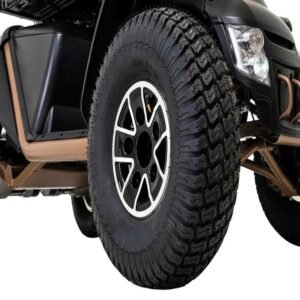 Easy Transportation
With the Baja Wrangler 2, you can enjoy worry-free mobility and adventure - thanks to its built-in secure tie-down points. Simply attach your scooter before transport so that even when unoccupied it remains safe and steady on whatever journey you decide.
The Baja Wrangler 2 mobility scooter is your all-terrain passport to limitless adventure. Conquer off-road terrain with confidence and ease, and embrace the great outdoors with its robust design and exceptional capacity. Say hello to reliable, unrestricted freedom.
The Baja Wrangler 2 is a high-performance mobility scooter with suspension, ensuring a smooth and comfortable ride even on challenging terrain. As a long-range mobility scooter, it provides ample battery life, allowing you to explore the great outdoors without worry.
This is a one-of-a-kind mobility scooter crafted for adventure and safety! Cruising the great outdoors is a breeze with its state-of-the-art LED lighting system and rear backup sensors, giving you the confidence to conquer any terrain.
Unleash your adventurous spirit and conquer the great outdoors with the trailblazing power of the Baja Wrangler 2 mobility scooter. This rugged, all-terrain beast combines strength, resilience, and luxury, ensuring you'll dominate every path with ease and comfort. Don't let anything keep you from exploring; let the Baja Wrangler 2 be the ultimate off-road companion you've always dreamed of. Fierce performance and unbeatable features make it the quintessential choice for those who crave top-notch mobility solutions.
Specifications
Pride Baja Wrangler 2 Specifications
| | |
| --- | --- |
| Model Number | BA400 |
| Maximum Speed | Up to 11 mph at 450 lbs; Up to 11.4 mph at 200 lbs |
| Range Per Charge | Up to 13.2 miles at 450 lbs (75AH); Up to 20.2 miles at 200 lbs (75AH); Up to 17.4 miles at 450 lbs (100 AH); Up to 26.6 miles at 200 lbs (100AH) |
| Suspension | Front and rear (CTS Suspension) |
| Weight Capacity | Up to 450 lbs |
| Highest Ground Clearance | 8.25" at mid-frame |
| Lowest Ground Clearance | 5.5" at motor |
| Turning Radius (4-Wheel) | 94.75" |
| Overall Length | 61.25" |
| Overall Width | 32.5" |
| Standard Seating | Type: Limited Recline Memory Foam Seat with Sliders |
| Seat-to-Ground Height | 29"-30.5" |
| Seat-to-Deck Height | 20.5"-22" |
| Front Tires | 14.5" Tubeless |
| Rear Tires | 14.5" Tubeless |
| Battery Requirements | Type: (2) 75AH; (2) optional 100 AH Weight: 75AH- 48 lbs; 100 AH- 60.5 lbs Battery Charger: Off-board, 8 amp |
| Total Weight Without Batteries | 274 lbs. |
| Heaviest Piece when Disassembled | 219 lbs (unit does not disassemble) without seat and batteries |
| Total Product Weight (Standard) | 370 lbs (75 AH); 395 lbs (100 AH) |
| Drive System | 24- volt DC motor, rear-wheel drive, dual in-line |
| Braking System | Regenerative and electromechanical |
| Medicare HCPCS | **Non-Medical Device The intended use of this product is to provide assistance to persons with limited mobility who have the capacity to operate a motorized scooter |
| Warranty | Frame: Lifetime limited Drivetrain: 2-year limited Electronics: 2-year limited Battery: 6-months |
How fast does the Pride Baja Wrangler 2 mobility scooter go?
At full speed, you can reach 11.4 mph.
You will find some other brands offer scooters that go faster than this, however high quality brands put a high emphasis on safety too.
In order for a mobility scooter to go faster than around 10 mph, heavy investment must be made to ensure it stays just as safe. For this reason, the more reputable and safe a brand, the more they cap the top speed of their mobility scooters.
How long do the Pride Baja Wrangler 2 batteries last per charge? How many years of use can I get out of the batteries?
Battery running time per charge is measured in miles as opposed to time i.e. how many miles can a fully charged set of batteries take the scooter?
The answer depends on the user's weight as well as the kind of terrain the scooter is operated upon.
Please take these manufacturer figures with a grain of salt, bearing in mind manufacturers may test their scooters in optimum conditions you won't find in real life.
For a Pride Baja Wrangler 2 mobility scooter, the batteries last: 26 miles.
The lifetime of your Baja Wrangler 2 batteries is approximately 3 years, but very much depends on how much you use your scooter and whether you take good care of your batteries.
Lithium-ion batteries can be expensive to replace, please be in contact with us for a quote.
How much weight can the Pride Baja Wrangler 2 carry?
The weight capacity of the Pride Baja Wrangler 2 mobility scooter is 450 lbs.
What kind of ground clearance does the Pride Baja Wrangler 2 have? Is it good for paths and trails?
The Pride Baja Wrangler 2 has a high ground clearance of 8.25". And with its powerful motor, it will do very well on grass, gravel, and dirt paths.
Documentation, Manuals & Safety
Safety
Does the Baja Wrangler 2 mobility scooter have lights for nighttime riding? Does it have turn signals?
Yes, this mobility scooter comes with a full lighting package – a powerful headlight - rear lights as well as front - and rear turn signals. Riding in the dark isn't for everyone though and you should carefully consider the safety of doing this in your area, even with a full lighting package on your scooter.
Daily Operation & Transportation
Daily Operation
Can I ride the Baja Wrangler 2 mobility scooter in the rain, snow, wind, and hot sun?
Rain: It's OK and safe if you get caught in the rain once in a while, or go through an occasional puddle, but you should try to avoid a trip if you know it's going to rain.
Snow and ice: We cannot take responsibility for using the scooter in these kinds of weather conditions.
Cold weather: Fine, though it does negatively impact the battery's health and lifetime.
Wind: Generally not an issue unless very strong winds could tip the scooter over. If you have a mobility scooter with a canopy, remember, very strong winds can act as a sail to tip over your scooter.
Hot sun: No issue as far as the scooter is concerned. Remember to take along ample hydration!