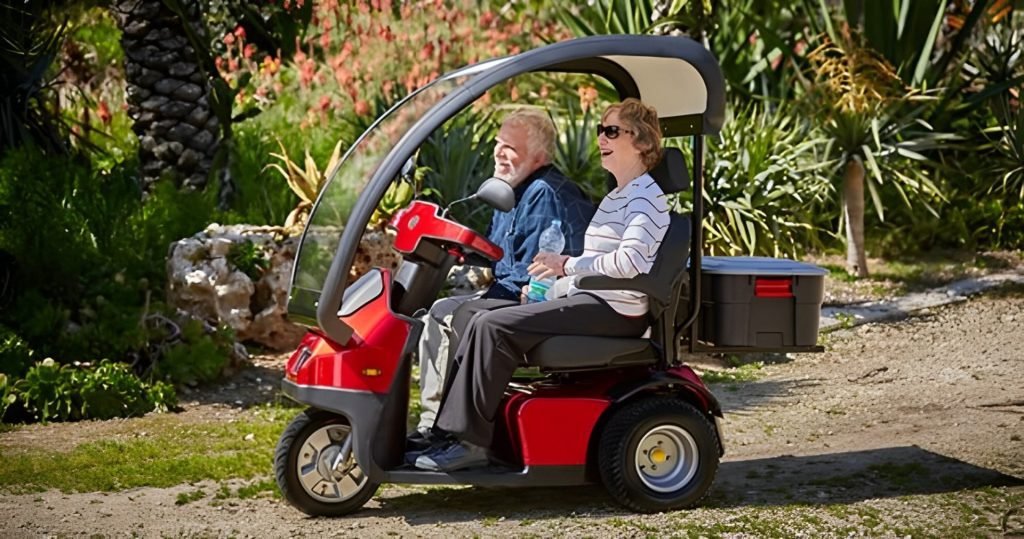 Thinking about buying an electric scooter with 2 seats? Great! Our blog post guides you through each step of the buying process in simple terms, making it easy for you to find the perfect scooter for your needs. From choosing and customizing your scooter, to checkout and delivery options, we've got you covered. We even provide different payment plans to make your purchase more affordable. So, join us as we help you take a step towards enhanced mobility and shared adventures.
KEY TAKEAWAYS
Electric scooters with 2 seats offer shared experiences and value for money.

Financing options like PayTomorrow and Klarna provide affordable payment plans.

The buying process is easy: select, customize, add to cart, checkout, and pay.

Choose from Standard Delivery (to your doorstep) or White Glove Service (with setup).

Top picks: Afiscooter S4, Afiscooter SE, and RMB e-Quad XL.

Accessories can be bought such as baskets, armrest bags, cup holders, cane holders, and covers add comfort and convenience.

Buying an electric scooter with 2 seats is an investment in a more enjoyable lifestyle.

Heavy Duty Mobility provides support during and after the purchase process.
Why buy an electric scooter with 2 seats?
An electric scooter with 2 seats is ideal for individuals who need a helping hand in mobility or those who want a companion during their trips. Be it a visit to the supermarket, the park, or just around the neighborhood, this scooter allows shared experiences.
An electric scooter with 2 seats might come with a higher price tag compared to single-seat versions. However, when you invest in an electric scooter with 2 seats, you're not just buying a scooter, you're investing in enhanced mobility, increased comfort, and the precious opportunity to share travel experiences with a loved one. With all these benefits combined, you're surely getting your money's worth.
Affordable Financing Options
Are you worried about the price of an electric scooter with 2 seats? No need to stress! We can help make it easier to buy. We know that paying all at once can be hard. So, we offer different ways to pay over time. You can pay in small amounts spread over many months. It's like a pay-as-you-go plan for your scooter.
You can start using your 2 seater scooter right away and pay for it bit by bit. So, even though the scooter might seem expensive at first, it's worth it. You're not just buying a scooter. You're buying more freedom, comfort, and the fun of riding together. And with our payment plans, it's easier on your wallet.
PayTomorrow makes it easy to buy today and pay later. Here's why PayTomorrow is a good choice:
No harm to your credit: Using PayTomorrow to check your credit won't hurt your credit score.
Affordable payments: PayTomorrow lets you pay in small amounts over time.
Quick credit check: PayTomorrow checks your credit fast and gives you an offer based on your credit score.
PayTomorrow has 3 plans to choose from:
PayTomorrow Prime: This plan lets you pay up to $8,000 over 48 months with an interest rate between 0.0% – 20.9%. You don't need to pay anything upfront, and there are no hidden fees.


PayTomorrow Classic: This plan lets you pay up to $6,500 over 24 months. You also have the option to pay it all off early if you want. The lowest amount you can check out with is $9.99.


PayTomorrow No Credit: This plan doesn't need you to have a credit history. You can pay up to $5,000 over 13 months. You also don't need any money upfront to check out.


Klarna is a safe way to buy now and pay later. Here's how Klarna makes it easy:
Pay in 4: Break up the cost of your scooter into 4 parts. You pay one part every 2 weeks.


Pay in 30 days: Use your scooter now and pay for it in 30 days. You only pay for what you decide to keep.
Monthly financing: Klarna lets you pay for bigger purchases over many months.
When you use Klarna, they check your credit. But don't worry, this won't hurt your credit score. It just lets Klarna know that you usually pay your bills on time.

With our financing plans, owning one becomes easier on your pocket.
Invest in a dual-seater mobility scooter today and reap the rewards of enhanced mobility and companionship over time. It's a purchase decision you won't regret.
Straightforward Buying and Delivery Process
Buying a Electric Scooter with 2 seats: A Step-by-Step Guide
Choose Your Category: Start by selecting a category that interests you. Clicking on a category will take you to a new page showcasing a variety of scooters that fit within your chosen category.
Explore Scooters: Once on the category page, browse through the different scooters. Click on the picture of any scooter that catches your eye. This will take you to a detailed product page where you can see the scooter's price, images, videos, specifications, and other related documents. Remember to scroll down if you can't immediately find the information you're looking for.
Back or Forward: If you wish to view another scooter in the same category, simply hit the back button on your browser or phone. To explore scooters from a different category, navigate back to the menu and select a new category.
Customize Your Scooter: Found the perfect scooter for your needs? Great! Now, it's time to customize it. Choose your desired product options like color, seat size, and more.
Add to Cart: Once you're satisfied with your selections, click on 'Add to Cart.'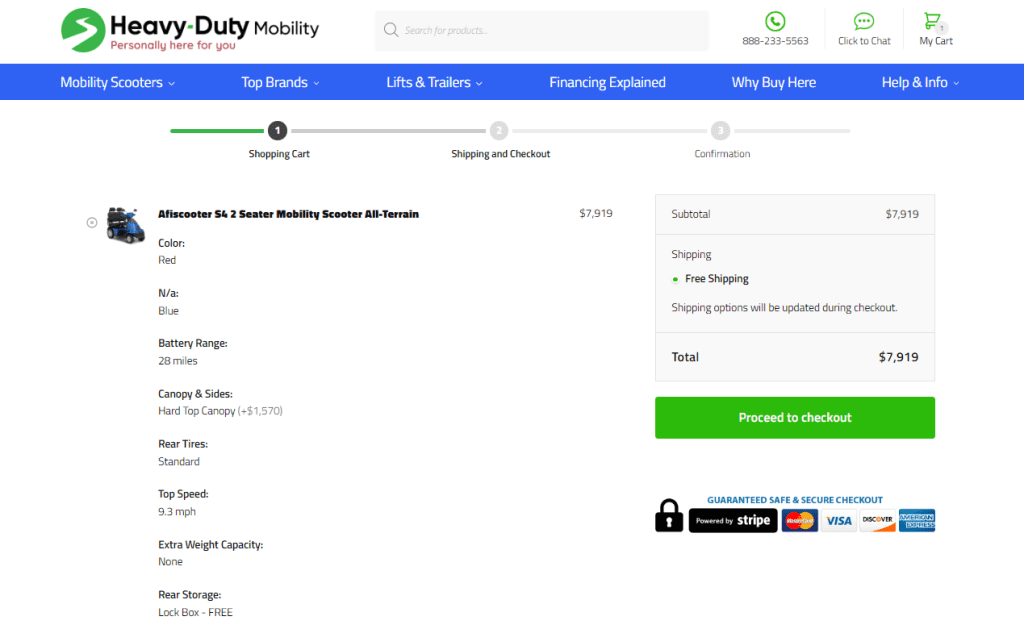 Checkout: Proceed to checkout by following the on-screen prompts.
Payment: Here, you can choose from various payment options. If you're paying with a cash card or credit card, the steps are straightforward. If you're choosing to finance your purchase, check out our financing guide or you can contact us and we'll guide you through the process.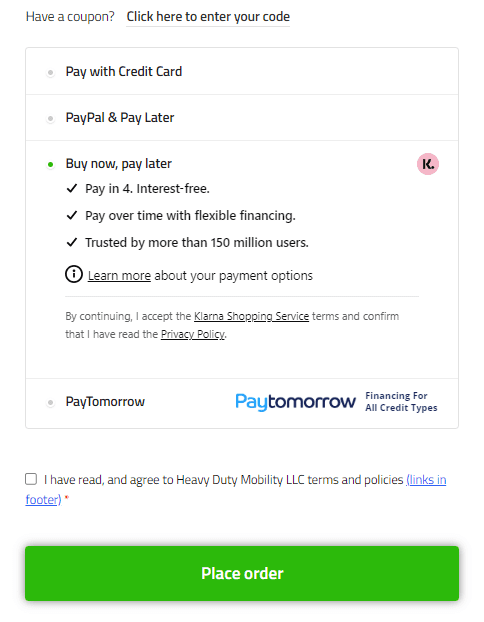 That's all! Once your payment is confirmed, we'll get your new scooter ready and send it your way via our trusted delivery service.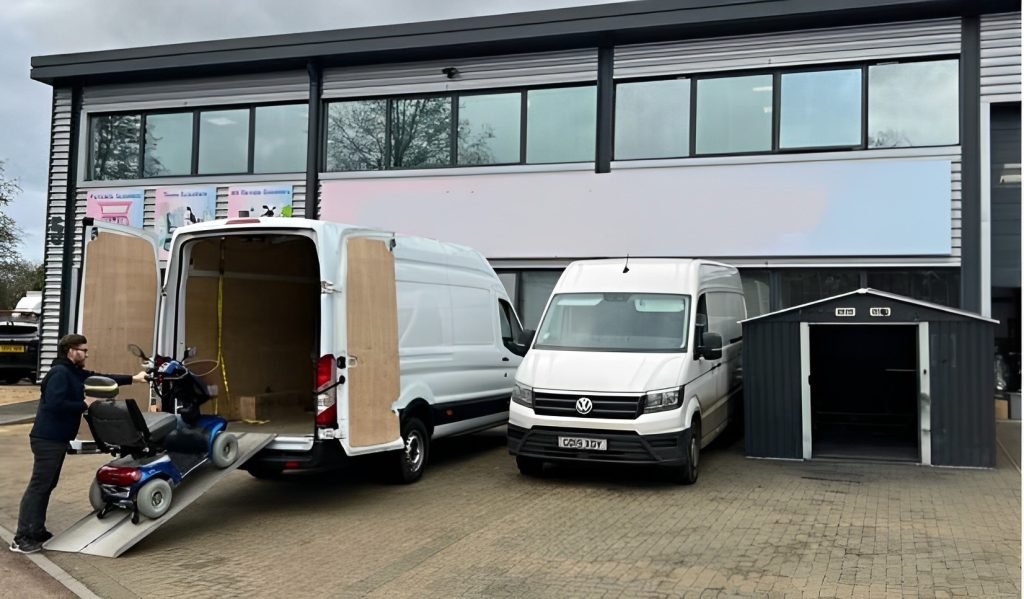 Seamless Delivery Options
Given its larger size compared to a standard mobility scooter, an electric scooter with 2 seats will be delivered to you via a big truck. And we offer two delivery options to suit your needs.
Our Standard Delivery is a fuss-free process. We will deliver the scooter to your doorstep, safe and sound. From there, you can handle the unpacking and setup at your own pace.
However, if you prefer more assistance, our White Glove Delivery Service is the perfect choice. Not only will we deliver the scooter, but our team will also unpack it, set it up, and show you how to operate it. This ensures you can start using your new electric scooter with 2 seats right away without any hassle.
No matter which option you choose, we make sure getting your new mobility scooter is an easy and straightforward process. So, explore our electric scooter with 2 seats for sale today, and let us handle the delivery for you.
Top 3 Electric Scooters with 2 seats for Sale
Want a ride that fits two people comfortably? The Afiscooter S4 Dual Seat All Terrain Mobility Scooter is your answer. Priced at only $8,459, it's a great deal! It has a wide seat, so you and your friend can sit side by side with ease. You can go up to 31 miles without having to recharge the battery. This means you can ride longer and save money on power. Safety is also a key feature with this scooter, thanks to its horn and bright light. Plus, it comes with a handy space to put your stuff. So, if you're looking to buy a scooter that gives you more for your money, the Afiscooter S4 is a great pick. Get it now and start enjoying your rides together.
If you're looking for a scooter that's easy on your pocket and perfect for two, the Afiscooter SE Dual Seat Mobility Scooter is another must buy. Priced at only $5,249, it offers good value. With a wide seat just like the S4, you and your buddy can comfortably ride together. This scooter can zip around at 7.5 miles per hour and easily handles tight corners because of its special motor. This means you can safely ride both indoors and outdoors. Plus, it comes with a basket at the back for your things. If you're thinking about buying a 2-seater scooter that's friendly on your budget and perfect for your needs, the Afiscooter SE is a smart pick. Grab it now and start enjoying your rides together.
The RMB e-Quad XL Mobility Scooter is another scooter that is worth every penny. Priced at just $5,500, it gives you a lot of bang for your buck. This scooter is easy to climb on and off as it's not too high from the ground. It has a super comfy seat where two people can sit side by side. Safety comes first with its seat belts and a speed control switch. It even has a big basket up front to keep your things, and a charger for your phone or tablet. Buying the e-Quad XL is a smart move if you want a scooter that combines fun, safety, and value for money. Grab it today and start the enjoyable rides with your buddy.
Buying Accessories for Your Electric Scooter with 2 Seats After Sale
Once you've decided on an electric scooter with 2 seats, you might also want to think about some extra accessories. These can make your scooter even more useful and comfortable. We have many options available under the "Options & Upgrades" section on each product page.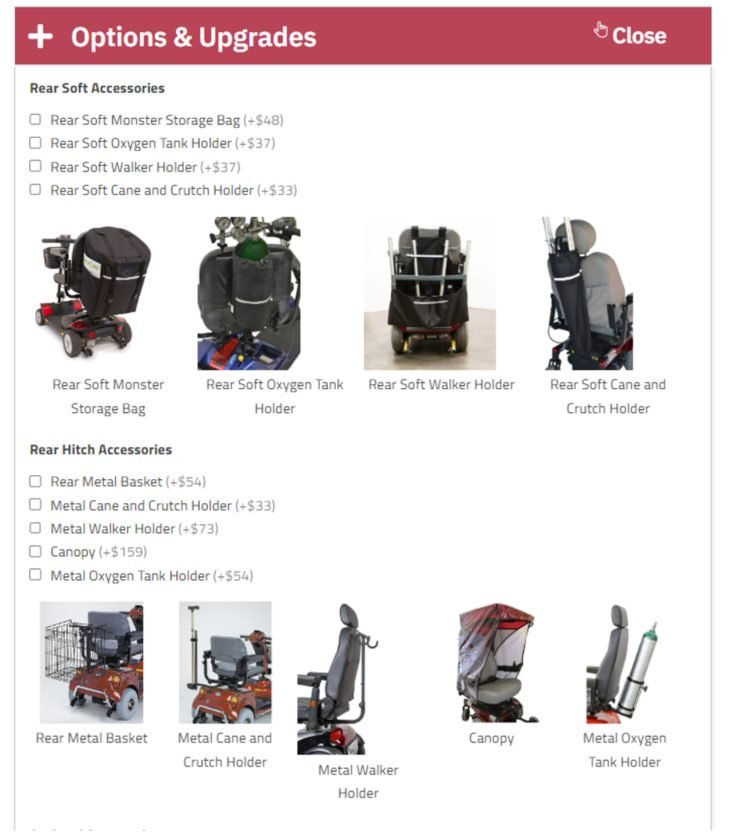 Here are some accessories you might want to consider:
Basket: A basket can help you carry items like shopping bags, personal belongings, or even a small pet. It's convenient and easy to attach.
Armrest Bag: An armrest bag gives you an extra place to store small items like your phone, keys, or wallet.
Cup or Bottle Holder: With a cup or bottle holder, you can take a drink with you and keep it within easy reach.
Cane Holder: If you or your passenger use a cane, a cane holder can keep it securely in place when it's not in use.
Weather/Rain Cover: Protect your scooter from the weather with a cover. It can keep it dry during rain or clean during storage.
For our Afiscooter electric scooters with 2 seats, there's an option to add a roof or canopy. This is great for protecting you from the sun or rain. And it's actually quite hard to buy the canopy after you've already bought the scooter. So, we advise you to choose this as an add-on accessory before placing your order.
All these accessories can make your electric scooter with 2 seats more comfortable and easier to use. They're worth considering when you're thinking about your purchase.
Getting a electric scooter with 2 seats is more than just a buy, it's a step toward a more convenient and enjoyable life. From the start of your buying journey to the final purchase, we're here to help.
Our range of two-seater scooters is carefully selected to cater to different needs and budgets. Each product comes with a clear price and the option for convenient financing. We want to make buying easy, so you know what you're getting for your money.
Throughout your buying journey, our team is available to assist you, ensuring you understand the purchase and payment process. And our commitment to your satisfaction doesn't stop once the sale is complete. We are here to offer support post sale, to help with any questions or concerns you may have.
Your journey towards enhanced mobility and shared adventures can start today. With our wide range of electric scooter with 2 seats for sale, clear pricing, and straightforward buying process, you'll be set for a smoother ride in no time.
Sources for Mentioned Features and Specifications
Afikim (manufacturer of Afiscooter S4 and SE) full Afiscooter S4 specifications sheet and Afiscooter S4 product page ,full Afiscooter SE specifications sheet and Afiscooter SE product page taken from manufacturer website, afiscooters.com
RMB (manufacturer of e-Quad XL) full e-Quad XL specifications sheet and e-Quad XL product page, taken from manufacturer website, pushpakmotors.net