The Top 4 Heavy Duty Mobility Scooters for 2023 (according to our hyper-focused team)
The name says it all. Here at Heavy Duty Mobility, our primary focus is on heavy-duty mobility scooters. What does that mean for you? It means you're in the right place to hear about which mobility scooters on the market fit your heavy-duty needs.
We know that finding a heavy-duty mobility scooter that can keep up with your active lifestyle can be a challenge, which is why we've put together this professional opinion guide to the top 4 heavy-duty mobility scooters for 2023. We've done the research and gathered expert opinions to bring you accurate and reliable information about each of these scooters.
All the information presented in this guide has been fact-checked and verified with official sources, including the manufacturers' websites. We've also included links to other reputable sources in the mobility scooter industry to give you even more valuable insights. With this guide, we hope to help you make an informed decision about which heavy-duty mobility scooter is right for you, so you can enjoy the freedom and independence that comes with a reliable, powerful scooter.
Unlike other businesses and websites selling a huge selection of different DME (durable medical equipment), we have our expertise and knowledge set on these kinds of scooters so we can serve best within this mobility niche.
Below we have singled out 4 of the best heavy-duty/high weight capacity mobility scooters currently available on the mainstream American market in 2023. We made sure to include a 3-wheel heavy heavy-duty mobility scooter for those who prefer this configuration, though most prefer 4 wheels when it comes to stronger scooters.
What makes a mobility scooter "heavy-duty"? The following criteria make us consider a mobility scooter to be a heavy-duty model:
Strong, rugged construction
High weight capacity – able to hold 400 lbs of user weight or more
Able to go far on each charge
Large, strong wheels & tires
In listing the top 4 scooters, we tried to mention models which wouldn't necessarily be considered fastest or all tall-terrain. This is because though most fastest or all-terrain mobility scooters are also considered heavy-duty mobility scooters, the opposite is not always true. In other words, it's possible to find strongly-built, high-weight capacity mobility scooters that aren't fastest or all-terrain mobility scooters.
In deciding which scooters should be considered the best within the heavy-duty mobility scooter category we considered:
Brand: reliability and quality of the scooter
Brand: type of warranty offered
Extra comfort and amenities
Products our customers liked over others
We put some of the pros and cons of the best heavy-duty/high weight capacity into this easy-to-digest table
| | Afiscooter S4 | Merits Pioneer 9 | Afiscooter C4 | Shoprider Enduro XL4 |
| --- | --- | --- | --- | --- |
| Build Strength | Excellent | Excellent | Excellent | Very Good |
| Weight Capacity | Up to 600 lbs | 500 lbs | 400 lbs | 500 lbs |
| Seat Width | Up to 33" | 22" | Up to 20" | 28" |
| Range Per Charge | Best | Excellent | Excellent | Excellent |
| Transportable? | Requires platform/lift | Excellent | Excellent | Excellent |
| Top Speed | 11 mph with upgrade | 8 mph with upgrade | 9.3 mph | 5 mph |
| Warranty | 2-year FREE In-Home | 1-year FREE In-Home | 2-year FREE In-Home | 1-year FREE In-Home |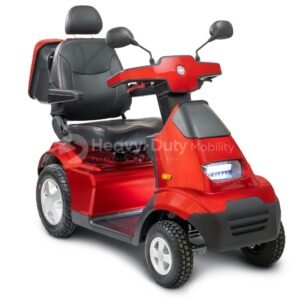 Best in brand
We have to admit – the Afiscooter S4 is our all-around favorite heavy-duty mobility scooter. Afiscooters. In general, here at Heavy Duty Mobility, we recommend the Afiscooters brand. They have been in business for over 40 years and focus on the same specific kind of mobility scooters we do (heavy-duty, recreational). Each model is a better iteration of the previous, with lessons learned, and the culmination of all this improvement is the S4 Heavy Duty 4-Wheel Mobility Scooter.
Strong build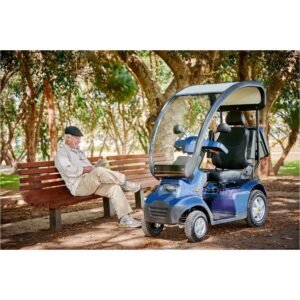 In every criteria we have identified as definitive to heavy-duty mobility scooters, the S4 shines. The steel frame that underpins the scooter, in other words, the chassis is super strong, capable of supporting up to 600 lbs when the suspension is upgraded. In general, the components of this scooter are engineered to be rugged, long-lasting, and reliable.
Extra-high weight capacity
The S4 is fine carrying up to 500 lb users – so it's perfect for bariatric and heavier users. If you weigh less, you might want that extra weight capacity for carrying "cargo" such as grocery shopping, pets, or a small grandkid on your lap. You can also upgrade the weight capacity to super bariatric – up to 600 lbs making the Afiscooter S4 a true heavy-duty choice.
Super comfort seat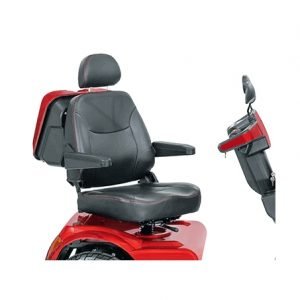 The AfiScooter S4 Heavy Duty 4-Wheel comes with the S range's legendary, ergonomic, orthopedic seat which many users report as more comfortable than their car seat! The seat is finished with an elegant stitch and faux leather effect.
Great range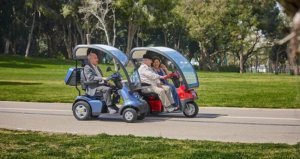 This mobility scooter is heavy-duty in the sense of traveling long distances, too. One charge gives you 28 miles of scooter run, long enough for distant day trips including many stops. There's even an option to extend the battery range to 37 miles by means of a battery upgrade!
Other brands might mention higher ranges in their specifications but Afiscooter's range estimates are far more accurate and true to real life than some other brands' claims. 37 miles means you can practically go as far as you can ever want when charging once per day.
Large wheels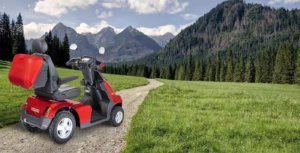 The wheels you can get on the Afiscooter are unmistakably heavy duty too – whether it's the standard 16.8" rear wheels, and front tires with plenty of grips, or the upgraded heavy-duty rear wheels that are extra wide, allowing plenty of grips wherever you expect your scooter to perform.
All-round qualities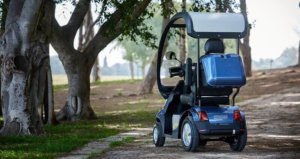 Besides heavy-duty-specific qualities, the S4 is a wonderful mobility scooter in every way – comfortable suspension, powerful 1400-Watt motor with plenty of torque, great award-winning design, a swivel seat, adjustable tiller, full lighting system and flip up and outward-adjustable armrests.
The Afiscooter S4 is also a very flexible scooter when it comes to customization. Check out the "Options & Upgrades" section on this mobility scooter's product page and see how you can change battery, canopy, seat width options along with much more.
Warranty
All Afiscooter purchases come with a free 2-year in-home service contract warranty – the highest in the industry. 
Great brand

Holds up to 600 lbs

Heavy duty frame

Ergonomic seat

Large rear tires

2-year in-home service contract warranty
More expensive than other brands

Large turning radius – not for inside homes

Too large to be taken in car trunk
Up to 600lbs user weight

16.8" large rear tires

5" Ground clearance

Up to 11 mph top speed

Up to 37 miles range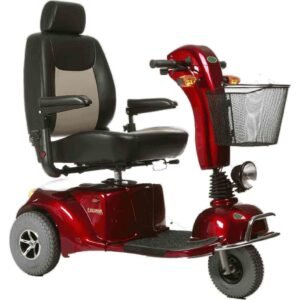 A 3-wheel heavy-duty scooter
What makes the Merits Pioneer 9 get the 2nd spot for best heavy duty mobility scooter? Mainly its versatility. Not many heavy-duty mobility scooters come in a 3-wheel configuration.
Of those heavy-duty, models that do come with 3 wheels, deduct those that are unusable inside a house (eg the Afiscooter S3 which is too large). This leaves the few models that are indoor friendly, three-wheel and heavy-duty as models of note and can be lifesaving to those who need all 3.
The advantage of 3-wheels is being able to turn sharper corners, in narrower spaces such as between a hallway and a room. The Pioneer 9 has a super nice turning radius of just 50"!
Compact footprint, tight turning
The Merits Pioneer 9 is also relatively compact for a heavy-duty scooter, at only 27" wide and 49" overall length. The narrow width is useful for entering narrow spaces such as narrower-than-average bathroom doors and the shorter length allows for easier turning – less space needed per turn.
The smaller footprint of the Pioneer 9 should not fool you about its strength. There's a mighty lot of steel built into its frame, allowing for a max weight capacity of 500 lbs. In other words, the user of this model can weigh up to 500 lbs and the scooter will work as usual, allowing bariatric patients of those who like the reliability of a super-strong, reliable build to benefit from this mobility scooter.
Extra-Wide Seat and adjustable fit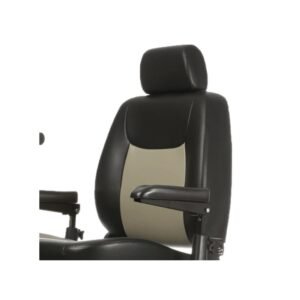 The seat here is an extra-wide 22", ample for even heavier/bariatric patients, and has an ergonomic contour with flip-up, adjustable armrests for easy transfers. There are also seat sliders so if you're short you bring the seat closer to the steering controls (besides the tiller being adjustable so you can move it towards your seat).
Flat-free tires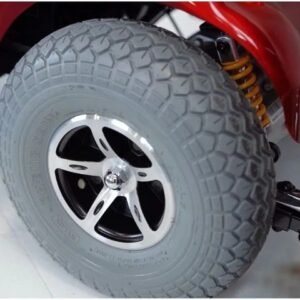 Another rare feature of the Merits Pioneer 9 Heavy Duty Scooter is the foam-filled tires. Many heavy-duty scooters use pneumatic tires as these are more comfortable on bumpy ground, but some users prefer the anti-puncture extra safety measure of foam-filled tires over the comfort of pneumatic tires.
If even a small chance of getting a flat isn't your thing, the Pioneer 9 (as well as its 4 wheel counterpart, the Pioneer 10) is a perfect choice. The tires are designed to take more punishment than average, all are large, extra knobbly for grip, and larger than average. The front tire measures 10" in diameter and the rear foam-free tires 12" each.
Great battery range
With two 75 Ah batteries, the range per battery charge for the Pioneer 10 is up to 32 miles, depending on user weight, cargo terrain, and other factors. This represents more than enough for most users, daily needs.
With a full lighting package including a powerful headlight, anti-tip rear wheels, and an elegant design, the Pioneer 9 is high on our list of best heavy-duty mobility scooters.
Warranty
At Heavy Duty Mobility, we offer a complimentary free 1-year in-home service contract warranty on all Merits models (RRP $250).
Strong build capable of-500 lb users

Deep tread flat-free tires

Extra-wide 22" seat

Superb turning radius

Suitable for indoors
Not suitable for extra tall people

Some people prefer 4 wheels for extra stability

Not as fast as other models
500 lbs weight capacity

50" turning radius 

4" Ground clearance

8 mph top speed
Back to Afiscooters, the brand we love for its reliability, performance comfort, and decades of experience in the mobility scooter market! Our 3rd choice for best heavy duty mobility scooter is the mid-range C4 model.
Best of heavy-duty & compact
The Afiscooter C series represents a point between mid-size and full-size mobility scooters.
This means Afiscooter C models are on the one hand heavy duty in terms of build, durability, and the kind of terrain it works well on. Yet on the other hand is small enough to fit in supermarkets, grocery stores, and other commercial indoor spaces.
To be sure, the C4 is not suitable for indoor use unless you have a really giant house and insist on using it indoors, but unlike true fastest scooters, it is better at navigating areas like hotel hallways or convenience stores.
Comfort and weight capacity
In seat comfort, the C4 excels with a plush orthopedic seat, though the maximum size of 20" (with upgrade) might be too small for those on the higher end of the bariatric scale. Similarly, with weight capacity, the Afiscooter C4 can hold up to a hefty 400 lbs, making it a heavy-duty mobility scooter per our criteria, though some bariatric patients might need more weight capacity.
If you find yourself weighing close to 400 lb or above, you should look for a model that can carry 500 lbs or more. Click to see the best of those extra-bariatric scooters.
Range and charging 
When it comes to having a lot of activity per day on one battery charge, the C4 performs remarkably well, with up to 25 miles per charge on standard batteries and a whopping 37 miles with upgraded batteries! Most people use under 10 miles per day when all is said and done (though it might seem to them they're doing more) so 37 miles is really enough for even very heavy use of your mobility scooter.
Wheels and power
The C4 has 4 equally sized 12" diameter, wide, extra tread tires meaning it's fine in heavier-duty applications and boasts a 950-Watt motor – a mighty punch for its size – sure to pull you out of trouble you get yourself into.
All-round excellence
With excellent headlights and signals, built-in USB chargers, a modern digital dashboard,  and upgrades options including canopies, rain sides, sun canopies, and much more, the Afiscooter  C4 Heavy Duty 4-Wheel Mobility Scooter is a marvelous, balanced heavy-duty scooter owners are sure to love.
Warranty
All Afiscooter mobility scooter purchases come with a free 2-year in-home service contract warranty – the highest in the industry. 
Comfortable seat

400 lbs weight capacity

4 x 12" high tread tires

Powerful motor and strong build

Full suspension

2-year in-home service contract warranty
Weight capacity capped at 400 lbs

Seat size capped at 20"

Too large to be taken in car trunk
9.3 mph top speed

4" Ground clearance

950W motor

Up to 37 miles range per charge
HD without being all-terrain
Another super heavy-duty mobility scooter worthy of mention is the Shoprider Enduro XL4 4-Wheel. Heavy-duty again we have selected a great model that is a heavy-duty mobility scooter without necessarily being all-terrain or fastest.
High weight capacity
With a 500-lb weight capacity, the Enduro XL4 is built strongly. Whether you weigh close to 500 lbs., or nowhere close but want a scooter built to withstand time, heavy usage and wear, the Xl4 is a natural choice.
Seating & comfort
Looking at the pictures, it's clear how comfy the extra-wide seat is, and along with full suspension, and adjustable armrests, your ride is assured to be comfortable even if you're a bariatric patient. The seat also swivels which provides a major plus to heavier users who might otherwise find boarding and getting off the scooter too confined.
For extra convenience, the seat has sliders allowing you to move backward and forwards, along with an easily adjustable multi-position tiller reported by our customers to enhance practicality. Shorter people especially gain from these adjustments to ensure your ride feels just right with the controls at the perfect distance from your body.
Wheels & cargo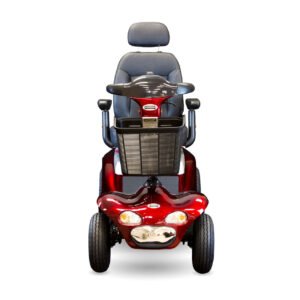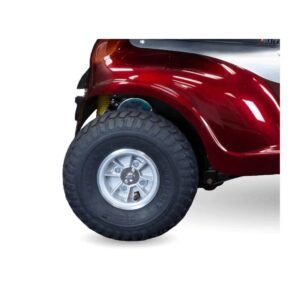 The 12" tough-constructed tires on the Shoprider Enduro XL4 provide comfort and obstacle clearance beyond regular mobility scooters and a large, heavy-duty front basket gives you space for occasional shopping. You can also add on a larger rear basket for additional cargo needs or pets.
Taking you far
According to manufacturer specifications, one charge of the Shoprider Enduro XL4 4-Wheel is enough to take you 39 miles with an upgraded battery pack! That's comfortably over what even very active users manage in one day. Granted, these measurements have their disclaimers attached and won't be the same if you actually weigh 500 lbs. and you're in a hilly area, but nonetheless, the Enduro XL4 can easily be considered heavy-duty in terms of battery range.
Great-looking & practical
This mobility scooter is only 56" long making it a more compact model in the heavy-duty scooter market.   Enjoy its practicality in supermarkets, malls, amusement parks, and around the neighborhood! With its eye-catching, vibrant look including a beautiful lighting system, the XL4 is sure to get you compliments!
Warranty
At Heavy Duty Mobility, we offer a complimentary free 1-year in-home service contract warranty on all Shoprider models. 
500-lb bariatric capacity

12" high grip pneumatic tires

Seat swivels, reclines, and slides

Highly quality brand

Awesome look – sure to wow

Compact shape
Too large to be taken in car trunk

No digital dashboard

More of a simplistic, design

No upgrade options

Slower max speed
Max speed: 5mph

4" Ground clearance

Unit length: 56"

Max range: 39 miles
Summary of the best heavy-duty mobility scooters for seniors
The four models above are our choice picks for what the 2023 market currently has to offer in terms of superb heavy duty/high weight capacity mobility scooters available to buy today in the USA.
All four were selected from brands we know and trust to be reliable, and offer a good service warranty should anything go wrong after sale.
All our best heavy-duty mobility scooters have a strong chassis build allowing for a weight capacity of 400 lbs. or higher and large, durable, high grip wheels. We have also made sure they all have a wide, comfortable seat, excellent battery range for longer trips and amenities such as lighting.
To learn more about heavy-duty scooters and whether they are the right choice for you, visit our helpful info at the top of our heavy-duty mobility scooters collection page. Below this, you will see our collection of scooters in this category. To see more helpful info visit the bottom of the same page.
To purchase any model above, please click on its title to be taken to the relevant product page where you can add to cart. Alternatively, explore our full collection of heavy-duty mobility scooters for sale.
All our heavy-duty mobility scooters ship directly from the manufacturers' warehouse, saving you time and money. Standard shipping is free across the contiguous USA.
We are here to help with all your questions whether prior to, or after sale. Contact us and speak to a real human.
Also check out our comprehensive on dual seat mobility scooters.
Sources for Mentioned Features and Specifications​
Why Buy a Heavy Duty Mobility Scooter from us?
Pre-selected to match our site's mission – large, heavy duty, fastest and all-terrain. This means all our attention is where you need it to be, and you don't have to go hunting through huge lists of products you aren't interested in.
If you see a product advertised online for cheaper we will sell you the product for the same price or cheaper, provided that pricing is not in violation of the manufacturer's minimum advertised pricing policy.
We believe when paying for an item like a heavy duty mobility scooter, shipping should be free. We also offer White Glove Shipping as an optional service if necessary. Though White Glove Delivery isn't cheap, we charge our customers what it costs us and don't make any profit on this.
Our phone lines are staffed by humans, not robots, and it's really easy to speak to a member of staff at all business hours, even on weekends. If the line is busy, we'll call you right back.
We will work with you over the phone or send out a technician to address your concern, depending on your scooter type and its associated warranty.
This is an advantage to our customers, as manufacturers are often involved with the warranty process and answering technical questions.