Sale!
Merits Health Pioneer 4-Wheel Mobility Scooter
-41%
Stock: See StockIn Stock
Stock status can change very rapidly - an item might come back in stock before we update this or might have sold out.
We highly recommend you call or chat with us for a 100% stock status.

Quick Overview
Merits Health S141 Pioneer 4-Wheel Mobility Scooter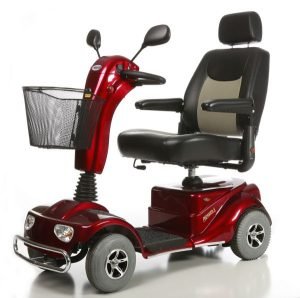 The Merits S141 Pioneer 4-Wheel Mobility Scooter is designed to enhance your daily mobility with a perfect blend of comfort, performance, and safety. Crafted for individuals seeking a reliable, full-size scooter for both indoor and outdoor use, this mobility scooter is perfect for those with above-average body types. With a weight capacity of 400 lbs. and a top speed of 5 mph, the S141 Pioneer is your go-to choice for daily commuting and leisure activities.
Key Features
Deluxe captain seat with sliders, swivel, and adjustable headrest

Height and width adjustable armrests for personalized comfort

Flip-up armrest feature for easy transfers on/off the scooter

Ergonomic Delta tiller suitable for users with arthritis or limited hand dexterity

Tiller adjustable to fit various arm lengths
Performance and Stability
The Merits S141 Pioneer excels in delivering exceptional performance and stability, thanks to its robust 250W motor that guarantees a consistently smooth and secure ride across a variety of terrains. Whether you're navigating city streets, traversing bumpy sidewalks, or exploring parks and trails, this scooter is designed to handle it all with ease.
Equipped with an impressive 19-mile travel range, the S141 Pioneer ensures that you have the freedom to embark on longer journeys and outdoor adventures without worrying about running out of power. Its ability to confidently climb an 8-degree incline further enhances its versatility and functionality, allowing you to tackle hills and slopes with confidence.
One of the key features contributing to the S141 Pioneer's outstanding performance and stability is its large 10" flat-free tires. These durable, puncture-resistant tires ensure a consistently smooth ride, regardless of the surface you're navigating. Coupled with the scooter's generous 4" ground clearance, you can trust the S141 Pioneer to provide a comfortable and worry-free experience, even when encountering uneven surfaces or small obstacles.
Comfort and Adjustability
Enjoy a truly personalized and comfortable riding experience with the S141 Pioneer's deluxe captain seat, thoughtfully designed with sliders, swivel functionality, and an adjustable headrest to ensure your optimal seating position. The height and width adjustable armrests can be fine-tuned to accommodate your unique preferences, providing superior support and coziness during your travels.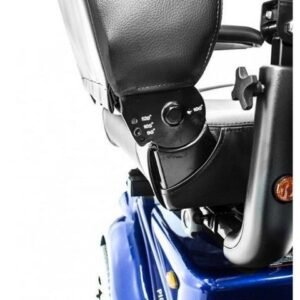 Additionally, the flip-up feature of the armrests makes transferring on or off the scooter a breeze, ensuring a seamless and hassle-free experience. The ergonomic Delta tiller, specifically designed with the needs of users with arthritis or limited hand dexterity in mind, offers exceptional maneuverability and ease of use. Its adjustability allows it to accommodate various arm lengths, enabling you to find the perfect fit for your body and maximize your comfort while operating the S141 Pioneer.
Whether you're going for a short trip around the neighborhood or an extended ride, the S141 Pioneer has been meticulously crafted to prioritize your comfort and adjustability, ensuring a smooth, enjoyable journey every time.
Safety Features
Safety takes center stage in the design of the Pioneer 4, ensuring that users can confidently navigate their environment without compromising their well-being. A comprehensive lighting package is integrated into the scooter, providing enhanced visibility during both day and nighttime excursions. The bright front headlights illuminate the path ahead, making it easier to spot obstacles and navigate safely in dimly lit conditions.
To further promote safety, the Pioneer 4 is equipped with directional signals, hazard lights, and tail lights. These features not only help users signal their intentions to others on the road or sidewalk but also make the scooter more visible to pedestrians, cyclists, and motorists, reducing the risk of accidents.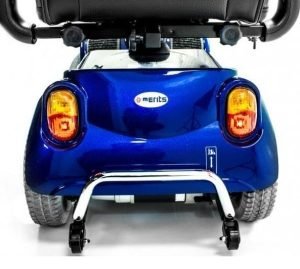 The inclusion of anti-tip wheels on the Pioneer 4 is another essential safety feature that adds an extra layer of stability and security. By preventing the scooter from tipping over, these wheels significantly reduce the likelihood of falls or injuries during operation, especially when traversing uneven terrain or making tight turns.
Additionally, the Pioneer 4 comes with a robust front bumper that serves a dual purpose. It not only safeguards the scooter's body from potential damage caused by impacts or collisions, but it also acts as an extra safety feature for the user. In the event of a minor accident or bump, the bumper absorbs the impact, protecting the scooter and its rider from serious harm.
Convenience and Storage
The S141 Pioneer prioritizes user convenience, incorporating a thoughtful design that caters to the practical needs of individuals who use mobility scooters. With a spacious front basket, this scooter offers ample room for carrying personal belongings, groceries, or other essentials, making it the perfect companion for running errands or enjoying a day out.
In addition to the front basket, the S141 Pioneer also features a large pocket on the back of the seat, providing extra storage space for items such as water bottles, sunglasses, or a small umbrella. This additional storage option ensures that you have quick and easy access to your belongings while on the go.
The adjustable tiller on the S141 Pioneer is another element that highlights the scooter's focus on user convenience. Designed to be easily customized, the tiller allows users to find the perfect position for a comfortable driving experience. This feature not only helps reduce strain on the arms and wrists but also promotes better posture during operation.
When it comes to storage and transport, the S141 Pioneer has you covered. The tiller easily collapses, streamlining the scooter's dimensions and making it more compact for convenient storage in a garage, shed, or vehicle. This feature is particularly useful for users with limited space, as it allows the scooter to be tucked away neatly when not in use.
The Merits S141 Pioneer mobility scooter is thoughtfully designed to deliver an unparalleled level of convenience and storage solutions. From its generous storage options to its customizable tiller and collapsible design, the S141 Pioneer ensures a comfortable and user-friendly experience every time you hit the road.
Optional Accessories
Customize your Pioneer 4 scooter with a range of optional accessories, including:
Oxygen tank holder

Cane & crutch holder

Walker holder

Canopy

Foldable rear basket
Specifications
Merits Pioneer 4 (S141) Specifications
| | |
| --- | --- |
| Hitch Receiver | 1" Universal Hitch |
| Weight Capacity | 400 lbs |
| Weight w/Batteries | 190 lbs |
| Heaviest Piece | 97 lbs |
| Maximum Speed | 5 mph |
| Travel Range | 18 miles |
| Motor Size | DC 24V, 250W |
| Battery Type | Sealed Lead Acid |
| Battery Size | 12V U1 (34AH) |
| Battery Weight | 52 LBS (26 lbs each) |
| Battery Charger | 5 Amp off-board XLR |
| Turning Radius | 52" |
| Ground Clearance | 4.00" |
| Overall Length | 47" |
| Overall Width | 23" |
| Overall Height | 45.5" |
| Grade Climbable | 8° |
| Seat to ground height | 17" - 19" |
| Seat Width | 20" |
| Seat Depths | 20" |
| Seat Width(s) | 20" |
| Seat Type | Captains |
| Seat Options | Height Adjustable, flip down |
| Curb Climbing | 2" |
| Electronics | Dynamic Rhino 70 amp |
| Power Elevating Seat | Optional |
| Tire Type | Flat Free |
| Wheels: Rear | 10" |
| Wheels: Front | 10" |
| Throttle Type | Ambidextrous Lever System |
| Brake | Electromagnetic |
| Braking System | Intelligent regenerative & Electromagnetic brakes |
| Battery Warranty | 6 Month Limited |
| Electronics Warranty | 1 Year Limited |
| Motor Warranty | 1 Year Limited |
| Structural Warranty | 5 Year Limited |
How fast do the Merits Pioneer 4 go?
At full speed, you can reach 5 mph.
You will find some other brands offer scooters that go faster than this, however high quality brands put a high emphasis on safety too.
In order for a mobility scooter to go faster than around 10 mph, heavy investment must be made to ensure it stays just as safe. For this reason, the more reputable and safe a brand, the more they cap the top speed of their mobility scooters.
How long do the Merits Pioneer 4 batteries last per charge? How many years of use can I get out of the batteries?
Battery running time per charge is measured in miles as opposed to time i.e. how many miles can a fully charged set of batteries take the scooter?
The answer depends on the user's weight as well as the kind of terrain the scooter is operated upon.
Please take these manufacturer figures with a grain of salt, bearing in mind manufacturers may test their scooters in optimum conditions you won't find in real life.
For a Merits Pioneer 4 mobility scooter, the batteries last: 18 miles.
The lifetime of your Pioneer 4 batteries is approximately 3 years, but very much depends on how much you use your scooter and whether you take good care of your batteries.
Lithium-ion batteries can be expensive to replace, please be in contact with us for a quote.
How much weight can the Merits Pioneer 4 carry?
The weight capacity of the Merits Pioneer 4 mobility scooter is 400 lbs.
What kind of ground clearance does the Merits Pioneer 4 have? Is it good for paths and trails?
The Merits Pioneer 4 has a high ground clearance of 4". And with its powerful motor, it will do very well on grass, gravel, and dirt paths.
Financing & Monthly Payments
We are currently partnered with PayTomorrow so you can pay for your scooter in monthly instalments or choose a lease-to-own plan. You can see the minimum amount per month, above, next to the price of the scooter.

It's a simple online process, usually with an instant eligibility response, but many less tech-savvy customers prefer help over the phone.
Contact us by calling our toll-free number 1-888-233-5563 or by live chat with one of our agents by clicking here.
Shipping, Warranty & Returns
Shipping
How long from the time of order until I get my Merits Pioneer 4 mobility scooter?
This very much depends on two factors: the stock status above and how far you are from Florida, where most Merits Pioneer 4 mobility scooters ship out from.
Bear in mind, different colors of the same model can have different stock statuses.
The stock status for this scooter can be seen just under the product title at the top of the page.

If an item is showing IN STOCK above, the estimated ship-out time is 2-3 business days, but this can change based on the options and upgrades you choose.

Add to that transit times, usually between 2 and 6 business days, depending on your distance from Pennsylvania and how rural/urban your address is. (Some very rural areas take a little longer)

If a Merits Pioneer 4 mobility scooter is showing LEAD TIME with a number of weeks indicated, the estimated ship-out time is that lead time plus standard ship-out and transit time indicated in the paragraph above.

You can always contact us for more details at 1-888-233-5563 or live chat with an agent by clicking here.

Please note, we have excellent relationships with our suppliers/manufacturers. If we are showing an item as having a lead time, it's almost certainly the same for other dealers who might not have the most up-to-date information on the websites and may show the item as having a lead time.

If a Merits Pioneer 4 scooter is showing OUT OF STOCK above, please contact us for more details. You can call us at 1-888-233-5563 or live chat with an agent by clicking here.

Please note, we have excellent relationships with our suppliers/manufacturers. If we are showing an item as out of stock, it's almost certainly the same for other dealers who might not have the most up-to-date information on the websites and may show the item as in stock.
Warranty
How long does the warranty on Merits Pioneer 4 mobility scooter last? What's included/excluded from the warranty?
This mobility scooter is covered by a one-year parts warranty by the manufacturer. Merits products also come with one-year labor warranty. You may also check out our Afiscooters collection page - these scooters each come with a 2-year free in-home warranty.
Returns
What if I don't like my Merits Pioneer 4 mobility scooter? Can I return or exchange it?
Documentation, Manuals & Safety
Documentation
Safety
Does the Merits Pioneer 4 mobility scooter have lights for nighttime riding? Does it have turn signals?
Yes, this mobility scooter comes with a full lighting package – a powerful headlight - rear lights as well as front - and rear turn signals. Riding in the dark isn't for everyone though and you should carefully consider the safety of doing this in your area, even with a full lighting package on your scooter.
Daily Operation & Transportation
Daily Operation
Can I ride the Merits Pioneer 4 mobility scooter in the rain, snow, wind, and hot sun?
Rain: It's OK and safe if you get caught in the rain once in a while, or go through an occasional puddle, but you should try to avoid a trip if you know it's going to rain.
Snow and ice: We cannot take responsibility for using the scooter in these kinds of weather conditions.
Cold weather: Fine, though it does negatively impact the battery's health and lifetime.
Wind: Generally not an issue unless very strong winds could tip the scooter over. If you have a mobility scooter with a canopy, remember, very strong winds can act as a sail to tip over your scooter.
Hot sun: No issue as far as the scooter is concerned. Remember to take along ample hydration!
Why buy Merits Pioneer 4 from us?
Pre-Selected Scooters
Pre-selected to match our site's mission – large, heavy duty, recreational and all-terrain. This means all our attention is where you need it to be, and you don't have to go hunting through huge lists of products you aren't interested in.
Price
If you see a product advertised online for cheaper we will sell you the product for the same price or cheaper, provided that pricing is not in violation of the manufacturer's minimum advertised pricing policy.
Free Shipping
We believe when paying for an item like a heavy duty mobility scooter, shipping should be free, so we do our utmost to offer free shipping.  We also offer white glove shipping as a recommended optional service.
Excellent and Personal Customer Service
Our phone lines are staffed by humans, not robots, and it's really easy to speak to a member of staff at all business hours, even on weekends. If the line is busy, we'll call you right back.
Post sale Service
We will work with you over the phone or send out a technician to address your concern, depending on your scooter type and its associated warranty.
Relationships
This is an advantage to our customers, as manufacturers are often involved with the warranty process and answering technical questions.