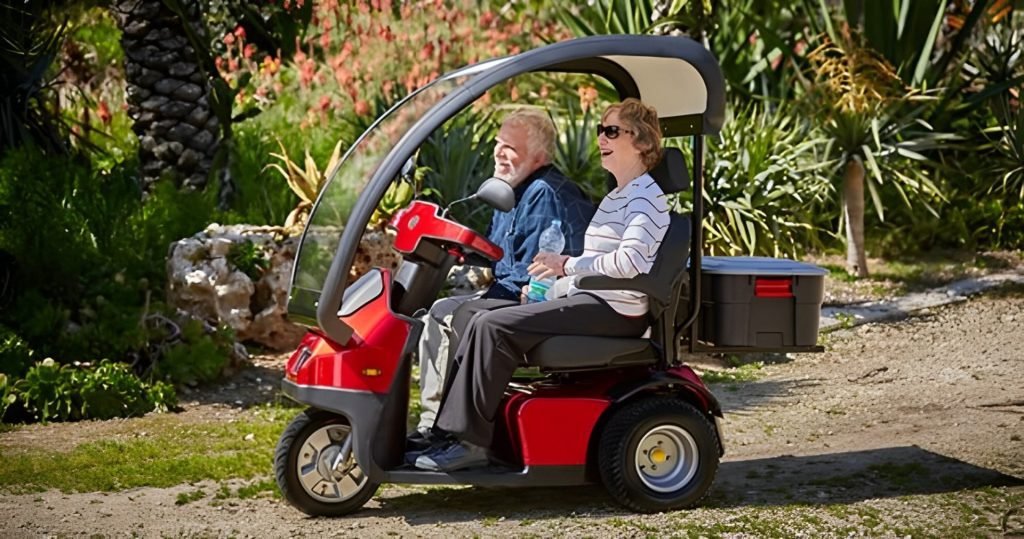 KEY TAKEAWAYS
Tandem mobility scooters allow two people to travel together.

There are two types: front-to-back and side-by-side seating.

Front-to-back scooters are slim and maneuverable but limit rear passenger view.

Side-by-side scooters offer a shared view and easy communication, but struggle with narrow spaces.

The Pushpak 2000 offers is the best tandem mobility scooter.

Consider your usage needs, comfort, and safety when choosing the right scooter.

Test multiple scooters before deciding.
If you or a loved one has mobility challenges, a mobility scooter can be a real game-changer. These helpful devices give people with mobility issues the freedom to move around with ease. But what if two people want to travel together? Enter the tandem mobility scooter – a unique solution for shared mobility.
What's a tandem mobility scooter?
A tandem mobility scooter is a special scooter made for two people. Usually, when we say "tandem," we're talking about scooters where one person sits directly behind the other, just like on a tandem bike.
But some people might also call scooters with side-by-side seats "tandem." Let's talk about both types.
Most of the time, "tandem" means one person sits behind the other. This is great for getting through tight spots like doors. But the person in the back might not see everything, and it could be harder to talk.
On the other hand, some people might think of "tandem" scooters as ones where two people sit next to each other. This is fun for friends who want to chat and see the same things. But because these scooters are wider, they might not fit through narrow doors or tight corners.
So, when people say "tandem," they usually mean a scooter where one person sits behind the other. But some might also include scooters where two people sit side by side. It all depends on who you ask and what they need from the scooter.
Front-to-Back Seating Tandem Mobility Scooters
The front-to-back seating style is what most people think of when they hear "tandem." Picture a regular scooter, but longer, with a seat behind the main one. The front-to-back design is sleek and streamlined. It's great for fitting through doorways and moving down hallways.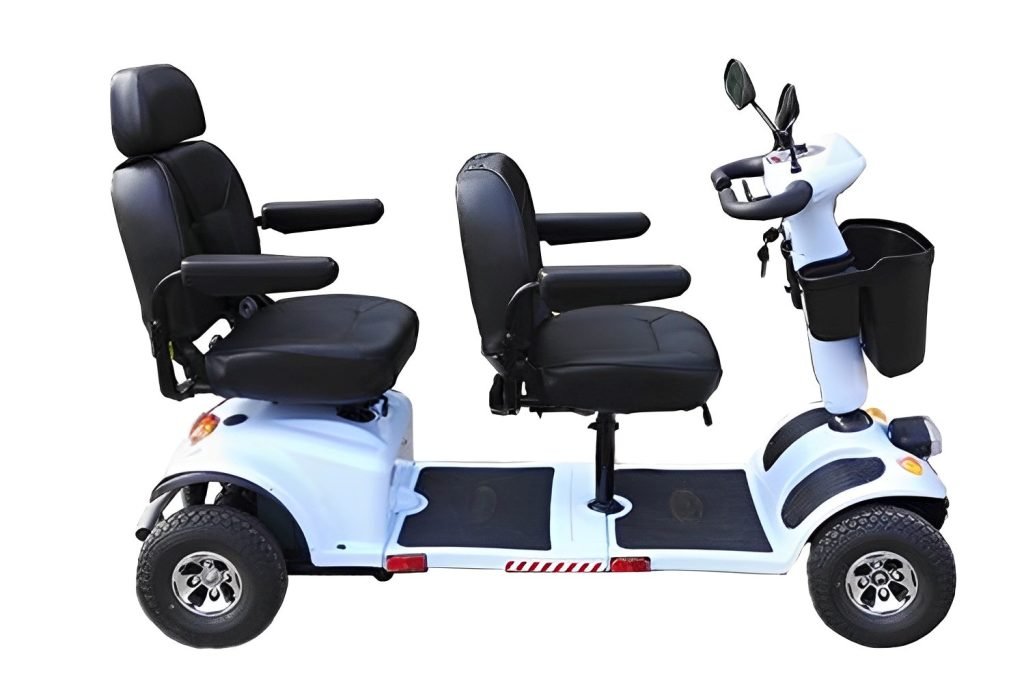 However, the riders sit one behind the other, like on a tandem bicycle. This layout means that the person at the back may have a limited view, and chatting might be a little tricky. But for straightforward trips where easy maneuverability is a priority, front-to-back models work wonders.
Side-by-Side Seating Tandem Mobility Scooters
The side-by-side tandem mobility scooter presents a distinct approach. It's like a comfy two-seater sofa on wheels. Most models feature one large, wide seat where two people can sit side-by-side. This setup allows both riders to share the same view and chat easily, making it a top pick for couples or friends who want to enjoy their outings together. Some models come with two separate seats but still keep the side-by-side arrangement. This can offer a good balance between shared experience and personal space.
Side-by-side scooters are wider than regular or front-to-back scooters.  While they offer a comfortable and sociable seating arrangement, their larger width may present challenges when going through narrow doors or tight corners. So before getting one, think about where you'll be using the scooter most before picking this style.
Best Tandem Mobility Scooter
When exploring tandem mobility, the Pushpak 2000 mobility scooter shines with its innovative design. This scooter features a dual-seat arrangement, letting you share rides with friends, family, or pets. An additional slide-out seat adds more versatility, perfect for accommodating a child or small pet. So, whether it's a shared journey to the grocery store or a relaxing ride in the park, the Pushpak 2000 makes it more enjoyable with its shared seating.
This tandem mobility scooter doesn't just excel in design; it backs it up with impressive performance. With a top speed of 25mph and a 50-mile range, your shared journeys can be as far-reaching as they are comfortable. Plus, thanks to the comfy armrests and padded seats, both riders can relax in comfort. And with ample storage areas, everyone can bring along their essentials. The Pushpak 2000 truly redefines the tandem mobility experience, making every ride a shared adventure.
Choosing the Right Tandem Mobility Scooter
Which is the best tandem mobility scooter? Well, it really depends on what you need. Both the front-to-back and the side-by-side models have their good points and challenges.
The front-to-back scooter is sleek and easy to handle, just like a normal scooter. Its thin design allows it to fit through tight spots easily and it's convenient when it comes to parking or storage. However, the person sitting at the back might not see well, and chatting with the rider behind can be tough. Additionally, it has two separate seats, which can be less comfy for some.
On the other hand, the side-by-side model offers a shared experience, where both riders can see and talk easily. It usually features one large, comfy seat for both riders, perfect for couples or friends. However, there are some models that offer two separate seats, but still in a side-by-side arrangement. This might be a good compromise for those who value personal space but still want the shared view. Yet, it might not fit through narrow spaces due to its wider design. Steering them can also be harder, and they may require more parking or storage space.
When you're deciding, think about how you'll use the scooter. Is it for short trips around town, or for long rides in big, open spaces? Also, consider who will be using it. A patient and their caregiver might have different needs than a couple.
Don't forget, safety and comfort are very important. So, make sure the scooter you choose is safe and feels good for both riders. You can always try out a few scooters before you decide. It's a big choice, so take your time.
Tandem mobility scooters can change lives. They help people with mobility issues go places together. You can pick a front-to-back model or a side-by-side one. Each has its own good points and things to consider. The key is to choose what fits you and your needs best. Remember, what works for one person might not work for another. Always keep safety and comfort in mind, think about where you'll be going, and take your time to decide. The right scooter will make your journeys better, more comfortable, and lots of fun for both riders. 
Sources for Mentioned Features and Specifications