Hello and welcome to your simple, user-friendly guide! Whether you're a seasoned pro with tech gadgets or approaching this as a total beginner, we've got you covered. We understand that even the smallest tasks can sometimes become confusing, especially when you're dealing with something as important as your mobility and independence.
Front of EV Rider Key Fob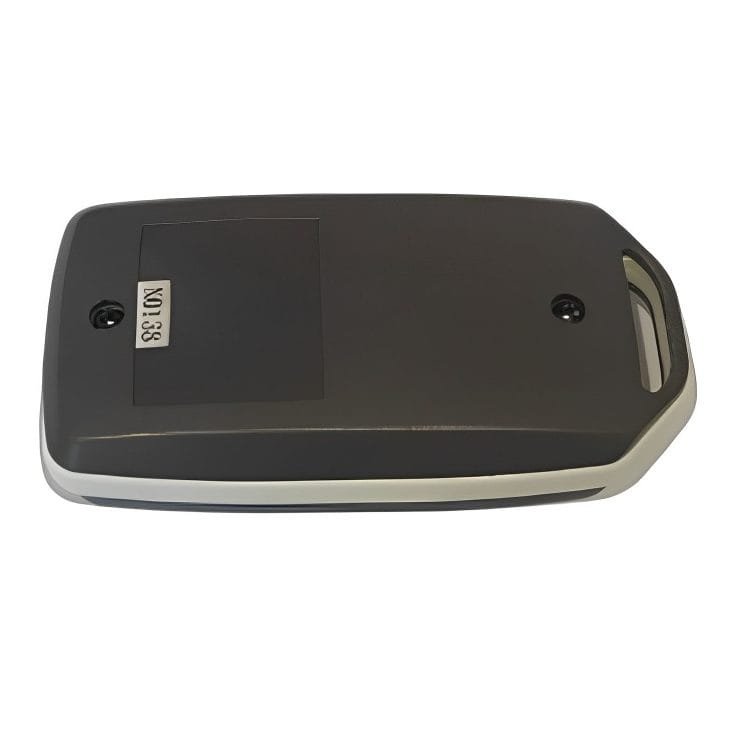 That's exactly why we've put together this easy-to-follow guide, specifically tailored for you. Today, we're focusing on your EV Rider TeQno key fob — a small but mighty component of your scooter experience. From replacing a battery to troubleshooting common issues, we're here to ensure each step is as smooth as possible.
You can also check out our easy step video:
The process of connecting and disconnecting (or pairing and unpairing) a remote key fob with your EV Rider TeQno scooter involves a series of specific steps. This guide breaks down these procedures into detailed steps, helping ensure that you can comfortably manage the connectivity of your device.
Unpairing/Disconnecting the Remote Fob
Verify Current Connection
Start by ensuring your scooter is currently paired with the remote fob. Press the power button on the remote; if the scooter turns on, it's paired.
Take the remote fob out of the scooter's Bluetooth range. Typically, Bluetooth range can extend up to 33 feet (10 meters), but try at least a few feet away to start with.
While the fob is out of range, turn on the scooter's power.
Press and hold the 'Mode' button on the scooter's control panel. Keep an eye on the dashboard; you need to wait until the headlight symbol turns off, indicating that the remote fob is unpaired.
To ensure the unpairing process was successful, bring the remote fob back within the scooter's range.
Press the power button on the remote. If the scooter remains off, the fob has been successfully unpaired.
Pairing/Connecting the Remote Fob
With the scooter off, place the remote fob close to the scooter — proximity helps the devices communicate more effectively (as shown in image)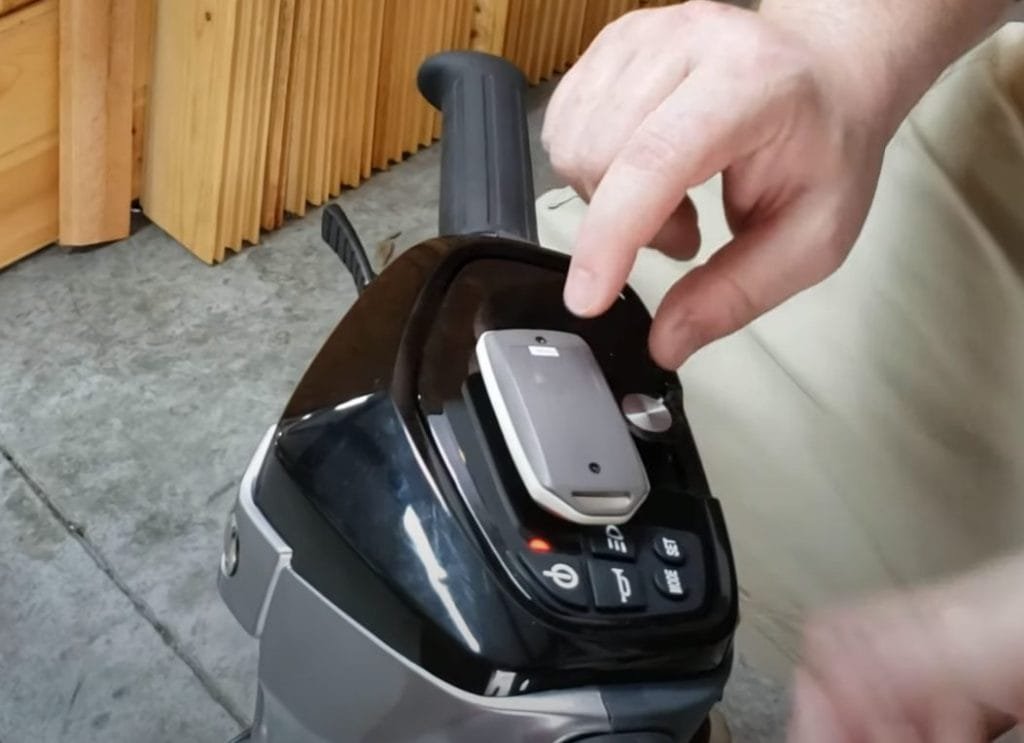 Turn on the scooter's power.
Press the 'Mode' button to activate the scooter's pairing functionality. The headlight will turn on, signaling that you've entered pairing mode.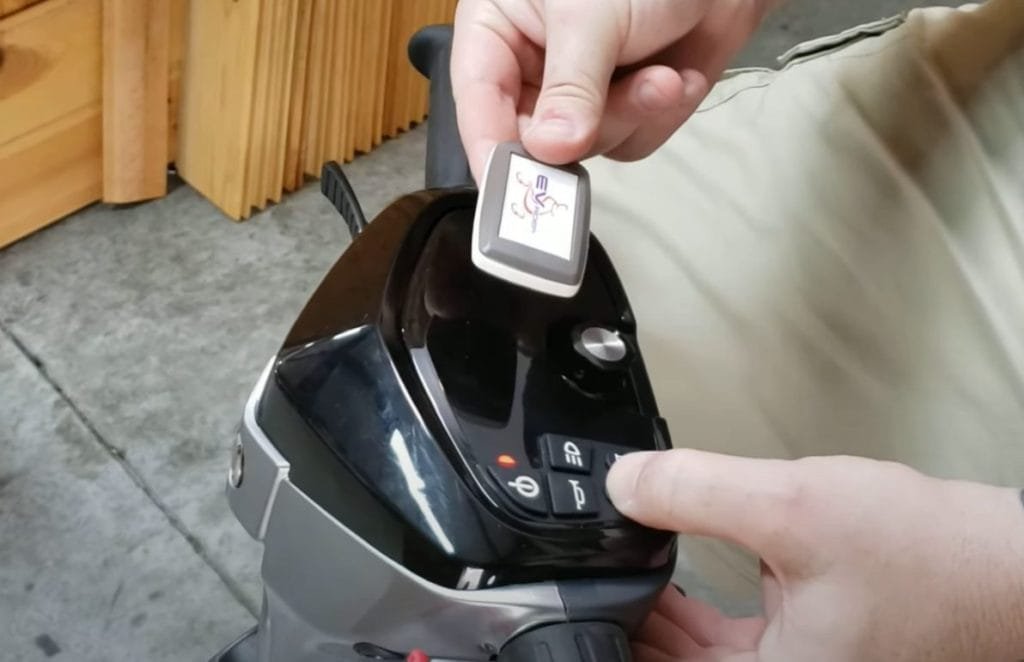 Complete the Pairing Process
Keep the remote fob near the scooter during this step (as shown in image below). The devices will communicate with each other, establishing a new connection.
Confirm Successful Pairing
Test the new connection by pressing the power button on the remote fob. If the scooter powers on, the pairing process was successful.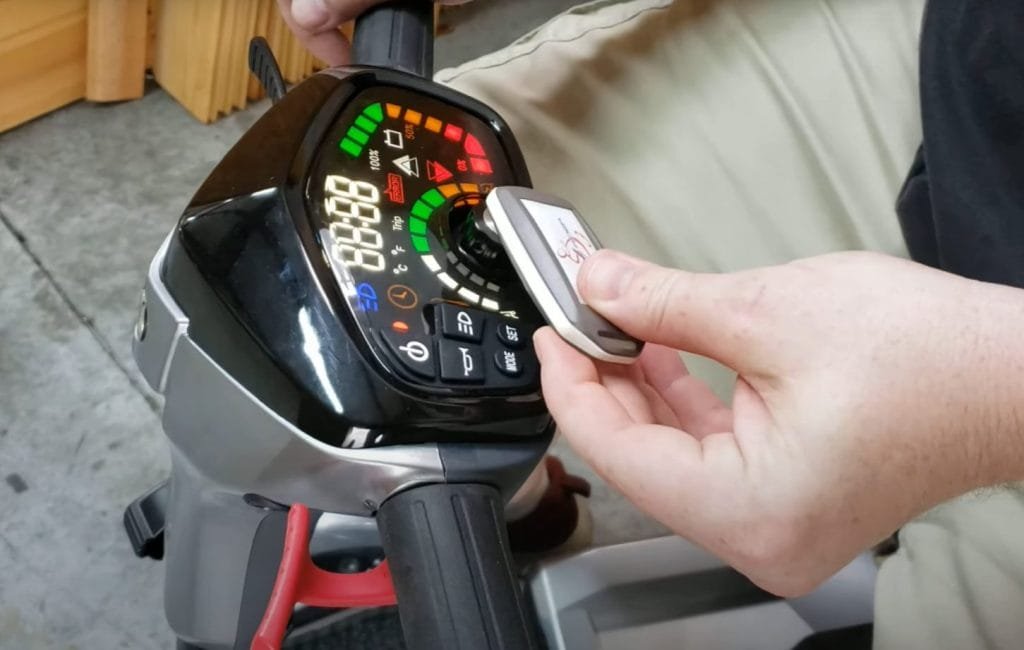 Replace the fob's batteries at regular intervals or when you notice a decreased range. Avoid exposing the remote fob to water, extreme temperatures, and direct sunlight.
There's no need to worry if your key fob battery needs a replacement. It's a piece of cake, and you've totally got this! Let's break it down into simple steps, and you'll see how easy it can be: Changing the battery of your EV Rider Teqno key fob is a straightforward process. Here's an easy, step-by-step guide to help you through it, ensuring you can continue to use your scooter without interruption. Let's navigate this minor detour and get you back on the path to uninterrupted exploration. Your journey awaits, and this tiny recharge is just a quick pause in the grand adventure of life.
A new coin battery (typically a CR2450 as shown in image or a similar model ) Follow this link for fob  battery replacement https://a.co/d/esQALQd
A coin or a flathead screwdriver.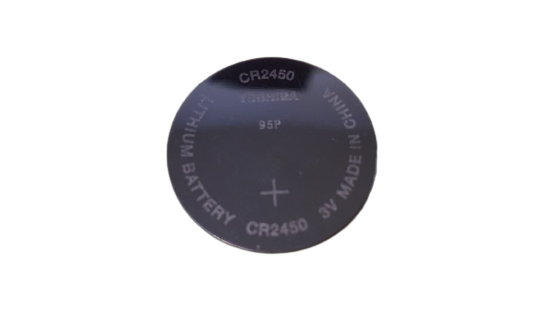 Steps to Change the Battery
Choose a clean, flat surface to work on. Having good lighting can help you see what you're doing, especially since you're working with small parts.
Examine your key fob and locate the small slot or notch on its side. This is where the two halves of the casing meet.
Insert the coin or the flat edge of the screwdriver into the slot.
Gently twist or pry to separate the halves (images below). Be careful not to use too much force to avoid damaging the casing.
Once open, you'll see the coin battery situated in a small compartment
Use your flathead screwdriver to gently push under the battery's edge.
This should leverage it out of the compartment (see images below)
Take your new battery, ensuring it's the correct size and type.
Place the battery into the compartment. Make sure the positive side (+) is facing up or in the same direction as the old one was, if you can remember.
Press down gently to seat the battery in place. You should feel it settle into the compartment.
Align the two halves of the key fob together. They should fit together easily.
Press along the edges to snap the casing back into place. You'll likely hear a click when it's securely closed.
With the new battery installed, it's important to test the key fob to ensure it's working correctly.
Stand within range of your scooter and press the power button on the fob. If the scooter responds as expected, you're good to go.
And there you have it! Just like that, you're back in action, ready to roll. By giving your key fob a fresh battery, you've not only extended its life but ensured your EV Rider TeQno is ready for wherever your journey takes you next.
Embark on a journey of independence and style with the EV Rider TeQno, your next-level mobility solution! In a world where freedom, functionality, and flair intersect, the Teqno stands out, promising a ride that's not just about getting from A to B, but about embracing life's adventures with confidence and ease. Get the full experience and immerse yourself in the Teqno's world by watching this detailed exploration. From its sleek design to its intuitive functionality, it's not just a ride; it's a lifestyle.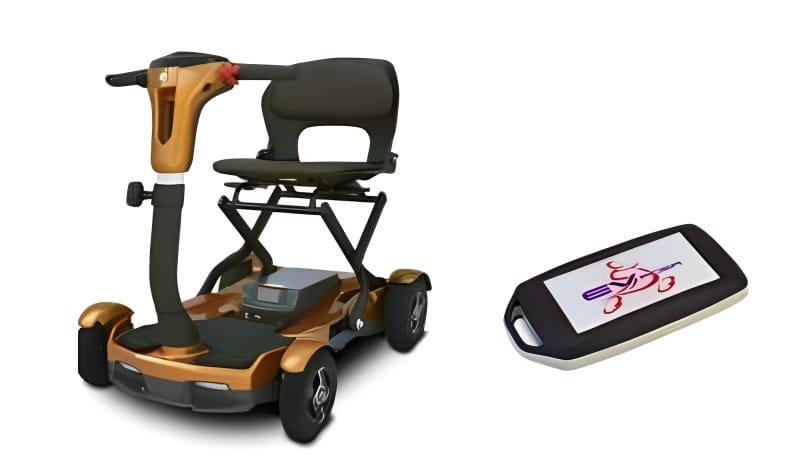 But wait, your journey doesn't end here. Are you curious about what other treasures lie hidden within the world of EV Rider? Perhaps you're considering accessorizing your ride, exploring other models, or even recommending a trusty TeQno to a friend or family member. Well, we've got exciting news: a whole trove of information, updates, and shiny new options await your discovery.
Simply cruise on over to
EV Rider's official website
to dive deeper into the details of your current model, explore new horizons, or find accessories that will make your rides even more luxurious and convenient. Who knows, you might find yourself daydreaming about your next EV Rider companion or picking out the perfect holiday gift for someone special.
This is more than a product; it's a community. It's an ongoing journey of innovation, freedom, and fun. So, don't put on the brakes now; there's so much more to explore. Rev up your curiosity and let it guide you toward endless possibilities.
From daily errands to leisurely park visits, life's moments are made seamless. Each journey, a testament to independence and joy, right from one's doorstep to the world beyond.
Click your way to clarity and confidence by following
this direct link.
If you've enjoyed learning about the features of your EV Rider TeQno, you might appreciate seeing it in operation. There's something quite reassuring about watching the ease with which it functions, affirming your understanding of its use.
Remember, every journey with your scooter is an extension of your spirit of adventure. So, keep embracing every journey, big, or small, you're just revving up for the next great adventure on your horizon. Way to go!