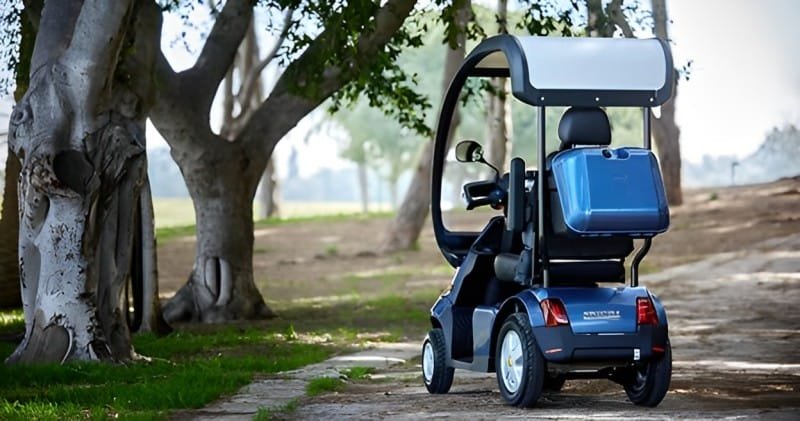 Exploring the Great Outdoors: Your Guide to Outdoor Mobility Scooters
Welcome to the world of outdoor mobility scooters, where freedom knows no bounds. We'll unravel the key components that make outdoor scooters incredibly versatile, comfortable, and perfect for adventures. Whether you're an explorer at heart or seeking a reliable mode of outdoor transport, join us as we delve into the fascinating world of essential components that define the outdoor scooter experience.
Outdoor mobility scooters are more than just means of transportation; whether you're exploring rugged trails, serene parks, or scenic seaside paths, these scooters are designed to handle it all. With strong and tough design, they conquer uneven terrains and inclines with ease. It's like having an all-terrain vehicle tailored to your mobility needs.
Outdoor mobility scooters have revolutionized the way individuals with limited mobility experience the world around them. These scooters are purpose-built to tackle the challenges of outdoor terrain, offering a range of features that enhance both performance and comfort.
When it comes to choosing the perfect outdoor mobility scooter, you're not just selecting a means of transportation; you're embracing a lifestyle of adventure, freedom, and boundless exploration. We're about to unveil essential components that should be on your checklist when purchasing a mobility scooter for outdoor exploration. As you embark on your journey to the great outdoors, consider the following key features:
Power and Performance as well as All-Terrain Capabilities
The heart of any outdoor mobility scooter lies in its power and performance. Outdoor scooters are built for both speed and endurance. They can go faster and travel farther on a single battery charge compared to standard mobility scooters. This means you can explore more without worrying about recharging frequently.
Check that the scooter is equipped with a powerful motor capable of handling inclines and different outdoor conditions.
This heavy-duty power scooter
is great for rougher terrain and has a remarkable incline rating of 12 degrees making it easy to get up hills or ramps.
Large mobility scooters give you the ability to travel over a wide range of environments. If you live in an area with rougher terrain, or with steeper hills, larger, more heavy-duty mobility scooters can be a better way for you to get around.
The Afiscooter S4 Upgraded Off-Road Heavy Duty Mobility Scooter
stands out as the ultimate choice for outdoor adventures due to its exceptional power performance and all-terrain capabilities. With a strong 1400W motor, a top speed of 11.2 mph, and a high weight capacity of 600 lbs (with bariatric upgrade), it ensures unmatched power and reliability.

Outdoor activities often involve more extended trips, such as exploring parks, going on shopping sprees, or visiting attractions. A longer battery life ensures that your scooter can cover more ground without needing frequent recharging. Opt for a scooter with a long-lasting battery to support extended outdoor journeys without frequent recharging. We recommend the
Silverado Extreme
lasting a whopping 55 miles on a single charge! When it comes to long-lasting power and extended outdoor adventures, the
Afiscooter S4 Upgraded Off-Road-Wheels
4-Wheel also stands out as the ultimate choice. With an impressive 31-mile driving range on a single charge and max speed of 11mph, this mobility scooter offers you the freedom to explore without the worry of frequent recharging. Look for scooters with a robust battery which can handle diverse terrains without compromising performance, ensuring you can enjoy your outdoor adventures without limitations.A scooter with extended battery life minimizes the need for frequent charging stops, allowing you to focus more on enjoying your outdoor activities.
The Silverado Extreme Heavy-Duty Scooter delivers a top speed of up to 9.6 miles per hour and full suspension with shock absorption and a generously sized Captain's seat. A bigger battery gives you an incredible drive range of up to 55 miles.
Choose scooters equipped with pneumatic (air-filled) tires for excellent traction on various outdoor surfaces. Pneumatic tires are optimal for outdoors resulting in greater mileage and higher peak speed while the air pressure provides cushioning and durability.
In this video
you will see the
Afiscooter S4 Upgraded Off-Road-Wheels 4-Wheel
which includes upgrades to the wheel system to allow for wider, more capable, all-terrain wheels.
The Merits Silverado Extreme All-Terrain Mobility Scooters
are designed to handle rough terrains, and have tires optimized for off-road use. It features a full suspension system and shock absorbers to provide a smooth ride.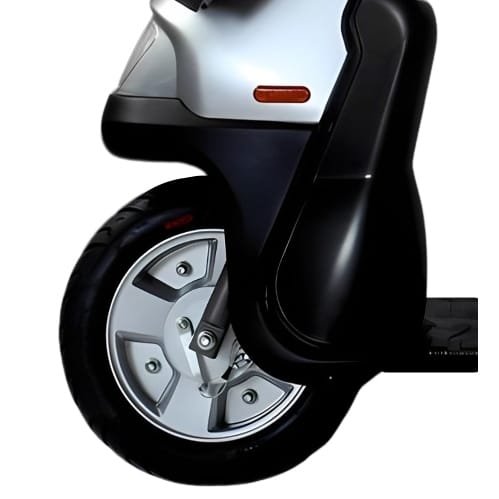 The Afiscooter S4 boasts robust, all-terrain tires, ensuring a smooth and reliable ride on various outdoor surfaces.
Merits Silverado Extreme combines rugged design with reliable performance
Ensure the scooter has a higher ground clearance to prevent it from getting stuck or damaged on rough terrains or obstacles.Ground clearance is crucial for outdoor terrain when choosing a mobility scooter because it determines the scooter's ability to smoothly traverse various obstacles and rough surfaces. A higher ground clearance allows the scooter to navigate bumps, stones, and curbs without getting stuck or causing discomfort to the rider. It enhances stability and minimizes the risk of tipping over when encountering uneven terrain. With greater ground clearance, mobility scooter users gain the freedom to explore outdoor environments confidently, making it an essential factor in selecting the right scooter for outdoor adventures.
Look out for all-terrain scooters that offer a ground clearance of 5 inches or more, providing the freedom to navigate uneven terrain with ease. With its exceptional combination of features designed for outdoor exploration, the Silverado Extreme stands out as the best all-terrain scooter for high clearance of 5.1″. It excel as the best all-terrain scooter for high clearance due to its combination of a strong and advanced suspension system and 14-inch front wheels and 16″ rear wheels, ensuring a smooth ride over challenging terrains while offering exceptional ground clearance. Its top-notch performance, stylish design, and weight capacity of up to 450 pounds make it the ultimate choice for those seeking both comfort and versatility in an outdoor mobility scooter.
Suspension plays a crucial role in providing a comfortable and smooth ride on outdoor mobility scooters. It helps absorb shocks and impacts from uneven terrain, ensuring that users experience less jarring and discomfort while navigating different surfaces. Adjustable suspension systems allow users to fine-tune the scooter's ride quality based on their weight and the type of terrain they encounter. This feature is particularly valuable for those who plan to use their scooters on rough or uneven outdoor paths, making suspension a key factor in enhancing overall mobility and comfort.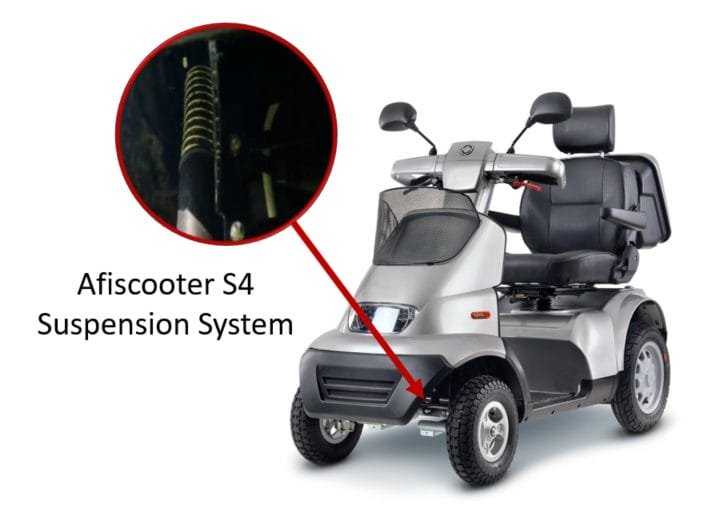 These suspension tires ensure a comfortable ride on any terrain.
Folding Mobility Scooter vs. Full-Size Mobility Scooter
Individuals seeking an outdoor mobility scooter suitable for travel frequently opt for folding mobility scooters. These scooters are designed to conveniently fold or disassemble, making them easy to transport in car trunks, back seats, or even overhead compartments on airplanes. They are an excellent choice when traveling over smooth surfaces like pavement or concrete.
In contrast, for those requiring a scooter for heavy, long-term usage, full-sized electric mobility scooters are often preferred. These models offer higher weight capacities, increased speeds, and extended driving ranges. They typically feature spacious, contoured seats or "captain's seats" found on premium electric wheelchair models. Transporting these full-sized scooters may require the assistance of a vehicle lift or wheelchair ramp in the back of a van.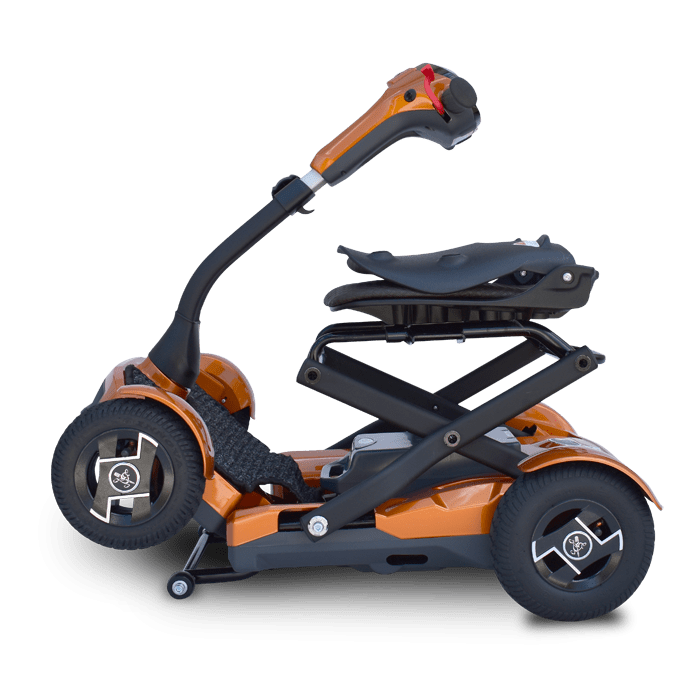 EV Rider Teqno Folding Mobility Scooter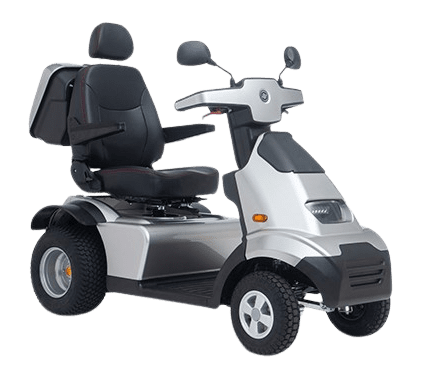 Afiscooter S4 Full-Sized Mobility Scooter
Outdoor mobility scooters frequently include several adjustable features designed to accommodate various users and preferences. These features encompass seat height adjustment, enabling users of different heights to find comfortable seating positions. Additionally, some scooters offer seat rotation adjustments for ease of boarding and disembarking from various angles. The tiller, serving as the steering column, often provides adjustable options for angle and height to achieve optimal driving posture. Armrests can typically be adjusted for width and height, enhancing user comfort. Furthermore, certain models may include adjustable headrests, footrests, seat backrests, suspension systems, tire pressure, tiller controls, lights and indicators, and battery size options, all contributing to a customized and comfortable riding experience.
The
Afiscooter S3 All Terrain Mobility Scooter
distinguishes itself as the top choice for a scooter, primarily due to its outstanding adjustable features. With a comfortable high-back seat that offers various adjustments, including recline and height, riders can easily customize their seating position to ensure a personalized and comfortable fit. Additionally, the adjustable tiller allows effortless adaptation to individual preferences, enhancing control and comfort during every journey. Consulting with
mobility specialists
to assist users in selecting the most suitable scooter and tailoring it to their specific needs. These adjustable features, combined with the key features of the best mobility scooter for outdoors, contribute to a more enjoyable riding experience.
These remarkable adjustable features, combined with the scooter's strong construction, make the Afiscooter S3 All Terrain Mobility Scooter the ideal choice for those seeking a highly customizable and comfortable mobility solution.
Your Perfect Match With Stability, Functionality, and Comfort
There you have it—the ultimate guide to outdoor mobility scooters. This is your passport to the great outdoors, combining power, safety, and comfort for unforgettable adventures. Say goodbye to limitations and hello to the freedom of exploration with your outdoor mobility scooter by your side.
When deciding to purchase an all-terrain mobility scooter, you can see that both advantages and disadvantages come into play. On the positive side, these heavy-duty scooters offer impressive weight capacity, accommodating a wide range of users. They excel in all-terrain abilities, stability, extended range, and safety features, providing users with increased independence and comfort during outdoor adventures. However, it's essential to consider potential disadvantages such as their larger size, which may limit maneuverability in confined spaces, and their higher price point compared to standard mobility scooters.

For more information and expert guidance on selecting the ideal outdoor mobility scooter explore
our website
. For expert guidance, consider consulting with our team for more personalized assistance. These tips will be a game changer in helping you choose the perfect scooter to match your unique needs.
Frequently Asked Questions
What features should I look for in a mobility scooter for outdoor use?
Look for features like longer battery life, higher speeds, increased weight capacity, adjustable padded seats, higher ground clearance, all-terrain tires, a full suspension system, and essential accessories such as a canopy or headlight for added safety and comfort.
Can I adjust the seat height and position for optimal comfort during long rides?
Yes, many outdoor mobility scooters offer adjustable seats that can be customized to your preferred height and position, ensuring comfort during extended rides.
How important is a full suspension system for a smoother ride on rough terrains?
A full suspension system is crucial for outdoor mobility scooters as it reduces bumps, maintains wheel contact with the ground, and enhances ride comfort, especially on rough terrains.
Are there options for different battery sizes to extend the scooter's range?
Yes, some outdoor mobility scooters offer larger battery options, providing a longer driving range on a single charge, allowing you to explore without frequent recharging.
Should I go for a folding mobility scooter or a full-size one for outdoor use?
If you need a mobility scooter for travel and smooth surfaces, choose a folding scooter for convenience. For heavy, long-term use and better performance, opt for a full-size electric mobility scooter with a contoured seat.
Can mobility scooters be kept outside?
Yes, outdoor storage is recommended, but ensure they are fully covered to prevent environmental damage. Use a suitable outdoor extension lead for battery charging.
Can mobility scooters go on gravel?
Yes, mobility scooters with high ground clearance can handle gravel surfaces. Specially designed tires for gravel paths enhance performance.
Can mobility scooters go up steep hills?
Many mobility scooters can handle moderate hills and slopes, but their ability on steeper inclines varies depending on the scooter type and hill gradient. Very steep hills may pose challenges.