In the world of mobility scooters, the Gatsby Mobility Scooter stands out as a nostalgic masterpiece, blending vintage classic charm with modern functionality. Imagine cruising down the street on a Gatsby mobility scooter inspired by the iconic Ford Model T, the popular car that revolutionized the automotive industry. What if you could relive the golden era of motoring while enjoying the latest technology and a smooth, comfortable ride? Prepare to be transported to a bygone era as we delve into the world of the Gatsby mobility scooter and discover how it combines the best of both vintage classic and modern worlds.
KEY TAKEAWAYS
Inspired by the iconic Ford Model T.
Weight capacity of 440 lbs, top speed of 10 mph.
Uses a 950-watt motor with a rear wheel drive system.
Prioritizes safety with anti-tip wheels and bright lights.
Has a lockable front storage compartment and cup holder.
Driving range of up to 31 miles per charge.
Priced at $4,499 with financing options.
3-year frame warranty, 1-year electronic components warranty.
Manufactured by Vintage Mobility, a Switzerland-based company.
Gatsby Vintage: A Nostalgic Ford Model T Ride
The Gatsby Mobility Scooter is a true style statement, designed to evoke the Ford Model T, a vintage and classic model that captured the hearts of many. The scooter boasts a sleek decorative grille, ultra-bright headlights, and soft-touch, non-marking, silver chrome bumper, all reminiscent of the beloved vintage vehicles of yesteryear. The Gatsby's unique hood ornament, inspired by the Ford Model, adds an extra touch of elegance to this already sophisticated scooter.
Of course, the Gatsby is more than just a pretty face. This heavy duty mobility scooter has a max weight capacity of 440 lbs and a top speed of 10 mph. Available in four elegant colors, the Gatsby Mobility Scooter is a modern twist on a classic design, combining true style and modern luxury with practical features designed to make your ride as smooth and enjoyable as possible.
Experience the luxurious vintage feels of the Gatsby Mobility Scooter by watching video below:
Performance and Specifications
The Gatsby mobility scooter's performance is as impressive as its looks, thanks to a 950-watt motor that powers the scooter to reach speeds of up to 10 mph. Its rear wheel direct drive system provides superior power and control, offering unmatched stability across various terrains. The scooter is equipped with four 14″ indicator pneumatic tires. Each of these pneumatic tires is paired with an independent suspension system that provides extra stability and comfort. Add to that the 4″ ground clearance to ensure a smooth ride over various terrains.
The Gatsby Vintage Luxury Mobility Scooter is a marvel of design, fitted with an independent suspension external charger that provides both smooth rides and easy recharging.
Safety is paramount, and the Gatsby mobility scooter does not disappoint. Equipped with anti-tip wheels, the scooter confidently navigates uneven surfaces and tight turns. Its unique engineering helps prevent backflipping, large bumpers are also added to enhance safety, ensuring a reliable performance in both indoor and outdoor environments. Plus it features a regenerative braking to ensure power is harnessed efficiently.
Its well-rounded set of features makes the Gatsby mobility scooter the perfect choice for those who value both style and substance.
Comfort and Adjustability
The Gatsby mobility scooter is designed with user comfort in mind. The leather captain seat features a semi-reclining backrest, adjustable headrest, and flip-up armrests, providing a luxurious seating experience during long rides. Additionally, the unique adjustable swivel seat type feature allows for effortless transfers on and off the scooter.
To further enhance your comfort, the scooter's swiveling seat adjustable backrest can be adjusted forward and back by up to four inches. This unique swivel feature and pneumatic seat dimensions ensure a perfect fit for riders of various sizes. With both the front and mid-frame turning radius, maneuvering the Gatsby mobility scooter in tight spaces is a breeze, making it a versatile choice for users who value comfort and adjustability.
Safety and Lighting Features
The Gatsby mobility scooter stands out with its unique safety features. It features a bright lighting system driving its way through dim conditions. To assist in safe navigation, it's equipped with luminous front headlights light that brighten the path ahead and vibrant taillights ensure you are visible to others on the road, day or night. For indicating direction changes, it includes turn signals, front and rear turn signals, and hazard warning lights, allowing you to signal your intentions to other road users clearly. To ensure safety from the back, it is designed with rear brake lights mirrors. All these features collectively make the Gatsby mobility scooter a safe and reliable mobility scooter for all users.
Safety isn't limited to just front headlight tail light lighting and turn signals; the Gatsby mobility scooter also comes equipped with rear-view mirrors, allowing you to keep an eye on your surroundings. The scooter's fail-safe electromechanical disc brakes and reflectors provide additional safety features, ensuring a secure riding experience.
Moreover, the Gatsby mobility scooter is designed with convenience in mind. The Gatsby's USB charging port allows you to charge all your devices on the go. The scooter's user-friendly controls make it easy to operate, ensuring that you can focus on enjoying your ride.
Storage is an essential consideration for any mobility scooter user, and the Gatsby mobility scooter addresses this need with a cool storage compartment at the front which is a lockable "trunk" storage compartment secured with its own key, keeping your belongings safe when you're on the move. This heavy duty electric scooter also features an integrated fold-down beverage caddy – a built-in cup holder, keeps your favorite beverage within reach. Scooter accessories are also available to further customize your Gatsby mobility scooter. It comes with a universal accessory hitch so you can add scooter accessories to make your ride more comfortable and fun.
Beyond storage, the Gatsby mobility scooter is equipped with modern technology to enhance your riding experience. The scooter's digital dashboard displays essential information, such as battery charge status and speed, making it easy to maintain control and monitor your scooter's performance.

The Gatsby mobility scooter excels in outdoor performance, boasting a long driving range of up to 31 miles on a single charge. Its high top speed, combined with the chrome bumper, ensures that you can navigate various terrains with ease and style.
With its impressive 4″ ground clearance and independent suspension, the Gatsby mobility scooter can tackle outdoor environments without compromising on comfort or stability. The scooter's pneumatic rear tires provide a smooth ride, even on rough surfaces, making it the perfect choice for those who enjoy spending time outdoors.
Effortless operation is a must for any mobility scooter, and the Gatsby mobility scooter delivers with its user-friendly controls. The ergonomic delta tiller makes steering a breeze, while the backlit battery gauge ensures you are always aware of your scooter's battery life.
The digital dashboard allows you to control essential functions, such as hazard lights, turn signals, and headlights, with ease. The controls of the Gatsby mobility scooter are logically arranged and perfectly positioned, making it easy to comprehend and become proficient in its operation, ensuring a stress-free riding experience.
Pricing and Financing Options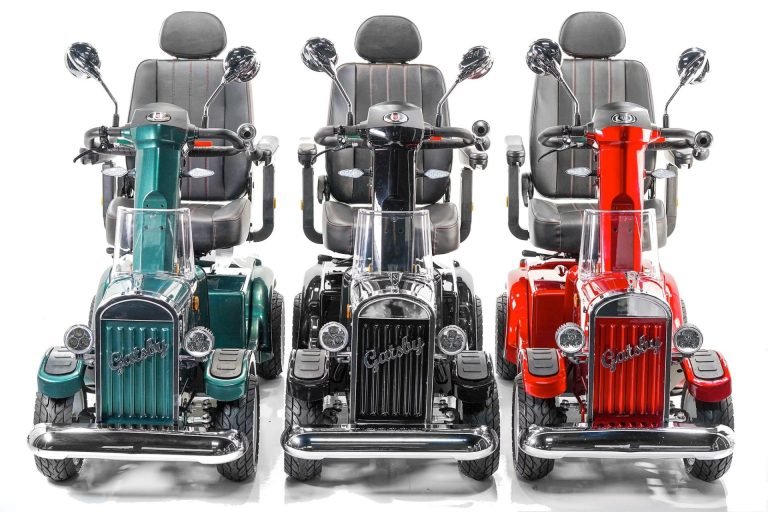 The Gatsby mobility scooter's high-quality features and vintage-inspired design come at a premium price of $4,499.00. While the price may be higher than other mobility scooters on the market, it is important to consider the unique style and impressive features that set the Gatsby mobility scooter apart from the competition.
To help make the Gatsby mobility scooter more accessible, financing options are available through Klarna and PayTomorrow. These options provide flexibility for those who wish to invest in the scooter, allowing you to experience the perfect blend of vintage charm and modern functionality without breaking the bank.
Investing in the Gatsby mobility scooter is a wise decision. It comes with a 3-year limited warranty on the frame, 1-year warranty on electronic components and a 6-month warranty on the battery, so you can be rest assured that you have peace of mind. This comprehensive warranty coverage ensures that you can enjoy your scooter with confidence knowing that the manufacturer stands behind its product.
Additionally, the Gatsby mobility scooter offers free shipping, adding another layer of convenience to your purchase. Also, insurance or Medicare coverage is not accepted for this scooter.
The Gatsby Mobility Scooter is the perfect choice for those who appreciate a blend of vintage charm and modern functionality. It simply pull off a popular car feels packed with vintage vehicles vibes. Its impressive performance, comfortable and adjustable features, and outdoor capabilities make it a standout option in the world of mobility scooters. While the price may be higher than other scooters on the market, the available financing options and comprehensive warranty coverage make the Gatsby mobility scooter a worthy investment for those seeking a unique and stylish mode of transportation.
So why not take a step back in time and experience the elegance of the Gatsby mobility scooter? With its captivating design and state-of-the-art features, you can enjoy the perfect combination of style, comfort, and performance as you cruise through your neighborhood, turning heads and making a statement wherever you go.
Frequently Asked Questions
Who makes the Gatsby scooter?
The Gatsby scooter is made by Vintage Mobility.
Vintage Mobility is a reliable brand of Switzerland-based Rehabilitations-Systeme AG. Their products are designed and developed in Switzerland and are manufactured in China under Swiss production management. Their quality management system complies with the highest possible standards.
What is the top speed of the Gatsby mobility scooter?
The top speed of the Gatsby mobility scooter is 10 mph.
If that speed is too fast, the variable speed control system allows a user to adjust the speed to a comfortable level, providing smooth and reliable performance for its users.
Sources for Mentioned Features and Specifications